This post may contain affiliate links, which means we may receive a commission if you purchase through our links. Please
read our full disclosure here
.
Hey hey, pretty girls! If you're anything like me, you find it hard to look presentable for all of those 8AM classes. Sometimes I get up with only a few minutes to spare and find that my foundation routine is so time consuming that I usually end up just skipping it… and once I get to class, I always wish I hadn't.
Anyway, to combat this problem, I had to get strategic. I've recently devised an easy skincare and foundation routine that's super fast to do, while also being incredibly good at combatting the dark under eye circles and blotchy skin that I see every morning due to countless hours of homework (and, okay, watching shows on Netflix…)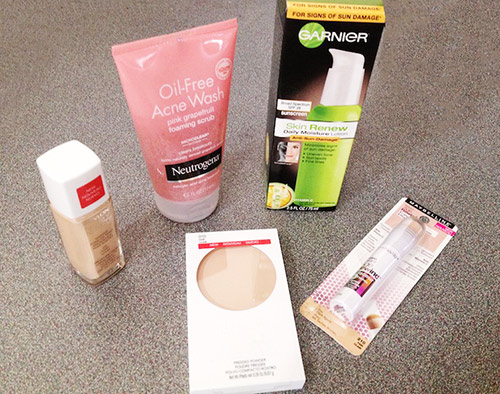 So with that said, today I'm going to be sharing with you my new quick and easy skincare and foundation routine! With these products and about 3 minutes of your time, you'll be able to look fresh and awake for those early morning classes.
Step 1: Wash your face!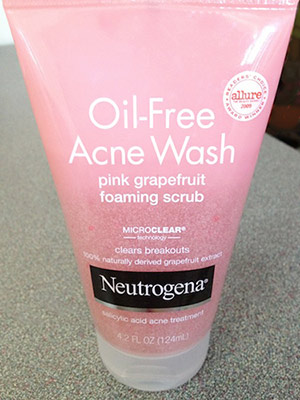 Neutrogena Oil-Free Acne Wash – $6.99
This first step should be obvious – you should always wash your face in the AM! I like using Neutrogena'sOil-Free Acne Wash Pink Grapefruit Scrub because it exfoliates and cleanses your skin while waking you up with the scent of fresh grapefruit!
Step 2: Moisturize your face.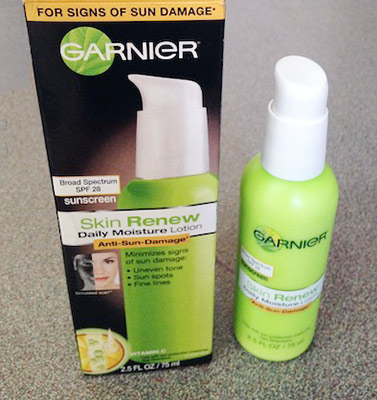 Garnier Skin Renew Daily Moisture Lotion – $10.99
I'm not that picky when it comes to moisturizer because I have normal-dry skin and most products seem to work okay for me. That said, I really like Garnier's Skin Renew Daily Moisture Lotion because I find that it really does moisturize my face as well as protect it from the sun – it boasts an SPF of 28! Being pale and attending school in SoCal requires that I wear sunblock 24/7, so this is a godsend.
Step 3: Apply your foundation.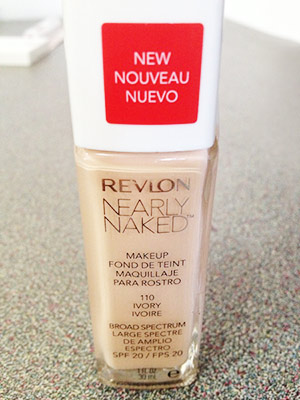 Revlon Nearly Naked Foundation in Ivory – $9.99
I was so excited to find this foundation at the drugstore because I have heard so much about it even though it has only been out for a few weeks!
This is the Revlon Nearly Naked foundation in the shade Ivory. This product is light, airy, smooth, moisturizing, and completely natural-looking once applied. I've found it's incredible for reducing the redness in my cheeks and evening out my skintone. Also, a little bit goes a long way – this stuff is unbelievably pigmented. I can honestly say that this might be the best drugstore foundation I've ever used. (It just might beat the CoverGirl Nature Luxe foundation that I previously reviewed!)
Step 4: Apply your concealer.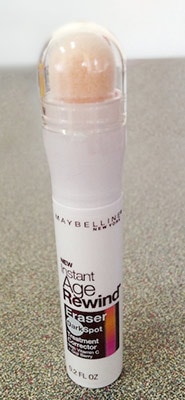 Maybelline Instant Age Rewind in Fair – $9.99
I have dark circles, so after I apply my foundation, I need to conceal them. Lately, I've been applying Maybelline's Instant Age Rewind concealer in the shade Fair.
In order to use the product, you have to twist the top of the bottle and the product will come out of the sponge on top. I quickly run the product under my eyes as well as on my eyelids and then blend it out with my ring finger. Voila! My dark circles are covered in less than a minute.
Step 5: Apply your powder.
Revlon Nearly Naked Pressed Powder in Fair – $9.99
Now, if you have a long day ahead of you, it's extremely extremely important to set your foundation – that way it won't slide off of your face, crease, or look cakey after a few hours.
To set my foundation, I use Revlon's Nearly Naked Pressed Powder in the shade Fair. This product is great for setting foundation because it doesn't rub off or look too thick! In addition, it adds an extra hint of pigment for a totally flawless finish.
What do you think?
That's all there is to it! A few quick steps and you're good to go! It might seem time-consuming, but I can easily do this routine in less than 3 minutes – it's the perfect thing for those awful early mornings.
Now I want to hear from you! What's your go-to skincare and/or foundation routine? How do you fix dark circles in a hurry? Tell us your thoughts by leaving a comment.