This post may contain affiliate links, which means we may receive a commission if you purchase through our links. Please
read our full disclosure here
.
Last month, Urban Decay released their new Naked Skin Weightless Ultra Definition Liquid Makeup, and after trying it myself, it's officially my new favorite product.
In case you haven't heard of it, Naked Skin is a foundation that claims to offer a flawless, ultra-definition finish, natural radiance without shine, and weightless, buildable coverage, plus tons of nourishing ingredients. After testing this foundation for two weeks, I have to say, it definitely lives up to its claims (and its many positive MakeupAlley reviews).
Want to learn more? Read on for my full review!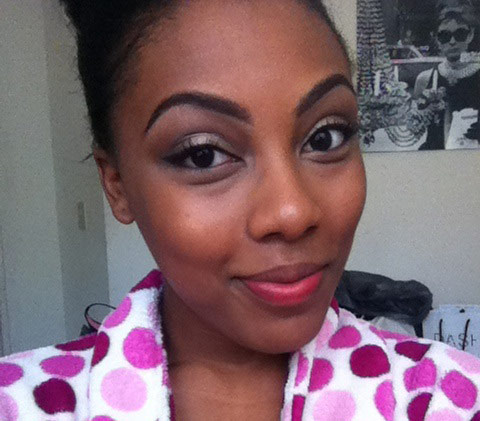 Me wearing the Naked Skin foundation.
(Apologies for the grainy cell phone picture – my regular camera is out of commission!)
The Product:

Urban Decay's Naked Skin foundation comes in 18 shades, virtually guaranteeing a selection for everyone. The formula is lightweight, which makes it able to be applied lightly or more heavily depending on how much coverage you need.
The best part, though? It lasts all day. Seriously. No dripping. No fading. Nothing. Even in the California heat, when I wear this, my makeup looks exactly the same at 11 p.m. as it did at 9 a.m. Also, Naked Skin doesn't create that unwanted shine. It doesn't completely matte out your face, but gives radiance to areas like your cheekbones rather than your nose. For these reasons alone, it's truly amazing.
The Packaging: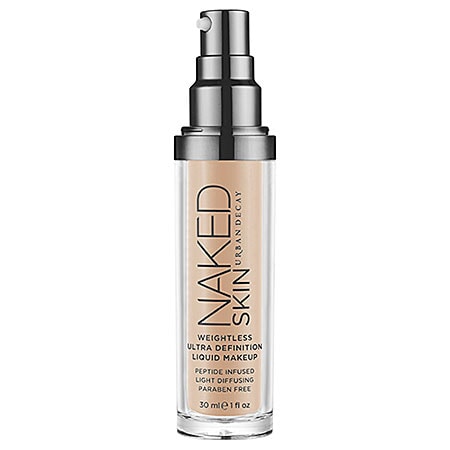 Another great aspect of Naked Skin? The packaging is fantastic. The product comes in a long, clear plastic bottle which allows you to easily gauge how much you have left, and won't shatter if you accidentally drop it.
The bottle has a pump, which I always look for when picking a foundation because without a pump, things can get extremely messy and you can waste product. It also comes with a cap, which prevents any accidental squirts in your makeup bag. Last but not least, like all Urban Decay products, it's very aesthetically pleasing.
The Price:
One drawback: This product rings up at $38.00. I know, I know, $38 is hard to justify when you are ballin' on a budget, but I'm a huge believer in the idea that "you get what you pay for."
In my opinion, $38 is not a lot to pay for a foundation that makes my skin look perfectly flawless, does not create shine, lasts all day, and does not give you that "cake face" look. Also, most counters will allow you to sample the foundation before purchasing so that you'll only buy the perfect shade.
The Bottom Line:
I give this foundation a full five stars and two thumbs up. Urban Decay is always creating must-have makeup products (like Naked palettes and the All Nighter Setting Spray), and this is another one to add to the list. Naked Skin foundation has definitely earned a spot in my makeup bag.
Thoughts?
Have any of you tried Naked Skin foundation yet? What's your current favorite foundation? Any questions? Leave a comment below with your thoughts!