This post may contain affiliate links, which means we may receive a commission if you purchase through our links. Please
read our full disclosure here
.
Fall is finally, finally here. In my book, that means I can break out chunky sweaters, boots, coats, tights and most importantly, pumpkin-flavored everything. It's also when I transition from summer neons to vampier, darker nail polish shades.
Darker nails instantly make you look chicer and more put-together, and who doesn't want that? In the spirit of the season, we've rounded up our top 5 favorite dark nail colors, perfect for fall and winter manis:
1. Deborah Lippmann Stormy Weather/Essie Power Clutch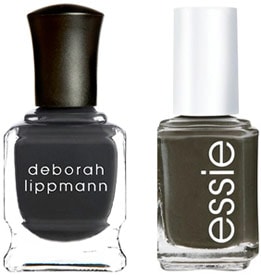 $16 at Nordstrom / $7.79 at Target
Want to get the moody look but don't want to go too dark with your polish? These two grey shades are perfect.
Deborah Lipmann's Stormy Weather was custom-mixed for Narciso Rodriguez's Fall 2011 show and it's the perfect dark, moody grey. It looks exactly like the sky before a huge thunderstorm, hence its name. Deborah Lippmann's polishes are always a safe bet and they deliver the most amazingly glossy finish. However, at $16 per bottle, they are definitely on the pricier side.
Essie's Power Clutch, from their Fall 2011 collection, is a touch waterier and lighter than Deborah Lipmann's grey polish, but is a fantastic budget-friendly alternative. The two polishes look different in the bottle but are almost indistinguishable from each other on your nails – here they are, swatched on the same hand.
Whichever shade you choose, if you're debating on whether dark polish is for you, these two polishes are a great way to try the trend.
2. OPI Russian Navy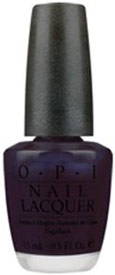 $7.42 at Amazon
OPI's Russian Navy is one of those polishes that looks so different in the bottle than it does on the actual nail. In the bottle, it's an inky almost-black. On your nail, however, it's a beautiful, shimmery dark navy. From far away, this looks black, but in direct sunlight, the blue definitely comes through.
As with most OPI formulas, this shade is very opaque, quick-drying and glossy. Plus, this polish is definitely flattering on most (if not all) skin tones and looks great year-round.
3. OPI Here Today… Aragon Tomorrow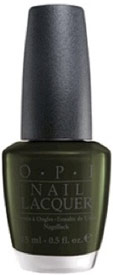 $8.00 at drugstore.com
Out of all of OPI's collections, their Fall 2009 Espana Collection is among their absolute best, launching some of my all-time favorite shades, including Here Today… Aragon Tomorrow.
OPI describes the shade as a dark forest-green, but to me it looks more like dried seaweed – which I know does not sound like a color you want on your hands, but trust me, it somehow manages to look elegant and trendy at the same time. If you're looking for a dark polish with a modern twist, you should snap up this dark green shade.
4. OPI Black Cherry Chutney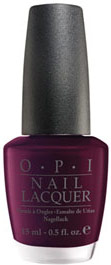 $7.78 at Amazon
If you're not down with dark blue or dark green, then a dark, dark red like OPI Black Cherry Chutney, from their Spring 2008 India collection, is for you.
This shade is a super vampy purple with a ton of sheen. It's basically Lincoln Park After Dark's lighter little sister. Plus, you can definitely get away with only one coat of this! For a classic take on dark polish, Black Cherry Chutney is a go-to!
5. Wet 'n' Wild Wild Shine Nail Polish in Black Creme

$0.99 at Walgreens
I'm the first to admit that I'm a total polish snob – put a bottle of Deborah Lipmann next to a bottle of Sinful Colors and without fail, I'll say the expensive varnish is superior. So, when I say a $0.99 nail polish is the best out there, it really, really is.
If you're not scared of going black-black, then Wet 'n' Wild Black Creme is for you. What I hate about most black polishes is that they either a) aren't completely black or b) aren't opaque. But for just $0.99, you'll get a polish that is definitely black and definitely opaque. And as with Black Cherry Chutney, you can get away with wearing just one coat of this – most of my expensive polishes can't even claim that.
If you're bold enough to rock all-black nails, this polish definitely needs to be in your collection. At such a cheap price, you can't go wrong!
What are your favorite almost-black polishes?
Now that you've seen our favorite dark nail polishes, we want to know about yours! What are your favorite dark polishes for fall and winter?Would you wear any of these? Tell us everything in the comments!