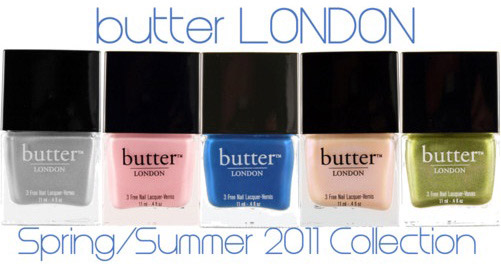 As temperatures begin to rise across the country, it's clear that spring is in the air and will be here soon! Don't get me wrong, I love the winter (and the clothes that come with it), but I'm ready for a change. And as a polish addict, nothing can make me more excited for a new season than a new nail polish collection from one of my favorite brands!
butter LONDON has recently released their Spring/Summer 2011 collection and I'm completely in love! So far, it's my favorite of all the spring nail polish collections I've seen! The shades embody the phrase "April showers bring May flowers," with tones reminiscent of rainy days, flower petals, and new leaves. You can't get more perfect than that!
Wanna see more? Check out the shades from butter LONDON's Spring/Summer 2011 collection below!
Lady Muck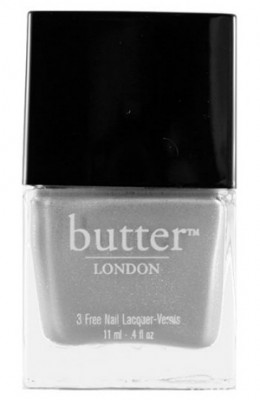 butter LONDON "Lady Muck" – $14 at Beauty.com
butter LONDON describes this color as a "Powdery periwinkle blue, slightly on the grey side and infused with pearl pigment for a soft, sexy sheen." All I can say is that I'm already obsessed with this color. As you may know if you read my posts often, grays and greiges are always my favorite shades and this one is no exception.
What makes this hue different from the rest, however, is that it has blue and periwinkle tones added in to give it some extra depth. Overall, the shade is a little bit stormy, which also sets it apart from the typical pastel hues of spring. Nonetheless, I think it fits perfectly with the season – after all, we know how much it rains in March and April!
Teddy Girl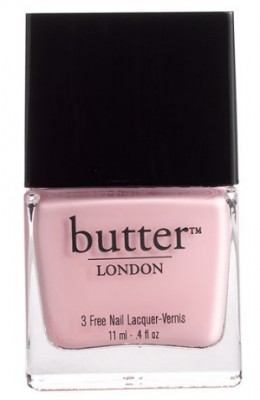 butter LONDON "Teddy Girl" – $14 at Beauty.com
How cute is this color? butter LONDON describes it as "a pale retro bubblegum pink," and I don't think there could possibly be a better description. This shade screams spring and is totally adorable. And yes, while this color may not be completely original (it seems like every shade of pink imaginable has been done to death), it is a beautiful hue that reminds me of the flowers we'll begin to see soon!
Blagger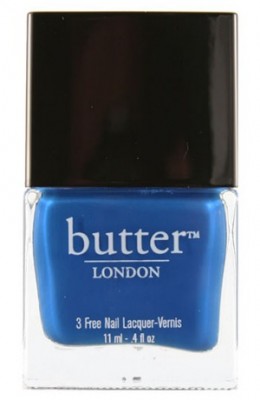 butter LONDON "Blagger" – $14 at Beauty.com
Blagger is probably the most standout color of the entire collection, and will likely be the most coveted. butter LONDON describes it as a "striking cobalt blue", and it's a rich creme shade without any shimmer or glitter that reminds me of new flowers and bright blue waters.
Let's just say I'm already anxious to get my hands on this color – it's so perfect for spring and unlike most of what's out there right now. In addition, it would provide a great way to transition from darker, winter hues to the bright, colorful hues of the season.
Hen Party
butter LONDON "Hen Party" – $14 at Beauty.com
butter LONDON's website says that this color is a "sheer opal lacquer that is neutral and stunning alone and on-trend as an edgy overcoat on top of any shade". Basically, Hen Party is a really pretty, peachy-pink shade that's in the same category as Teddy Girl. They're both great representations of spring pastels that would be perfect for the start of the season.
Dosh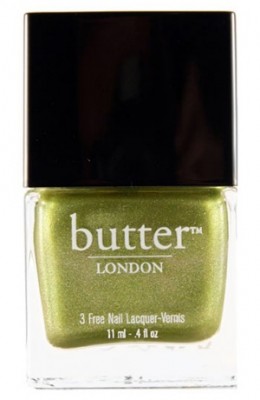 butter LONDON "Dosh" – $14 at Beauty.com
Dosh is a crazy color for spring that's also super fun! butter LONDON describes it as "a molten apple green shot through with metallic gold".
This shade provides another great way to transition your look into a new season – it mixes winter's metallic trend with the bright, colorful hues of spring! In addition, I haven't seen too many colors like this one before, which definitely makes it a must-have for me.
What do you think?
What do you guys think of butter LONDON's new collection? Are there any other Spring 2011 collections that you're loving? Any questions about these colors? Let me know in the comments!