This post may contain affiliate links, which means we may receive a commission if you purchase through our links. Please
read our full disclosure here
.
Doing your nails can certainly be expensive – especially when you're a college girl on a limited budget. With nail polishes on the market that cost more than the price of a mani, it's hard to know when to splurge and when to save on nail care and nail art tools.
For girls, like me, who change their nails weekly, it is important to get the most bang for your buck when it comes to spending money on nail polish and tools. Sometimes spending a few extra bucks is worth it, but other times it's better to keep those dollars in your pocket.
Here's a handy guide to help you know when to save and when to splurge on nail polish and nail tools:
Save: Nail Polish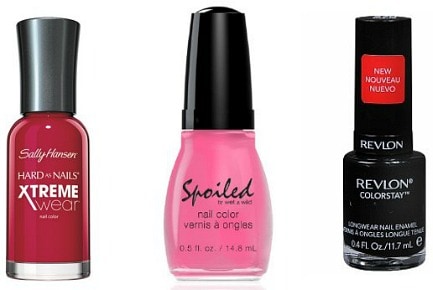 1. Sally Hansen Hard as Nails in "160 Cherry Red" 2. Wet n Wild Spoiled in "Plastic Flamingo", 3. Revlon ColorStay in Stiletto"
When it comes to basic colors, like black or red, definitely go drugstore!Drugstore nail polish has really evolved. There are so many high quality and inexpensive polishes at your local drugstore, and the ones pictured above are just a few examples. Bonus: they cost less than $5 each!
For any basic color, try to find it at the drugstore. The formulas for most drugstore polishes are excellent and, with the fair price, you can buy three or more drugstore nail polishes for the price of one high-end one.
It is also important to note that nail polish doesn't last forever.It has a short shelf life – it will hurt way less when your $5 polish dries out than if your $20 NARS one does.
Of course, there are exceptions to this rule. If you're unable to find a dupe, it is okay to splurge on truly unique colors.If it's a color you simply cannot find anywhere else, then go for it!
Splurge: Top Coat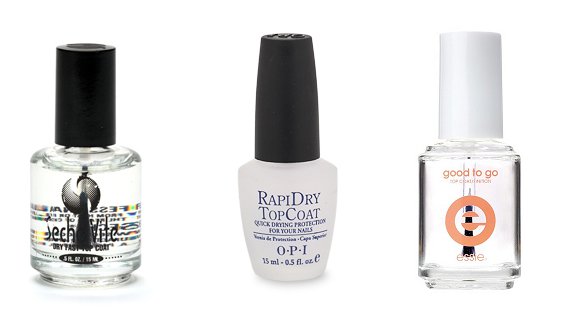 1. Seche Vite Fast Dry Top Coat – $9.49 at drugstore.com 2. OPI Rapi-Dry Top Coat $11.59 – at drugstore.com 3. Essie Top Coat Good to Go! – $10 at Nordstrom
Top coats should be used every time you paint your nails. This is the perfect product to splurge on because it plays a key role in making your polish long-lasting and shiny. Although you don't need to spend more than $15 on a top coat, you're better off spending more rather than less. I have noticed that my inexpensive drugstore top coats do not last as long as the ones on the higher end of the price spectrum.
When it comes to top coats, spend a little bit extra on the higher-priced drugstore polish brands. Essie, OPI and Seche Vite are all excellent top coats that won't break the bank.So, for top coats, splurge a little bit, but don't feel the need to spend more than $15 to get a top-notch product to finish off your mani.
Save: Nail File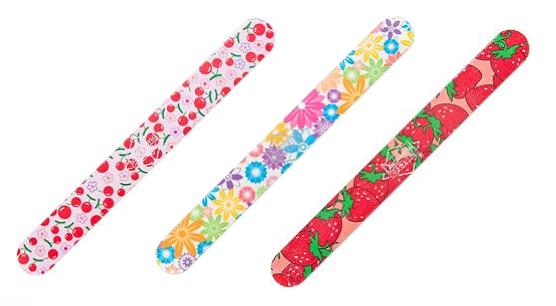 Diamond Cosmetics Fun Files – $0.99 at Ulta
Let's be real: you can buy a nail file in almost any store. My college's bookstore even sells them! These are so inexpensive and, truth is, they're often thrown on your desk or in your bag and not used very frequently. Don't bother spending more than $1 on a nail file. Even the prettiest ones will only cost you a buck.
All nail files do the same thing and are made of virtually the same components, plus they wear out quickly and often need to be replaced. Don't waste your hard-earned cash on overpriced files.
Save: Nail Polish Remover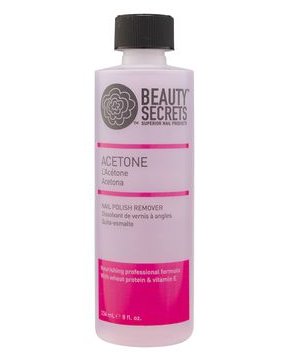 Sally's Beauty Secrets Professional Nail Polish Remover – $2.19 at Sally's Beauty
Nail polish remover is a product we use very often and we also use a lot of it. Don't splurge on nail polish remover wipes or pads unless you need them for traveling. They aren't necessary otherwise.
I recommend buying large bottles of nail polish remover – buying this product in bulk is the cheapest way. Plus, nail polish remover has a long shelf-life.Most removers have the same formulas; it is likely not worth it to spend $10+ on higher-end polish removers.
I swear by Sally's Beauty Secrets Professional Nail Polish Remover.This stuff is super inexpensive, super effective and you can buy huge bottles of it without breaking the bank.
But remember…
At the end of the day, it is important to know when to save and when to splurge, but sometimes you have to break the "rules." Be smart with your purchases, but don't forget to treat yo self!
What do you think?
What are your favorite nail polish brands? What beauty products do you love to splurge on? Which ones do you buy at the drugstore? Tell me your thoughts by leaving a comment!