This post may contain affiliate links, which means we may receive a commission if you purchase through our links. Please
read our full disclosure here
.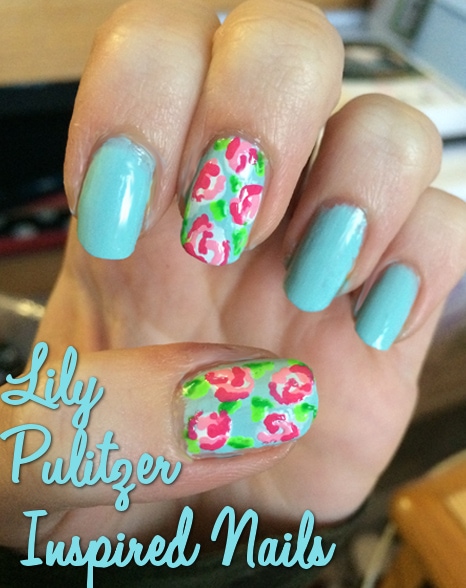 This one goes out to my preppy girls who love a good Lilly Pulitzer pattern. It also goes out to anyone who loves a cute and cheerful nail design that is perfect for spring! Lilly is huge with college girls, and I couldn't think of any other designer I would rather pay homage to on my nails.
Plus, this design is surprisingly super-easy to create. All you need is a few nail polish colors and a toothpick. Scroll down to check out my Lilly Pulitzer-inspired nail art:
You Will Need:
How to Achieve this Look:
My nail art was inspired by Lilly's most popular pattern, Shorely Blue First Impression: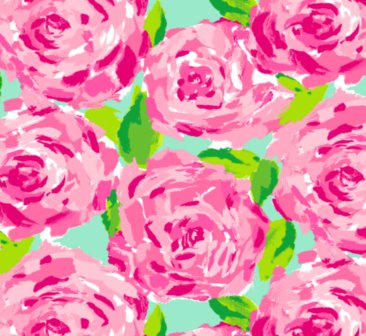 Step One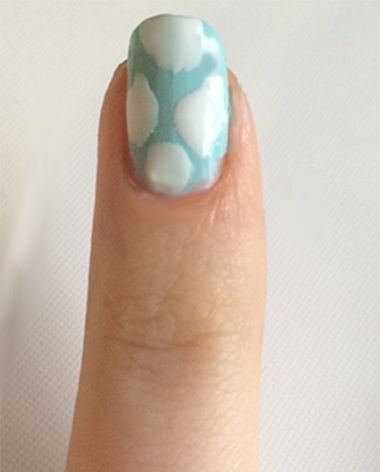 Apply a base coat on all of your nails. Once it dries, paint your nails sky blue. After this, grab your white nail polish. Use the nail polish brush to make a few white splotches around your nails. Make sure to leave space between them, as I've done in the photo above.
Step Two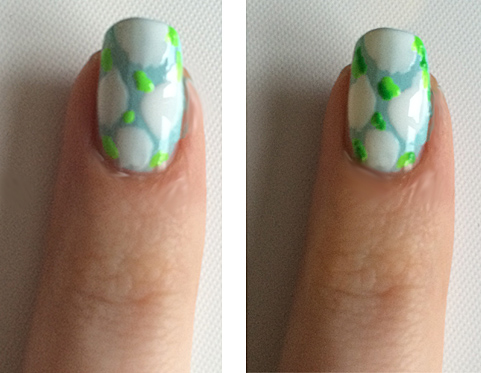 Use a toothpick to fill in some of the blue space with specks of your lime green polish. Do the same think with your darker green nail polish. Try to have some dark green on every light green dot. These are your leaves!
Step Three
Next, take another toothpick to add light pink swirls and "C" shapes in your white splotches. Don't fill it in completely – remember to leave some white spaces.
Repeat this step with the dark pink nail polish. The pinks can overlap, but again, be sure to leave a bit of white space. Don't worry if it's a bit messy – that's what gives the pattern its charm!
Complete your look with your favorite top coat. This design can be painted onto one or two nails as an accent, or even all of your nails if you're feeling extra daring.
The Final Look: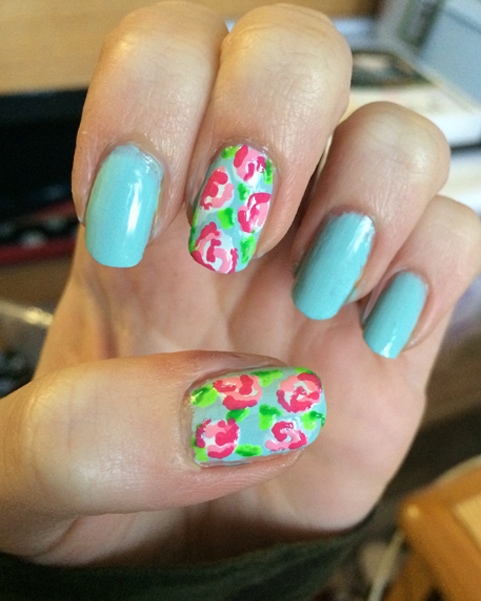 What do you think?
Would you wear this nail art? What is your favorite Lilly Pulitzer pattern? What other nail art tutorials would you like to see? Let me know by leaving a comment.
If you try any of these designs, be sure to tag @collegefashion on Instagram or use the hashtag #collegefashionnails. I will be on the lookout for your photos – can't wait to see your recreations!