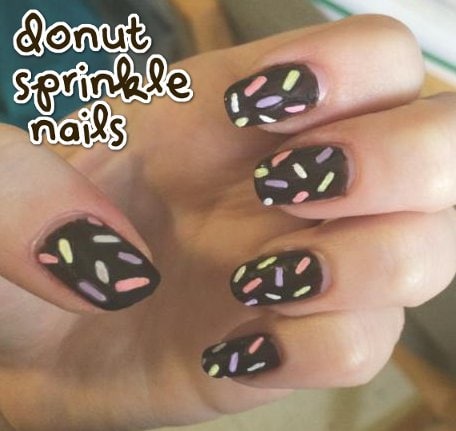 Everyone loves a good donut, and I decided to take inspiration from this delicious treat and create a fun nail art look. These donut nails are so cute and add a whimsical touch to any outfit. Plus, this is one of the easiest nail art tutorials ever. Anyone can recreate this look!
Read on to find out how to create this sweet (get it?!) nail art look:
You will need:
How to achieve this look:
Keep in mind that you can customize this look by changing the donut sprinkles' colors or even by changing the base color to a light pink or white.
The first step is to apply a base coat on all of your nails. Next, paint your nails dark brown. The Revlon polish I used is actually a scented one; with this polish your nails can smell as delicious as they look!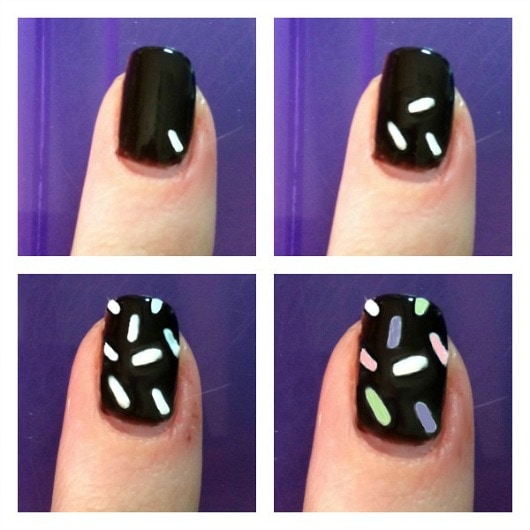 Wait for the brown nail polish to try completely. After that, use your white nail polish and a toothpick or dotting tool to create small dashes on your nails. The white will allow the sprinkle colors to show vibrantly against the dark polish. Space these dashes out and make sure they all face in all different directions.
Fill in the white dashes with your sprinkle colors. Remember to mix up the colors – that way you won't have two of the same colored sprinkles right next to each other.
After the sprinkles dry, complete your look with a top coat. Told you it was super-easy!
The Final Look: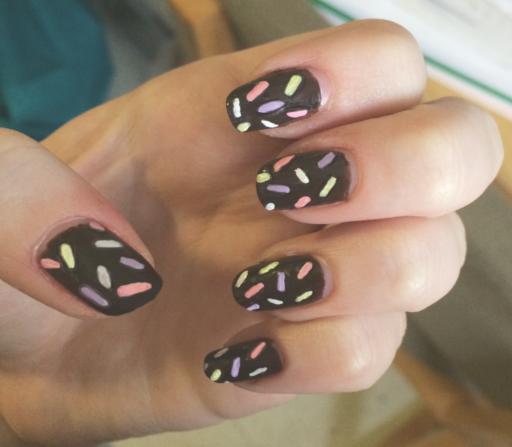 What do you think?
Would you wear this nail art? Do you think you could recreate the look? What other nail art tutorials would you like to see? Let me know by leaving a comment.
If you try any of these designs, be sure to tag @collegefashion on Instagram or use the hashtag #collegefashionnails. I will be on the lookout for your photos – can't wait to see your re-creations!