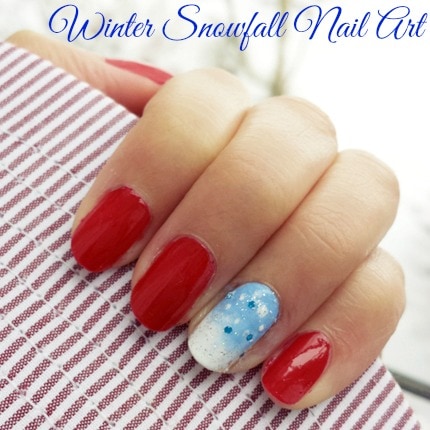 Because of all of the fun holiday activities, many of us don't have too much time to spend on our nails during the winter break. So this week, I wanted to show you a quick and easy winter nail art idea.
This snowfall nail art is inspired by the snow we're experiencing (and a little bit by Disney's Frozen), and is easy to recreate, regardless of your skill level. It's the perfect way to add a wintery look to your tips! Read on to check out the winter snow nail tutorial:
What You'll Need: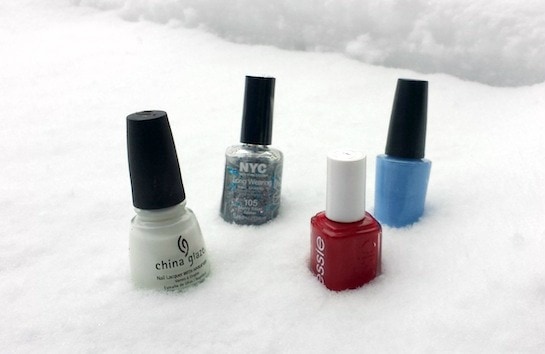 Step 1: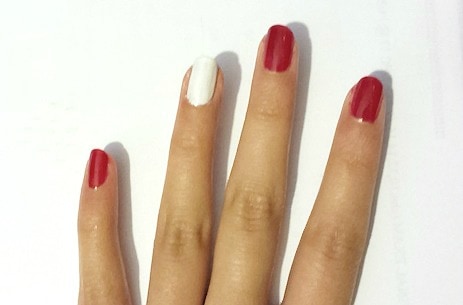 Paint your nails the color of your choice, but paint your accent nail white.
Pro Tip: If you're using a red hue, be sure to use a base coat, so the color won't stain your nails!
Step 2: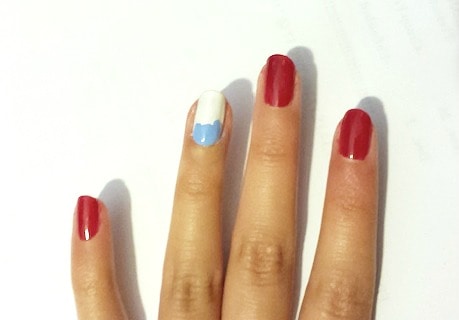 Next, we're going to add a color gradient – I opted for a light blue color to represent the sky. To create the gradient, I usually start by roughly painting in the color. Personally, I find that just sponging on the color doesn't quite get as dark as I want. Don't let it dry too much before sponging, though!
Pro Tip: If you need some tips on sponging, check out this post.
Step 3: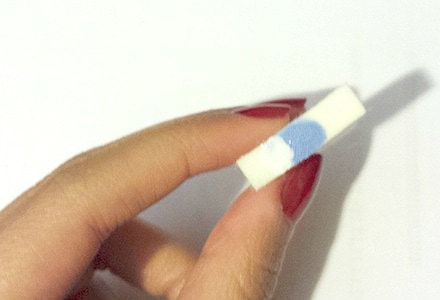 Paint a strip of blue on the sponge, then sponge the polish on the line between the two colors to blend it out. You can also add white to the bottom if you find that you are having difficulties blending the two colors together.
When you're done sponging, it should look like this: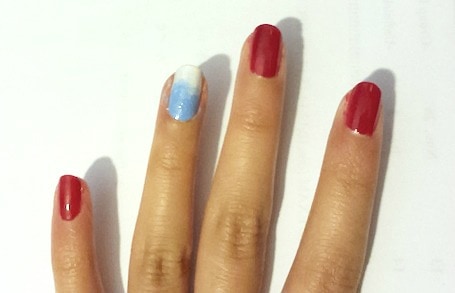 Step 4: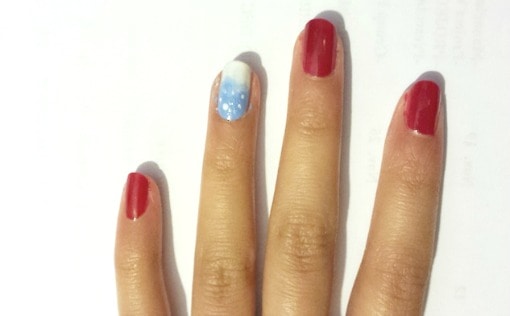 Once you're happy with the look, use a toothpick or small dotting tool to add some dots of snow. Make sure not to overdo the dots or it will look very cluttered!
Step 5:
Lastly, use a glitter top coat to add some dimension to your snow nail art design. Feel free to use the glitter on your other nails too!
I don't usually finish off with a regular top coat when I use a glitter top coat, but go ahead and do so if you want your design to last even longer. And there you have it: a quick and easy design for winter nails!
Your thoughts?
What do you think of our snowfall nail art? Did you enjoy this tutorial? If there are any questions, comments and suggestions, please leave them down below!