Polka dots are an age old design that have been reinvented many times over, seen on everything from clothing to — of course — nail art.
I never gave polka dots a second thought until about a year ago, when I had the chance to see Yayoi Kusama's exhibit in London's Tate Modern. This exhibit included a blank white room — "The Obliteration Room" — where visitors were handed colorful polka dot sticker sheets to stick anywhere they wanted. Needless to say, the kids went crazy in that room, putting stickers in every place imaginable. (Yes, I even saw parents walking out with stickers on their backs.)
Ever since then, I've been inspired to do polka dot nail art in a number of different ways. Looking back, I think polka dots would be a great idea for incorporating the pretty pastel colors we're starting to see for spring and are an easy and stylish way to add fun colors on your nails.
For this post, I decided to put together three polka dot nail art ideas. Enjoy the tutorials!
1. Floating Dots Nail Art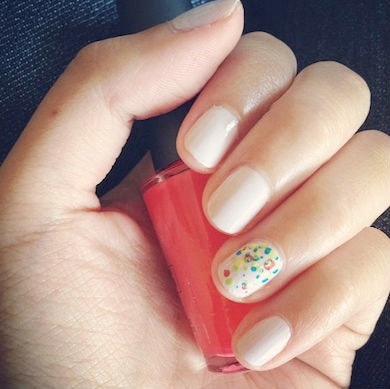 What You'll Need: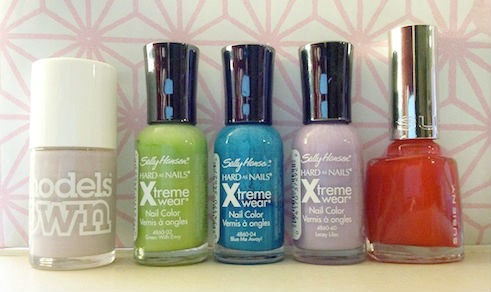 How to: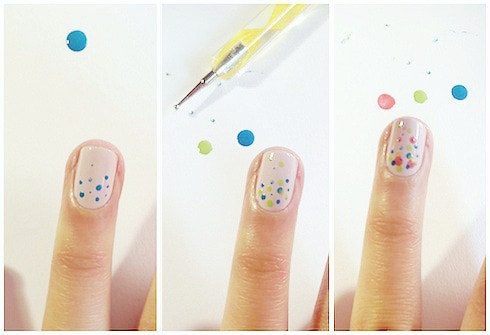 Step 1 (left): Paint on your base color and let it dry. Then start with the darkest color you have (mine was a blue), and create small dots at the base of your nail.
Step 2 (middle): Do the same with your next lightest color, overlapping some dots as well. Instead of concentrating at the base, also dot a few around the nail to create a "rising" effect.
Step 3 (right): Next, take a larger-sized dotting tool and a brighter color (red for me), and dot it in four or five areas, concentrating a few at the base and a couple more at the top of the nail. Lastly, overlap or place a few dots of your final color around your nail to finish off.
Note: After finishing, I decided to add some yellow dots for an extra pop of color.
The Finished Product: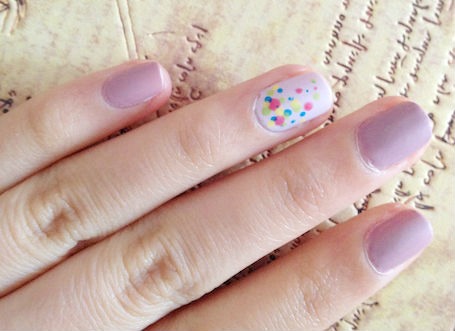 If you're not satisfied with the result, go ahead and modify your design by adding some larger dots or overlapping colors over one another. I actually added a matte top coat on mine after it dried — love it!
2. Dotted Edges Nail Art
This design follows the general idea of the first one, except instead of fading out the dots as you go up the nail, just alternate large and small dots concentrated on one side of your nail.
What You'll Need: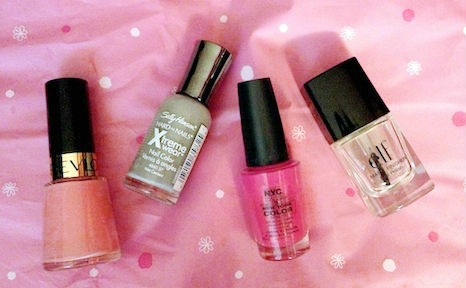 How to: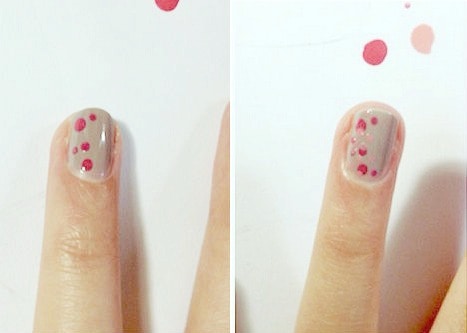 Step 1 (left): First, paint your base color on and let it dry. Start off with the larger dots, since it makes it easier to plan your space. I chose to do these in the darker color. Concentrate these on one side of the nail.
Step 2 (right): Take your lighter color and smaller dotting tool, then dot in between the larger dots. After you've filled in the space, you can add some more by overlapping some here and there. I actually stretched my line of dots a little bit past the mid point near the base.
At this point, you can choose to add another color with an even smaller dotting tool, but I just stuck to two. Since I loved the matte look in the first design, I opted to finish this off with a matte top coat as well.
3. Scalloped Lace Nail Art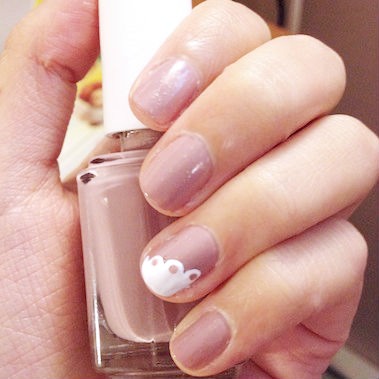 Now, I showed you guys how to make this lace-inspired nail art a few weeks back, but I thought it was worth mentioning again. Add a few dots to your scalloped nail art for a less-literal approach to polka dots.
How do you like to use dots for nail art? Post your ideas down below!
I hope this gave everyone some useful ideas for the spring – happy dotting! What are some fun nail art ideas for the spring time? And as usual, if there are any questions, comments or suggestions, feel free to put them down below!