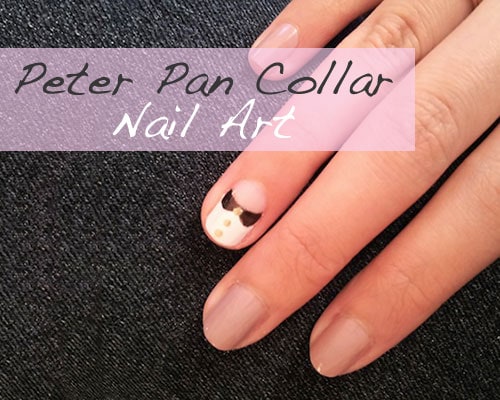 I've been really into collared shirts lately – I especially can't get enough of the accent collar. Lately, however, I've seen the resurfacing of the classic Peter Pan collar for the spring. As much as I love collars, I've found that it's something that doesn't really suit my style, so I thought that it would be appropriate to channel this on my nails instead.
Below, I'll show you an easy, step-by-step tutorial on how to create some adorable Peter Pan collar nail art. Read on!
What You'll Need: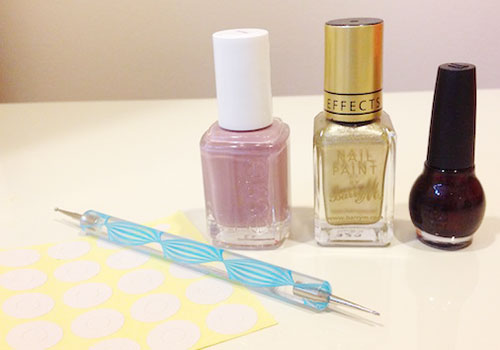 Note: You can choose to use a darker color for the base and a lighter color for the collar, but make sure to choose a more opaque polish for the collar so you won't need to go over it more than twice.
Step 1:
Start with clean nails. You can put on a base coat if you'd like, but make sure that it's completely dry before proceeding with the reinforcement stickers.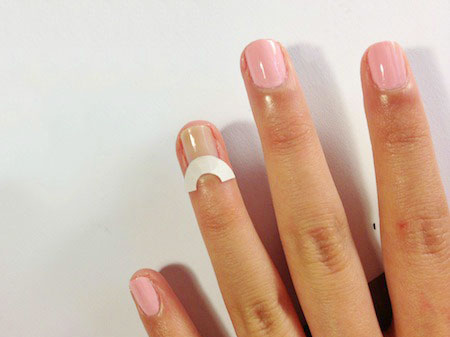 Cut a reinforcement sticker in half – if the one you are using is rather sticky, you can stick it on your skin to remove some of the adhesive before placing it on your nail. Just like doing a half moon manicure, place your reinforcement accordingly to get your "neckline".
Press down on the sticker to ensure that it lays flat on your nail and that there are no gaps or air bubbles.
Step 2: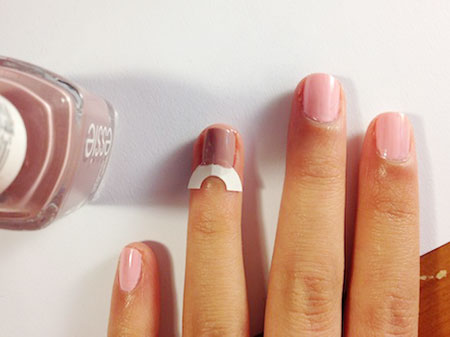 Paint on two coats of your base color and wait for it to dry – don't remove the stickers just yet!
Step 3: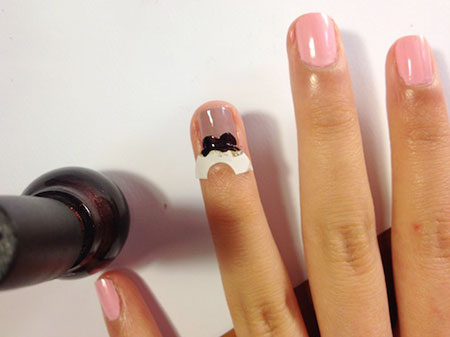 This part can be a little tricky – I decided to freehand the collar, though I've seen some other tutorials use the inner part of the reinforcement sticker to create the collars. I found my stickers rather difficult to cut to the "right size" for the collar, so I didn't end up using that method.
Just a reminder: If you decide to try the sticker option, make sure your base color is completely dry so the sticker doesn't ruin your polish.
Anyway, I had a bottle of "mini" polish on hand so I used that – the small brush definitely made it easier. I started by dotting a generous amount to get the rounded parts of the collar, and then dragged those out to create a full collar. This might take some practice, but if you can find a finer brush, it would probably help a lot.
Step 4: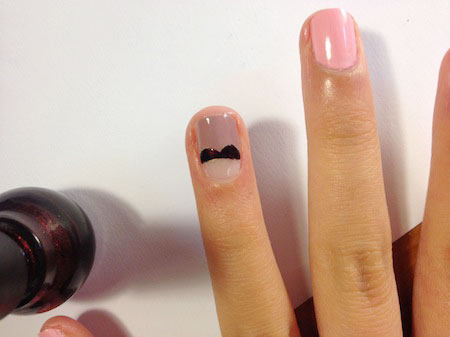 After this is done, remove the reinforcement sticker while the polish is still rather wet – if you leave it on until it dries, it could take out a chunk of your design. If there are some messy areas, clean up the edges with a small brush dipped in nail polish remover.
Step 5: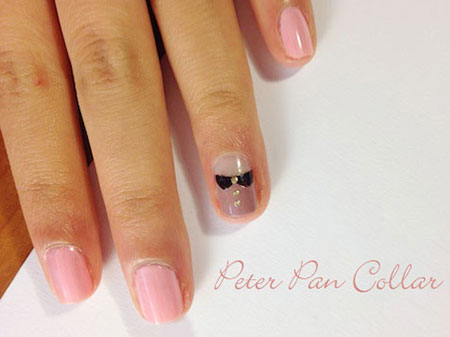 Finally, using a dotting tool, add three dots for the buttons. Seal the design with a top coat and you're done!
The Finished Look: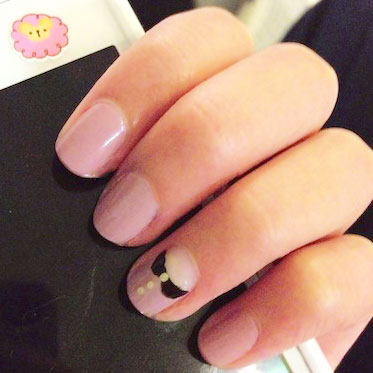 Note that I decided to change the colors of my other nails (as seen in the photo above) to match my collar for a more subdued look.
Of course, you can also personalize this tutorial by adding some glitter to the collar (e.g. sprinkle some fine glitter before your collar dries, or use a dense glitter polish). Have fun and get creative!
What do you think of this look?
Are you a fan of collars? Will you be trying out this tutorial? If you have any questions, comments or suggestions, let me know down below! I'd love to get some ideas about what you guys would like to see for the next tutorials.