This post may contain affiliate links, which means we may receive a commission if you purchase through our links. Please
read our full disclosure here
.
Fun fact that probably everyone on Earth knows by now: the 2012 Summer Olympics opened in London on July 27th, and already, tons of exciting events have transpired. (And the US has won its fair share of medals!)
But that doesn't mean the Games are even close to over! In fact, Closing Ceremonies aren't until August 12, so you still have time to figure out the coolest way to support your team. And have you ever noticed that there are five rings with five different colors in the Olympics logo? And most hands have five fingers? It's like they're just BEGGING you to get some nail art going! (Right?)
To celebrate the Olympics, I wanted to get a little patriotic in a simple way, so I decided to embellish my nails — and you can, too! This tutorial is a bit simpler than my last tutorial on nail art inspired by Yayoi Kusama, but I really just wanted the colors to shine. I also like the idea of having a simple manicure that every girl can personalize!
What You'll Need: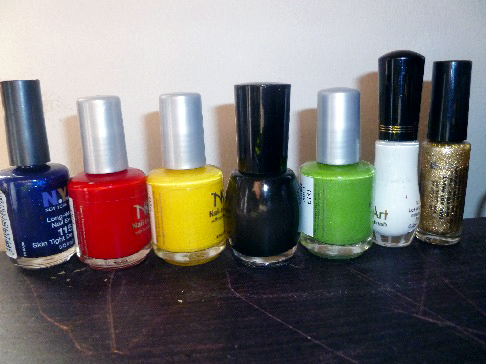 For this tutorial, you'll need blue, red, yellow, black, green, white, and gold polishes, as well as a detail brush. Use whatever brands you like; just try to get shades that are close to the olympic ring colors seen above.
Step by Step Olympic Nails:
To start, I copied the color scheme of the rings pretty literally, with the exception of my thumb nail, which I decided to use an accent nail. (More on that later!) Depending on which colors you use for your accent nail, you might want to swap out a different color – I'll explain more in a minute.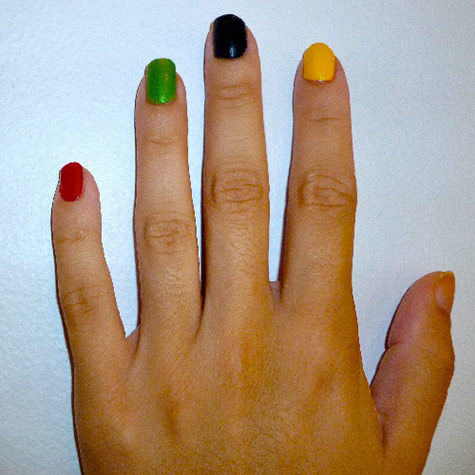 I then painted the tips gold with a detail brush, for a fun take on a French manicure. Silver and bronze are acceptable, too (and would look cool as part of an alternating pattern)!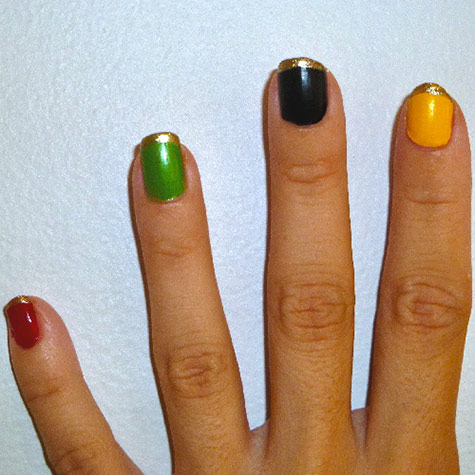 For my thumb, I decided to paint the American flag, since the USA is my home team. Since the American flag heavily features the color blue, I decided to forego a completely blue nail, but if your country's flag heavily features another color, feel free to swap out that nail. (And a fun fact you might not know: the colors of the Olympic rings, along with a white background, are supposed to encompass the different flag colors of the original competing nations.)
If you are painting the American flag, though, follow along! I started out by painting the area close to the nail bed blue: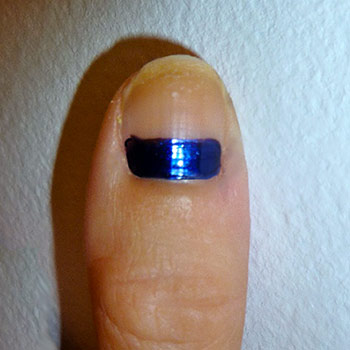 I then painted alternating red and white stripes with a detail brush. I recommend painting the white stripes first, since the red is darker. (Another option would be to paint the entire nail white, but that takes longer to dry.)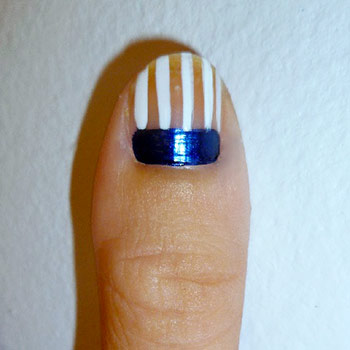 Make sure that the red stripes go on either end for accuracy's sake!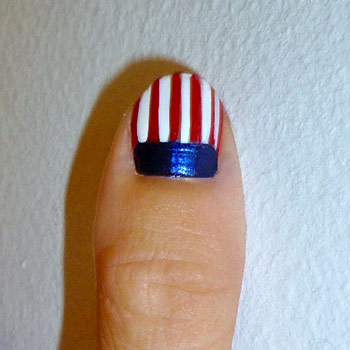 Once the blue was dry, I added some white dots with a detail brush for stars.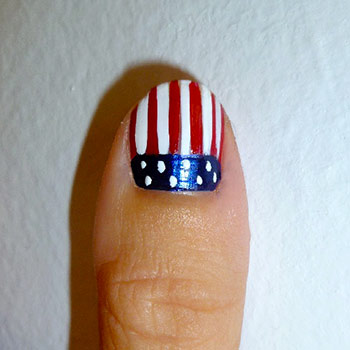 One more thought for the accent nail: If you're more into a certain event than a specific country, that could also be a cool way to showcase your loyalties — a volleyball or running shoe on one of the nails would also look awesome!
In any case, your nails are now ready to profess your loyalties!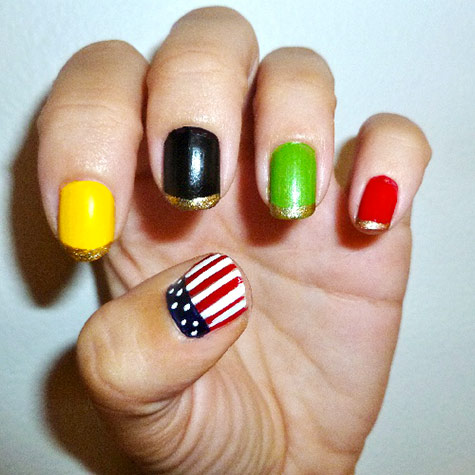 What do you think?
Have you been watching the Olympics? What are your favorite events? What do you think of this manicure? Would you consider painting Olympic-themed nails? How would you personalize them? What other types of nail art tutorials would you like to see in the future? Let me know your opinion, as well as any questions, in the comments section!