I'm (illogically) a vehement denier of summer's end well into September, but by the 21st, even I have to concede: it's officially autumn. However, the end of the best season doesn't mean that the following one should be dreaded! In fact, there are tons of great things about autumn, like falling leaves, apple picking, Halloween…but I'm getting ahead of myself. For now, let's celebrate the new season with awesome nails!
What You'll Need
I wanted to capture all the great colors of fall foliage, so I used burnt orange, yellow, red, brown and goldenyellow polishes — but whatever leafy colors are in your arsenal would look great as well! I also used a blue for a clear fall sky and, as usual, a detail brush.
Step-by-Step Autumn Nails
Fall skies always seem to be the bluest. To start, I painted all my nails a light, slightly sparkly blue.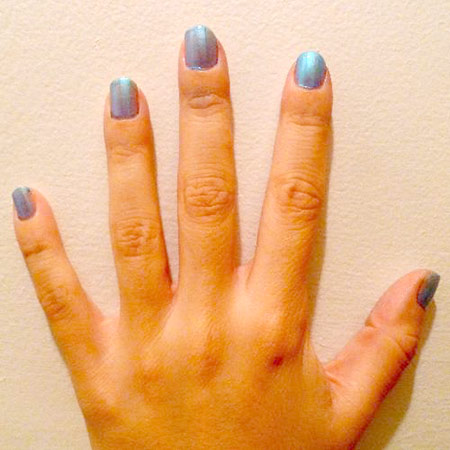 After that dried, I used the detail brush to paint the start of a tree with the brown polish. On a symbolic level, I liked the idea of incorporating a tree motif onto my nails — we're growing into the next season and shedding past experiences (summer) to make way for something new. (Right?) Anyway, I started with a thicker line in the center of my middle finger nail, then branched it out into thinner lines (branches), going off to the edge of the nail.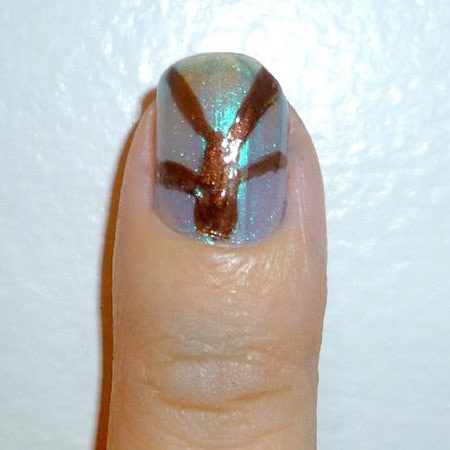 On the pointer and ring fingers I painted more brown lines, also that went off to the edges of the nails.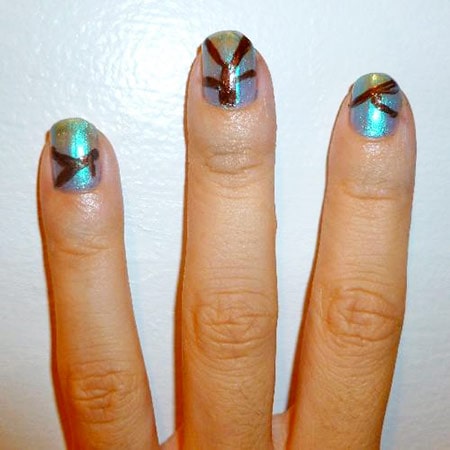 On the pinky and thumb nails, I ended the brown lines.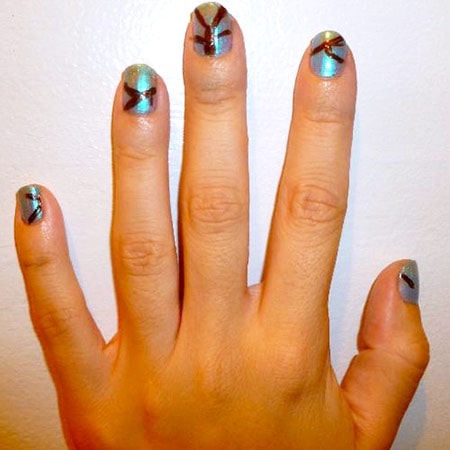 The idea here is that the lines kind of look like they connect, so your five disparate nails form one tree. Sort of poetic, right? Anyway, then it was foliage time, which doesn't require too much more instruction than get some polish and go crazy. Take your detail brush, dip it in every leaf color you've got, and just dot all around your branches. Maybe add a couple falling leaves. The fuller your tree is, the earlier in the season it is, but you probably could have guessed that.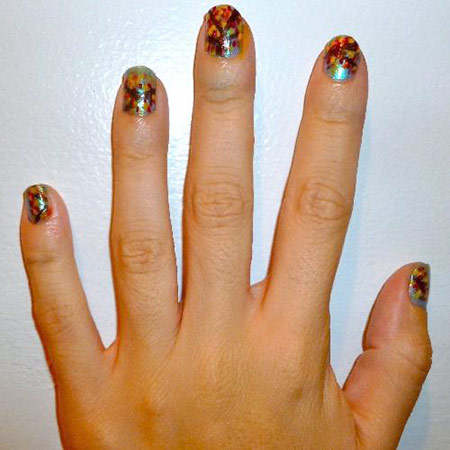 And there you go! Who said the end of summer is the end of sunshine? Maybe no one, because there is sunshine all year round, but more importantly, it is definitely not the end of nail art!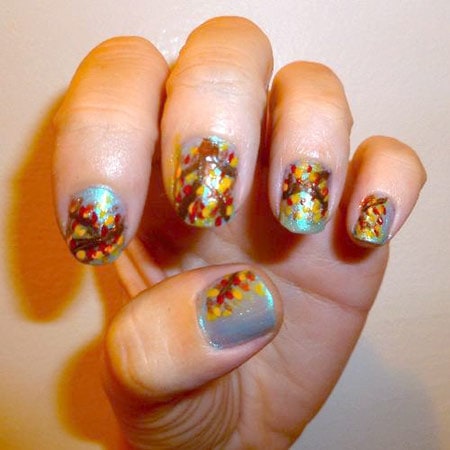 What do you think?
What are your thoughts? What's your favorite season and how do you feel about fall? Would you try this tutorial? Do you prefer accent nails or one overarching design? Or separate designs on each nail? I'd love to see your opinions in the comments section!