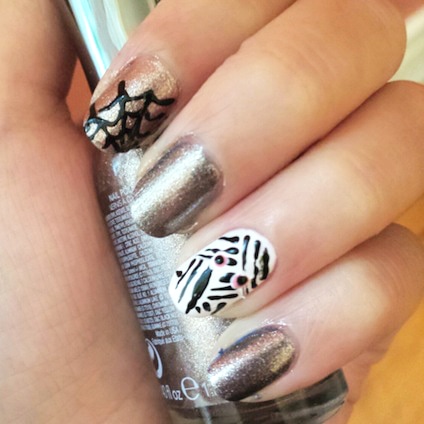 In keeping with the Halloween theme this October, I'm back with another easy nail art tutorial to try. While my previous Halloween nail art how-to was on the "gloomy" side, I think this one – which features a mummy and spiderweb – has more of a subtle yet spooky Halloween vibe.
Also, the technique for creating this design is rather simple, but it does require some specific materials to complete. Namely, you'll need a striping brush or a black nail art pen, which you can easily find at beauty supply stores.
Let's get right to the tutorial – read on to learn how to create this Halloween nail art design:
What You'll Need:
A white (or, for a more realistic look, beige) polish – I used China Glaze's White on White
A metallic bronze polish – I used Sally Hansen Xtreme Wear's Coin Flip
A red or pink polish
A black polish and striping brush or black nail art pen
A top coat
Step 1: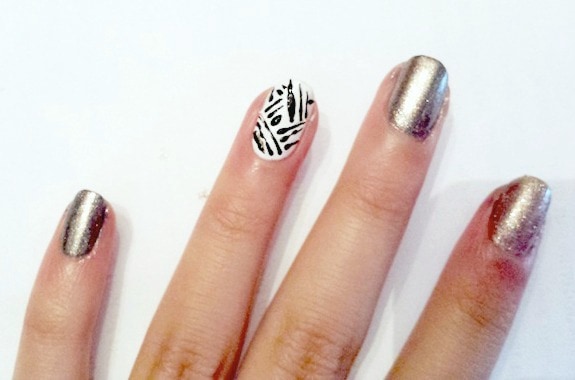 Start by painting your ring finger white, then paint the rest of your fingers a metallic shade.
After letting your nails dry, go ahead and use your striping brush in black or black nail art pen to draw lines imitating bandages on the white nail. For this to work, draw three parallel lines and make sure each 'section' goes in a different direction.
Step 2: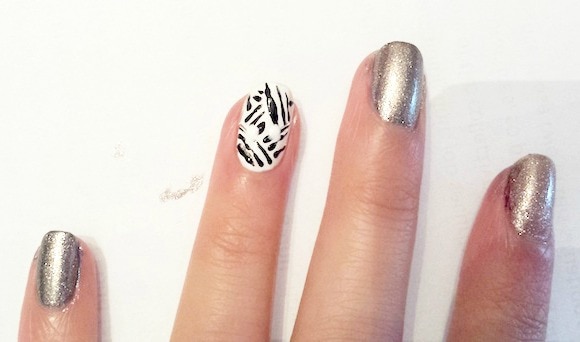 Using a larger dotting tool, add two dots in white to create the base of the eyes.
Step 3: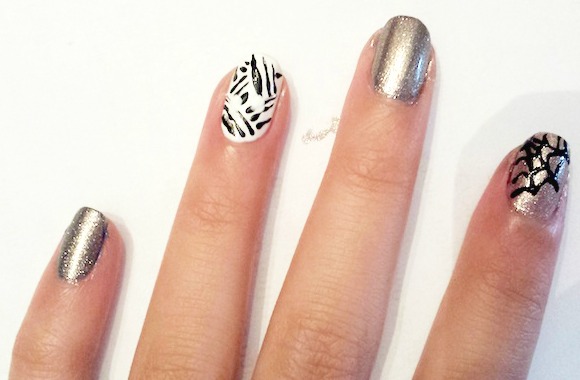 While waiting for the eyes and bandages to dry, work to create the spiderwebs on your index finger. For this, simply paint 'u' shapes that connect into a point.
Repeat this a few times underneath the initial line you painted. Don't worry if it looks messy – once you connect these points with a line, a perfect spider web forms!
Step 4: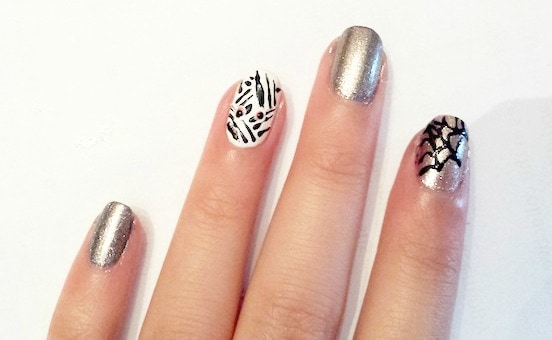 When the white base for the eyes has dried, drop a pink or red polish on it with a smaller dotting tool. If you use a red, you can just leave it as for a scarier look, but I decided to add another layer of black to overlap the pink polish and create pupils.
Final Thoughts:
In hindsight, I wish I chose a tan color for the mummy instead of just plain white, to give it more dimension. Similarly, you can always play with the look of the mummy, either by coloring in a triangle spot by the eyes to give the more traditional mummy look, or enlarging the eye area in general for something more animated.
Any more Halloween ideas?
How did you guys like this tutorial – any questions, comments or suggestions? Feel free to leave them in the comments section. If you would like me to do another Halloween themed post before the end of the month, let me know down below!