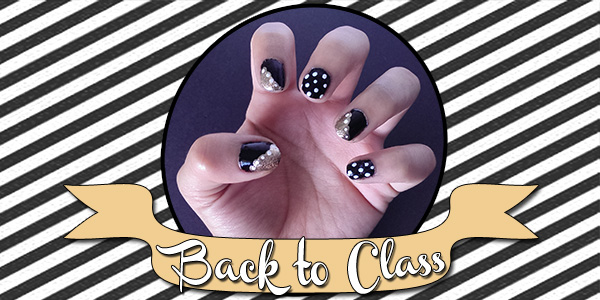 Greetings lovelies! I don't know about you, but the start of the semester hit me way too quickly! I'm not sure how it's already the beginning of fall semester, but we might as well head back to classes with, well, class.
For this week's nail art post, I've put together an elegant scalloped design that will make your nails stand out on that first day back. Scroll downfor the step-by-step instructions:

All That Glitters is Gold
To start this look, I painted my nails a shiny black as a base color for the design. I like using Sally Hansen's Black-Out because it has great staying power and a unique iridescent finish.
Next, using the technique from my previous Summer Skies tutorial, we're going to create cute, scalloped edges with a gorgeous gold polish. My absolute favorite gold nail polish is Golden-I by Sally Hansen. In fact, I have been turning to this color all summer long!

Click image to enlarge.
To create a scalloped edge, make one stroke towards the edge of your nail, and round off another stroke that's slightly lower than the first. Repeat this until you have about three or four edges, with each edge a little bit lower than the previous one.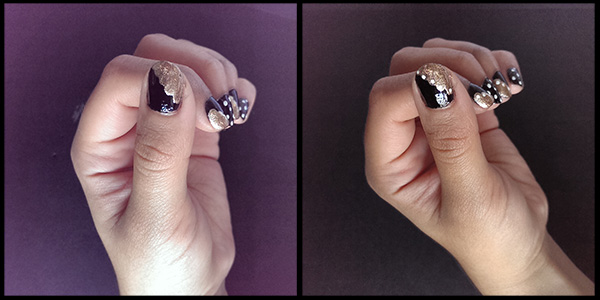 Click image to enlarge.
I decided to add a white dot to the middle of each edge to help them stand out more. You can use a toothpick or a dried out pen for this, since a bobby pin might give you too large of a dot.
To keep things interesting, I opted not to paint scalloped edges on my middle finger and pinky. Since we added white dots to the center of our scalloped edges, I went for a simple dotted design for a different look that still complemented the original design.
And There You Have It!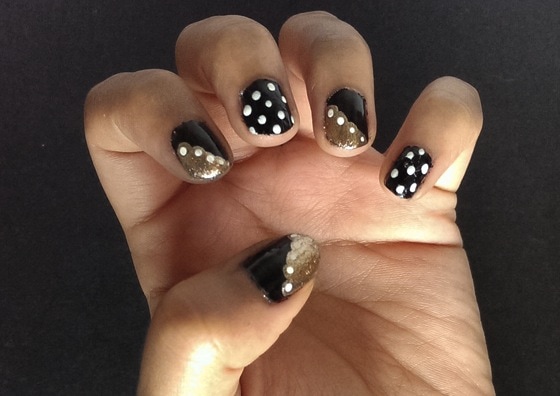 What Do You Think?
Would you wear this look for the first days back at school? How do you like to style your nails for class? Do you like creative designs or one color looks instead? Let us know in the comments below!