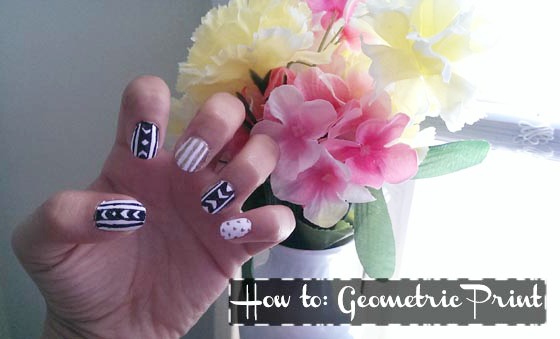 It's that time again, lovelies! Here's a brand new nail art look I put together for you guys to start your school year off right. If there's any print that continues to stay in style, it's bold geometric prints.
Inspired by the cute new backpack I snagged for school, I decided to go for a classic black-and-white geometric print look that you can sport for the new semester. Scroll down to learn how to create this nail art look:

Arrow Hits the Mark
Starting with Sally Hansen's "White On", I painted my nails a solid white as the base color for this look. I love this polish because it glides on smoothly and is very pigmented, unlike a lot of white polishes that are too sheer and require several coats.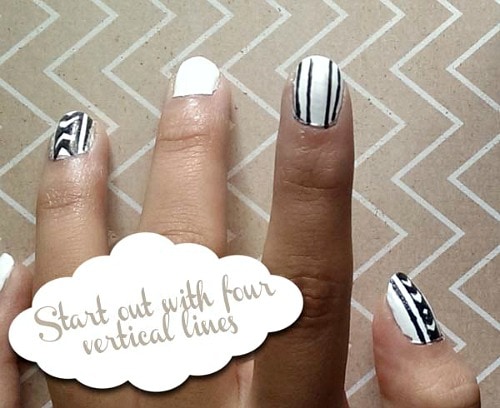 As you can see, I've already completed the design on my thumb and ring finger, so you can use this as a guideline for your design. First, draw four vertical lines along your nail, with two drawn almost at the edge of your nail. I'm using the Sally Hansen I Heart Nail Art pen in "470 Black Round Around".
Make sure your base coat has completely dried, so the polish from your nail art pen doesn't scratch off the polish underneath.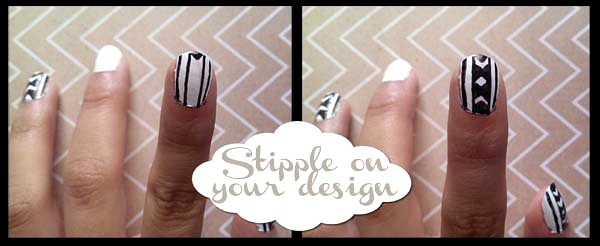 Using that same nail art pen and a stippling motion, begin to outline small arrow and diamond patterns so that the white shows the shape. I created an arrow, diamond, arrow pattern on this nail, but on my thumb I did arrow, arrow, diamond, arrow. Go ahead and create whatever pattern you want!
I find that the stippling technique really helps me to be precise and to get the edges of the arrows right where I want them.
Classic Gold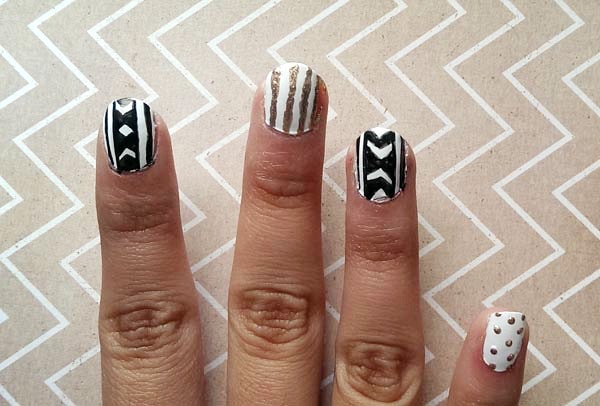 For my middle finger and pinky, I used Sally Hansen's "Golden-I" to paint on some simple dots and stripes to change up the look a bit. (Have you noticed that this has been my favorite polish all summer?)
I used my dried-out Sharpie to create these designs, since it gives me nice precision. For the stripes, I dotted and dragged the polish across to create a good pigmented line. And there you have it – a fun and trendy geometric print nail art look that's perfect for school.
What did you think of this look?
Would you wear this for school? Do you incorporate geometric prints into your look? What's your favorite print? As always, we want to hear what you have to say in the comments below!