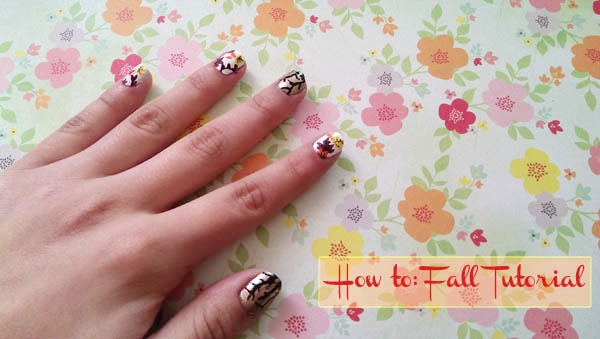 I feel like the general consensus here is that fall is the best season ever. There's no better feeling than walking outside and hearing the sound of leaves crunching under your feet, or having that light chill hang in the air as you head to class each morning. But, as a Michigan girl, I know there's not much time to enjoy all the luxuries that come with fall since winter likes to sneak in pretty quickly. We already got snow on Halloween! Sigh.
I figured since it won't be around for much longer, I might as well create a festive, autumn-inspired nail art look for you guys. It was hard to narrow all of my favorite things about fall into just two designs, but I somehow managed. Keep scrolling to check it out!
Branching Out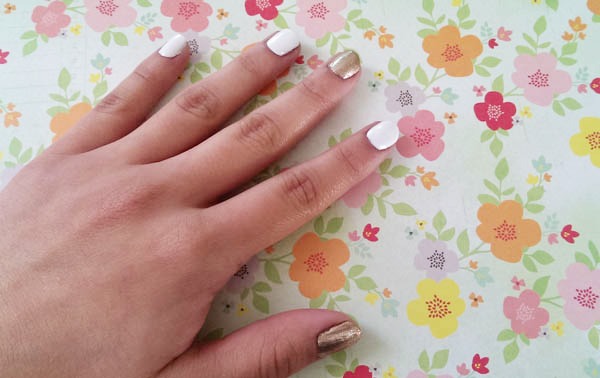 There's always something a little depressing to me about bare trees, so I decided to glam them up a bit so they didn't look quite as sad and ominous. Starting out with our base colors, I used Sally Hansen's White On on my index finger, ring finger, and pinky, then painted my middle finger and thumb a beautiful gold – Sally Hansen's Golden-I. The gold polish acts as the background for our naked little trees.
Next, using my trusty dried out Sharpie pen, I dipped it into some black polish and began to draw the trunk and branches of a tree. I used a really light hand to make sure I didn't end up with big blobs, so remember to be patient and not have too much polish on your dotting tool!
I also added some curves to the lines to make them look a bit more realistic. Add branches or little stumps wherever you please! Here's how I designed my trees on both nails: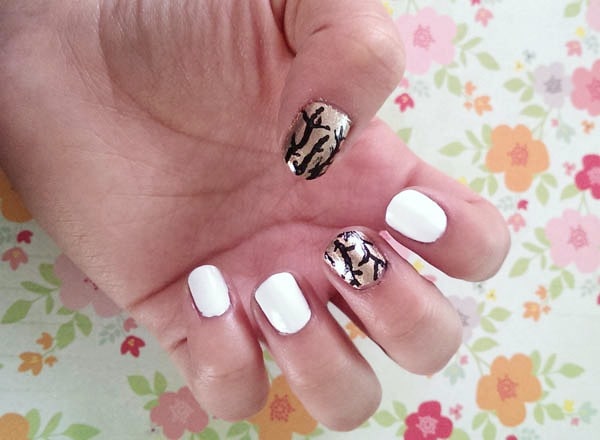 The Leaves Are Fallin'
Colorful leaves are one of the most iconic elements of fall, and we don't want our trees to be lonely! For this part, we're going to be layering on the leaves, so remember to wait long enough for each layer to dry completely. I opted for a white background to help each color stand out, but light blue or silver would look just as good.

My first leaf started out towards the top corner of my nail, and since it's easier to layer a darker color on top of a light one, I decided to make it a bright yellow. Simply create a dot for the body of the leaf, then stipple on the edges with a smaller amount of polish.
After waiting for my first layer to dry completely, I went ahead and repeated this step to create the rest of the leaves, making sure to have a light hand as I drew out the pointed edges.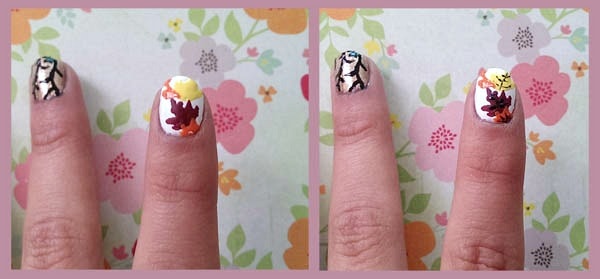 Once I finished up the layering process, I used a push pin to very lightly draw some veins on the leaves. You can skip this step if you want; I included a picture of my other nails without the addition of the veins. Choose whichever look you want!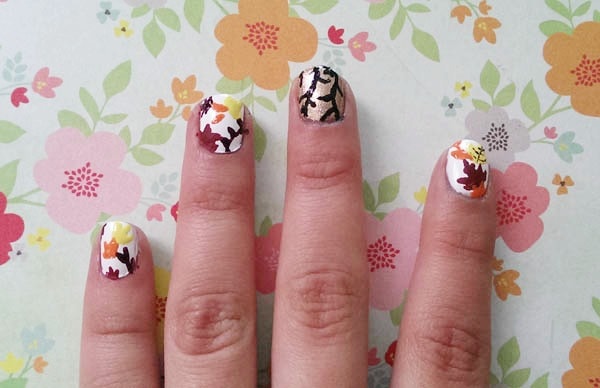 And There You Have It!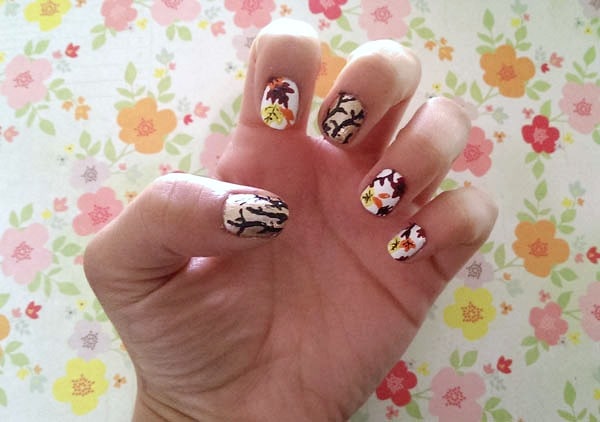 Voilà! An autumn-appropriate nail art look inspired by the gorgeous fall foliage.
What'd Ya Think?
Is fall your favorite season? Do you love cold weather or warm weather more? Would you wear this look on your nails? What other nail art tutorials would you like to see? As always, we want to hear your thoughts!