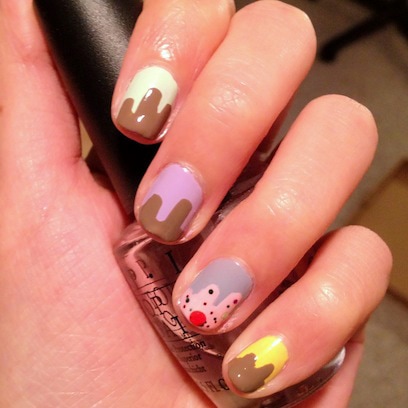 For this week's nail art post, I was inspired in part by this tutorial I saw from last summer, since this ice cream sundae-inspired mani is perfect for the transitional spring months before summer. Although it may look complicated (compared to some of my previous tutorials), it is actually a lot easier than you expect. Enjoy!
What You'll Need: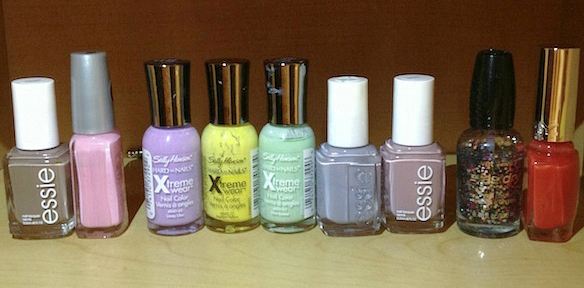 A base coat – I normally forgo a base coat (since I change my polish pretty often), but since I'm using dark colors (which can yellow your nails), it's a good idea. Plus, it will help your mani last much longer!
Five base colors (or you could use just one, it's up to you) – I chose to use Sally Hansen Xtreme Wear in Lacey Lilac, Mellow Yellow and Mint Sorbet, along with Essie's Cocktail Bling and Lady Like
A brown color – Mine was Essie's Glamour Purse
A pale pink or white – I used Wet N' Wild's Tickled Pink
A multicolored glitter polish – I chose Wet N' Wild's Party of Five Glitters
A red polish – similar to Essie's Lollipop
A dotting tool
A top coat
Note: I recommend choosing a color that is more opaque for the 'drips', that way you don't have to go over them again. My white was rather sheer, so I chose a pale pink instead.
Step 1: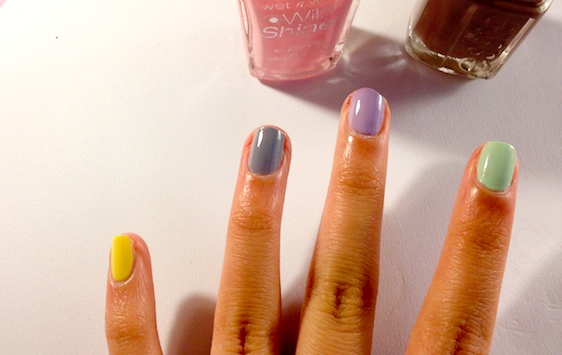 Paint your base coat and let dry. I chose to do a different base color for each nail, but stuck to a darker shade for my ring finger, since I wanted to use a lighter color for the "drip". You can also just use one color for all your nails or even just do one accent nail — it all depends on what you prefer!
Step 2: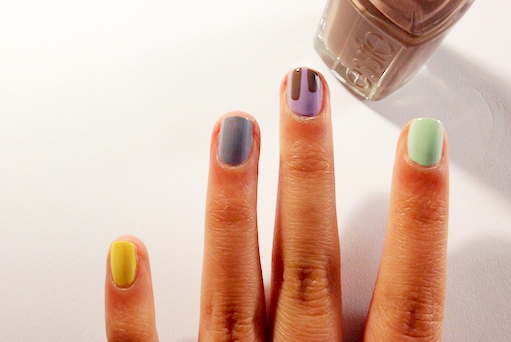 Using your brown color, paint 2 or 3 lines up your nail, in different lengths. To get the rounded bottom, either shape your brush as you wipe it off the neck of the bottle (if you have a thicker brush), or, if you have a thin brush (e.g. Essie brushes), load the brush with product and make a dot of polish at your starting point before painting the line.
I recommend working on each nail at a time, so you can connect the lines smoothly while its still wet. If there are still bumps and uneven places, you can always smooth it out with a top coat at the end.
Step 3: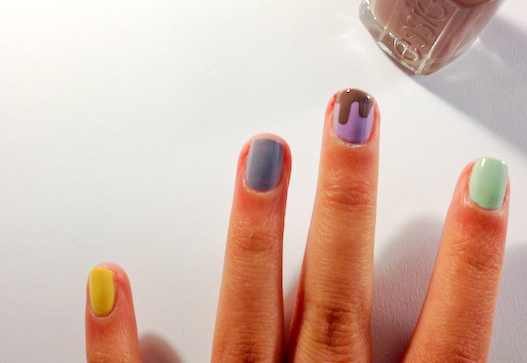 Connect the lines together at the tip of your nail by painting rounded lines. Make sure to fix any jagged or angled edges when you connect the lines together.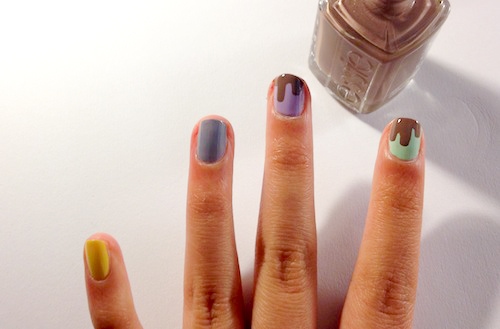 Also, you can alternate between having two and three lines on each nail (depending on how many you can fit on each nail), so they all look different. As you can see in the photo above, I opted to create three lines on my index finger and two on the middle one.
After this is done, you can either leave it as is or add a little something extra, as I chose to do down below.
Step 4: (optional)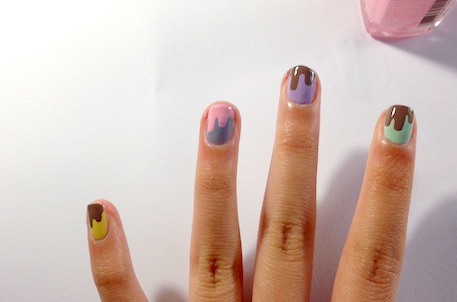 On my ring finger, I decided to do something different and used the pale pink color to create the drips instead.
Step 5:
Next, I went over the pink parts with some colored glitter to create "sprinkles". Make sure that the layer is dry before doing so, as you might have to adjust the glitter on your nail. Be careful not to glob too much on, either.
You can certainly add glitter to the other nails as well, but I chose to keep the rest of my nails as-is. After that, you can add a dot for the cherry on top and you're done!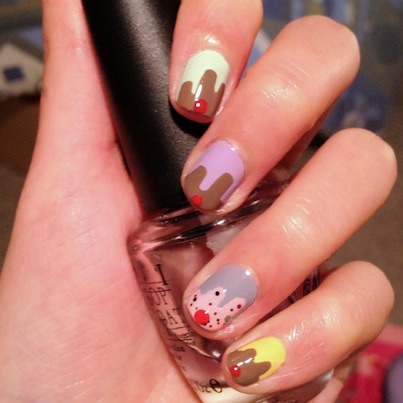 You can change up the colors to make a paint drip look instead, but I chose to stuck with pastels for a spring feel. Do a quick search of paint drip/chocolate drip nails and you can find a lot of inspiration!
How do you like these nails, will you be trying them out? Leave me your comments down below!
Any questions about this tutorial? If you have any suggestions for future tutorials or article topics, don't hesitate to let me know! Thanks for reading!