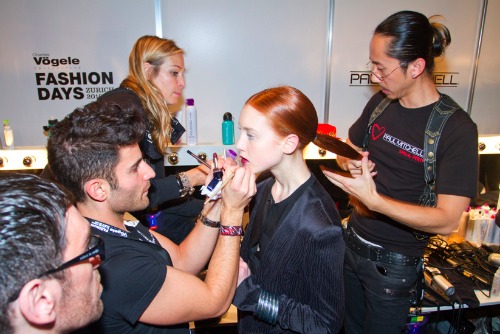 When it comes to beauty inspiration, who better to look towards then some of our favorite top models? Both of the girls below have distinctive features that they have learned to play up (probably with the help of some top-notch makeup artists) to make them appear extra striking. Here, we'll show you how to emulate their enviable looks.
Hilary Rhoda – Eyebrows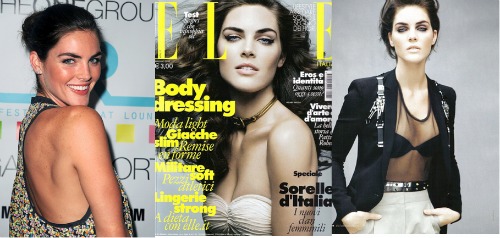 Hilary Rhoda is an all-American beauty hailing from Maryland and has been working as a model since 2005 when she signed with IMG. She is currently working with Women Management, and some of her latest campaigns have been with Jones New York and Estee Lauder. The most noteworthy aspect of Hilary's look is definitely her amazing eyebrows. Thick and shapely, Hilary's brows frame her face perfectly.
Technique
Getting your eyebrows to naturally look like Hilary's may take some time, especially if you've plucked your brows to look a bit thinner. If that's the case, you can let your brows grow out to get a look more like Hilary's. However, while they grow, it's important to keep shaping your brows, plucking hairs that stray way too far out of your desired outline. And don't be afraid to let a few hairs that you aren't used to come through – eventually they'll work into a fuller brow, which is clearly the goal.
Until your brows grow, fake it 'til you make it with this makeup trick. First, eyebrow pencil is crucial to achieve Hilary's look. These little pencils are perfect for achieving a natural looking yet more defined brow, but can be a little tough to use properly. Be sure to pick out a color that's a shade or two lighter than your natural eyebrow color, then use small strokes to fill in between hairs. Afterwards, use a an eyebrow brush to blend the color. This last step is of the utmost importance, without it, you can be left looking like an art project gone wrong– not the look you're going for.
Isabeli Fontana – Eyes

Though her name might not be a household one yet, Isabeli Fontana has been making waves with her Brazilian-bombshell look since she was 16. She caused a stir that year by appearing in the Victoria's Secret catalog. With that publicity, she caught the attention of numerous high-fashion editors and photographers that she has been working with ever since. Under Women Management, her most recent projects have included working as the face of both Dolce and Gabanna and +J Jil Sander for Uniqlo.
Out of everything that makes Isabeli so stunning, her eyes are definitely the feature that brings in the most focus. Isabeli and her makeup artists love to play up her eyes, and below, I'll show you how to bring a similar amount of focus to yours.
Technique
Photo Credits: 1, 2, 3, 4
To replicate Isabeli's look, you'll simply need a light concealer (or an eyeshadow primer), black mascara, eyeliner (preferably liquid), and shadow, as well as a little sparkle – you can try a shimmery shadow or a glitter liner, depending on the amount of glitz you want.
Start by applying the concealer or eyeshadow primer to your eyelids – this will work to keep the eye makeup in place for an extended period of time. Next, lightly line the bottom and top of your eyes. You don't want to create a thick line, though – instead, work the point of the eyeliner between your lashes right at the lash line. This technique will make your lashes look extra lush.
Now it's time for the eye shadow. As seen in the close-up shot of Isabeli's eyes above, the eye shadow shouldn't cover the entire lid. You should use an eye shadow brush and your finger to blend the shadow on the upper part of the lid, making sure the shadow gets darker towards the inner corner of your eye.
Mascara comes next and is a key component of achieving an intense eye look. Use the mascara on both the top and bottom eyelashes to ensure a dramatic finish. Lastly, add a touch of sparkle on the inner corners of your eyes – not only does sparkle add a little fun to the look, but it will also catch the light, making your eyes look wider.
Thoughts?
What other models have specific features worth examining? Know any makeup tricks that are worthy of these runway beauties? Let me know!