If you've ever casually Googled "mermaids" in your free time (what, you mean you haven't?), then you'll find gorgeous illustrations of ethereal women with colorful fish tails.
I've always been fond of these illustrations because the colors are so beautiful, rich, and vibrant. For this week's beauty tutorial, I've drawn inspiration from a mermaid's tail and created a bold eye makeup look for summer. Read on to learn more:
Step 1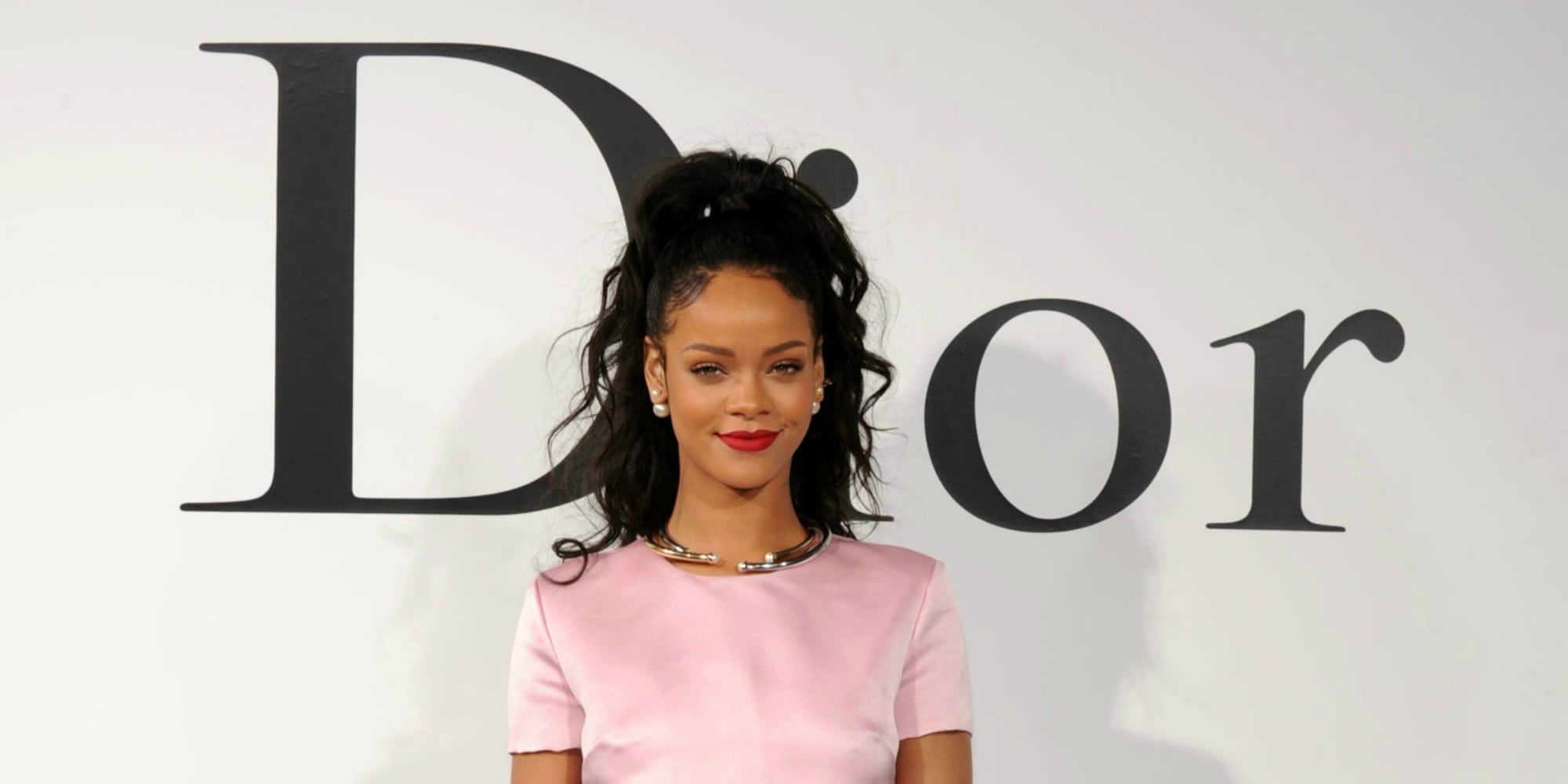 Go ahead and prime your eyes with a product like Urban Decay's Primer Potion, then apply a transition shade into your crease. Choose something that closely matches your skin tone, like I've done here.
Step 2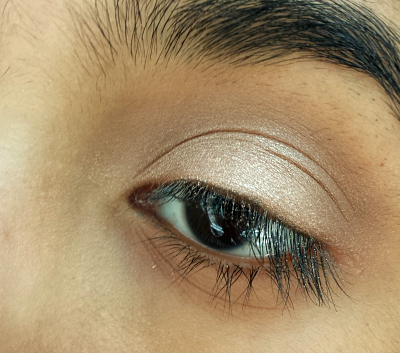 Next, you'll need a flat eye shadow brush and a shimmery, light neutral eye shadow of your choice. It can be a nice taupe shade if you find that cooler tones work best on you, or a bronze shade if you find that warmer tones suit you.
Apply the shade onto your lid, then blend it out with a fluffy brush.
Step 3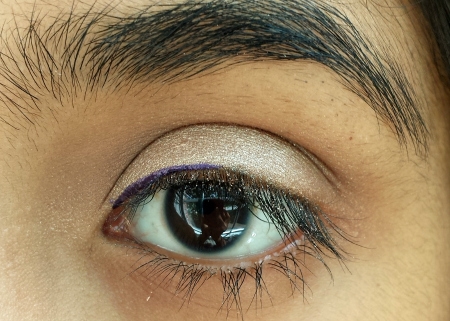 Here's where we get to the colorful part! Take a purple liquid eyeliner and line your eyes from the inner corner to about a quarter of the way across. Stop just before you reach the middle of your eye.
If you accidentally go a little over, don't worry about it. The next color we use will just overlap the mistake.
I used Jordana Cat Eyeliner in Suede. If you can't find Jordana in your area, I recommend trying Wet 'n' Wild Megaliner in Plum or NYX Studio Liquid Liner in Extreme Purple.
Step 4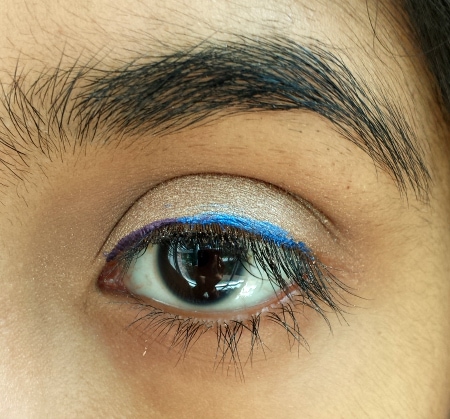 Next, take a bright blue liquid liner, and start applying it where the purple ended. Slightly overlap the two colors, and end the blue liner near the end of your lashline. Again, don't worry if you slightly go over because the next color will be able to overlap it and fix the problem.
I used Wet 'n' Wild Megaliner in Indigo Blue, but some alternatives are Revlon ColorStay Skinny Liquid Liner in Electric, Jordana Cat Liner in Twilight, and Stila Stay All Day Liquid Eyeliner in Indigo.
Step 5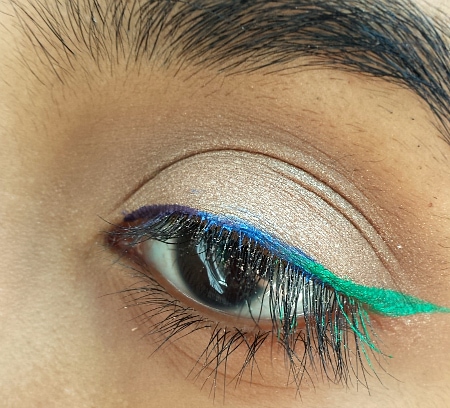 For the last color, use a bright green liquid eyeliner. Starting where we ended the blue, extend the liner out, creating a winged look.
I used Wet 'n' Wild Megaliner in Turquoise, but you could also use NYX Studio Liquid Liner in Extreme Green or Stila Stay All Day Liquid Liner in Emerald.
If you are uncomfortable with doing a free hand wing, I suggest using the tape method.
The tape method consists of taking a piece of regular tape (you can also use washi tape, which doesn't pull at the skin as much) and placing it where your lower lashline ends, then lining it up with the end of your brow in a slanted direction.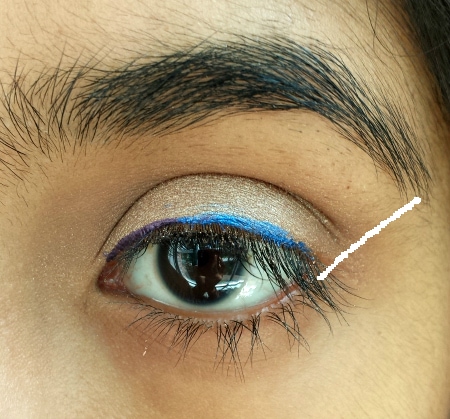 This picture illustrates the tape method. The white line represents where the tape should be placed.
Using the tape method not only helps you get the perfect line, but if you have shaky hands, the tape will be able to block any liner from getting on the rest of your face since it doubles as a shield of sorts. It's also great if you struggle to make both sides of your eyeliner come out evenly.
After you finish applying the eyeliner, simply remove the tape and you'll have a crisp and even line.
The Finished Look: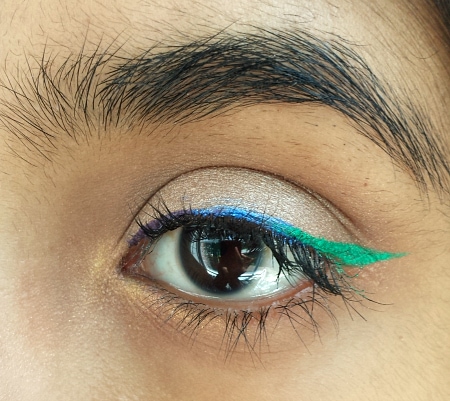 If you want a little more dimension and sparkle, apply a shimmery gold eye shadow to the inner corner of your eyes, like I've done here. The gold complements all three eyeliner shades and ties the look together perfectly. Apply your favorite mascara and you're good to go!
What do you think?
Will you be trying out this look for summer? Do you think mermaids are inspiring, too? Would you like to see more bright looks? If you have any other requests for summer makeup looks, then let know in the comments down below. Ask away!