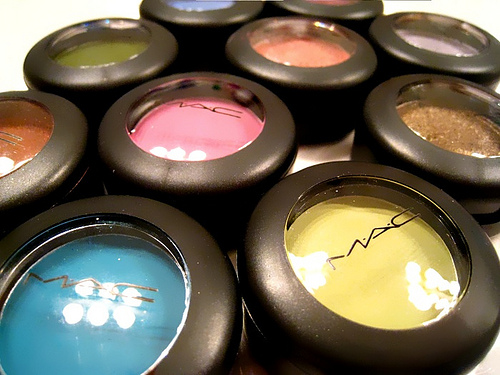 There's no doubt about it: fall is the time to make a statement. After Fashion Week rocks everyone's world in September, the inspiration remains even as the days get colder.
This year, the perfect way to express yourself and stand out from the crowd is with bright, bold colors. From electric blues to magical metallics, bold shades rocked the runway this year. And there's no reason you can't let the runway style carry over to your school hallway!
One of the easiest and most fun ways to rock a bold color is with your eye makeup. With every flirty flutter of your lashes, you can let the world know that you're serious about your beauty but also seriously into having glamorous fun. So why delay any longer? Learn how to rock bold eye makeup with the four tutorials below!
1. Sultry and Smoky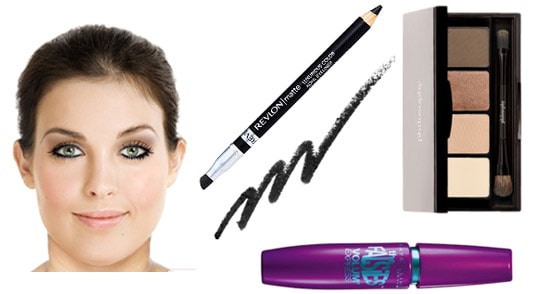 Product Info: Black Eyeliner, Brown Eyeshadow Palette, Volumizing Mascara
Smoky eyes are perfect for a night out on the town, and are the perfect look if you're not quite ready to go bold with your shadow, but want to try something new. To make this mysterious look your own, follow the easy steps below:
Apply a dark brown shadow to your lids and blend upwards all the way to your eyebrow.
Highlight your eyes by applying a beige, shimmery shadow just underneath your brow.
With black eyeliner, follow your lashline on both your top and bottom lids. But when applying liner to the bottom lid, continue the line upwards lightly beyond your eye for a hint of a fabulously feline cat-eye.
Finish the look with 2 coats of black mascara to be wink-ready at all times!
2. Metallic Gold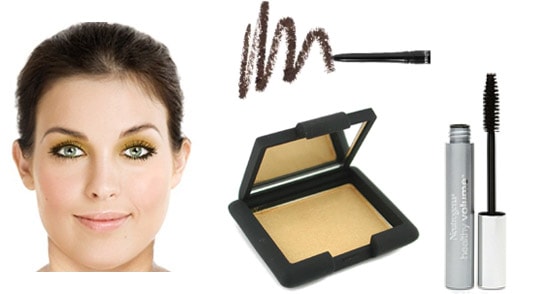 Product Info: Brown Eyeliner, Metallic Gold Shadow, Brown Mascara
If you're ready to be seen this season, why not go with a trendy metallic gold eye? The shade is super hot for fall. Interested? Here's how to recreate this fabulous look:
Apply a metallic gold shadow to your crease and smudge it slightly upwards, (not quite reaching the brow, though!) and downwards to the lash line.
With a dark brown liner, follow only your upper lash line, stopping at the edge of your eye for an alert and perky look.
Finish with two coats of brown mascara.
3. Electric Purple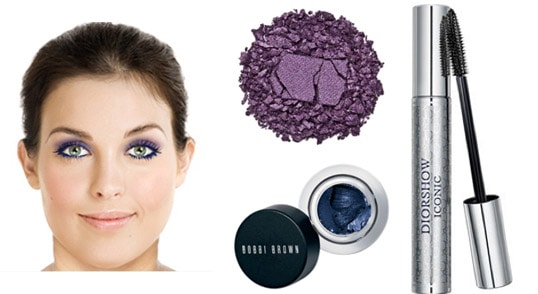 Product Info: Purple Eyeshadow, Navy Gel Eyeliner, Navy Mascara
Purple is the undisputed color of all things regal, and one of the hottest shades for fall. Follow the steps below to give off a royal aura with every glance:
Apply a deep purple eyeshadow solely to your eyelids, without blending elsewhere.
Use a navy eyeliner to line the inner rims of your eyes on both the top and bottom.
Finish with a coat of navy mascara to make your eyes pop.
4. Oh-So-Emerald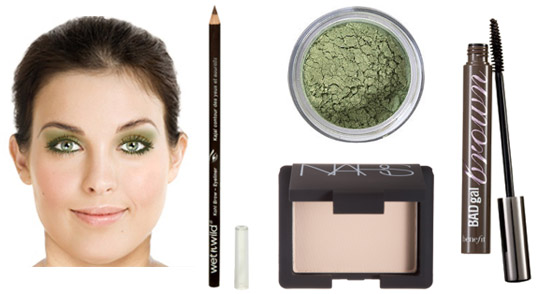 Product Info: Brown Eyeliner, Green Mineral Shadow, Matte Beige Shadow, Brown Mascara
Want to make everyone green with envy? Follow the steps below for your ticket to the Emerald City:
Apply an army green eyeshadow to your lids and crease and blend upwards towards your brow.
Use a matte beige eyeshadow just below the brow.
Apply a brown pencil eyeliner to your top and bottom lids for soft definition.
Finish with one coat of brown mascara.
Your thoughts?
So what do you think? Could you picture yourself rocking any of these dramatic eyeshadow looks?What makeup colors are you most excited about for fall? Make sure to leave a comment below!
*All Faces Courtesy of Total Beauty Makeover