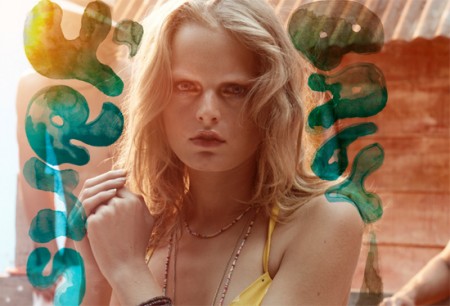 Just in time for the beginning of summer, MAC Cosmetics has released their new line, "Surf, Baby!"
We gave you a preview of the Surf, Baby collection earlier this year, but now we can show you the Surf, Baby! line in its entirety, complete with warm bronzers, surf-inspired eyeshadows, beach-ready lip color, and two smooth nail lacquers. Read on to check out the collection.
Eyeshadows

"Swell Baby", "Surf USA", "Short Shorts", "Saffron"
MAC's summer shades in the "Surf, Baby!" collection include a frosty champagne ("Short Shorts") and a frosty teal ("Surf USA") alongside a mid-tone grey ("Swell Baby") and a "deep coral caramel" ("Saffron").
Lip Colors
"Hibiscus", "Good Lovin", "Full of Grace."
The "Surf, Baby!" collection includes a variety of lip colors that are perfect for summer. I love the lipstick in "Hibiscus", a bright orange-coral shade, and the peachy,"Good Lovin" lipglass. The Suntints Liquid Lip Balm includes SPF 20 (so important for preventing lip sunburns – yes, those can happen!), and comes in three sheer tints.
Nail Lacquers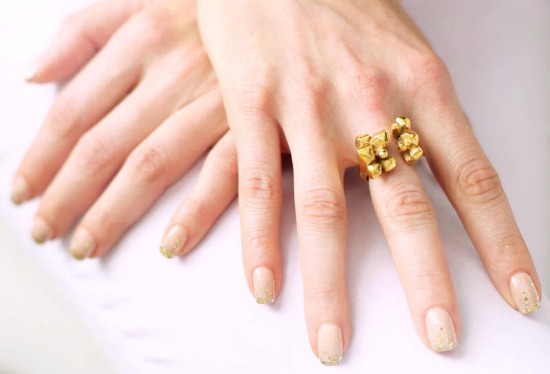 "Ocean Dip", "Hangin Loose".
Add a touch of surfer-chic to your look with MAC's newest Nail Lacquers. "Ocean Dip" is a creamy aqua hue, while "Hangin Loose" is a dusty, pink-nude.
Bronzing Powders & Bronzing Stick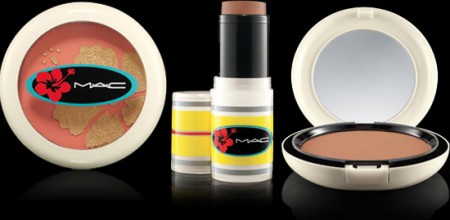 Cheek Powder, Skinsheen Bronzer Stick, Bronzing Powder.
Get a sun-free summer glow with the three bronzing options in the collection. "Surf, Baby!" Cheek Powder blends a peachy-pink pigment with bronze pearls, while the Bronzing Powder is perfect for smooth, all-over bronze color. The Skinsheen Bronzer Stick comes in three variations of color so you can pick the perfect shade for your skin. The Bronzer Stick is great for adding subtle color to your cheekbones and forehead.
What Do You Think?
What are your favorite pieces from MAC's collection? Do you wear makeup with added SPF in the summertime? Would you rock the bronzed look? Let us know what you think in a comment!