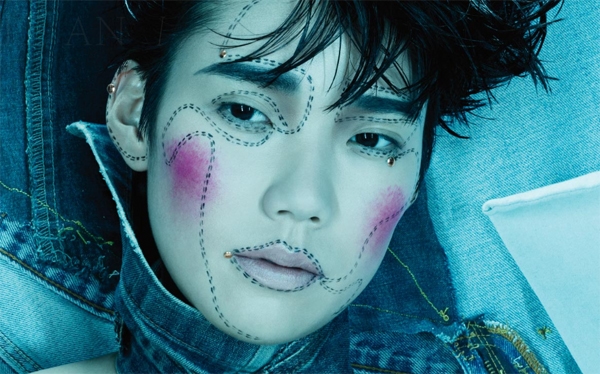 MAC Cosmetics has yet again released a creative new line of makeup. Their newest collection, Jeanius, takes America's "national obsession" with denim and translates it to a hip, artistic makeup line.
According to MAC's website, the collection features "moody blues and indigo ink, the quantum of modern cool, with four new limited-life denimized Eye Shadows, Lipglass, Blush and Biker Blue Nail Lacquer."
Jeanius Colors
The Jeanius collection includes numerous shades inspired by denim, from eyeshadows to lipsticks. Check them out!
Eyeshadows

Left to right: White Jeanius, Diva in Distress, Motorhead, Stovepipe.
MAC has integrated denim blues and pearlescent glimmer into the new line. Not only are the colors jean-inspired, but the design of the eyeshadows themselves resembles a denim pocket with a rivet.
The white, blue, and dark gray eyeshadows feature copper and silver pearlescent sheens to add dimension and shimmer to the colors.
Nail Lacquers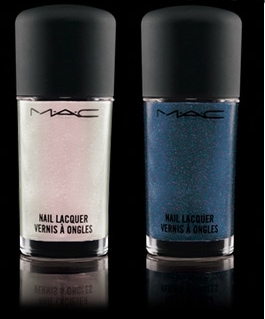 Left to right: Frayed to Order, Biker Blue.
The Nail Lacquers in the Jeanius collection are "Frayed to Order", a "white matte with soft pink duochrome pearl," and "Biker Blue", which has a "black base with a purple & blue pearl."
Lip Colors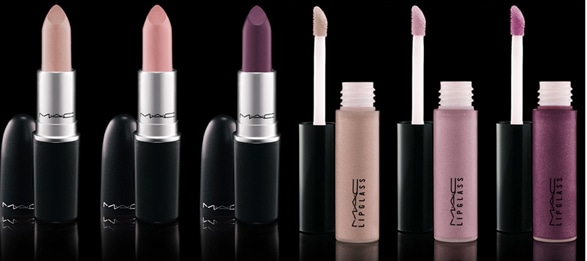 Left to right: Acid Washed, Pretty Pink, Riveting Rose, Painted On, Docile, Indigo Pink.
The Jeanius editions of MAC's Lipglasses feature beige and pink shades with gold pearls, and a deep burgundy hue with blue pearls. These colors contrast perfectly with the cool blues seen in the rest of the collection. The lighter "Painted On", "Docile", "Acid Washed, and "Pretty Pink" are fresh colors perfect for spring. "Indigo Pink" and "Riveting Rose" combine a rich burgundy with blue pearls, which ties in with the rest of the collection.
Want More Jeanius?
Check out the rest of the Jeanius collection at MAC Cosmetics' official website.
*All photos courtesy of MAC Cosmetics
What Do You Think?
What's your take on MAC Cosmetics' new collection? Would you rock a dark blue eyeshadow or the burgundy lip color? Do you like the design of the eyeshadows in the collection? Let us know in a comment!