This post may contain affiliate links, which means we may receive a commission if you purchase through our links. Please
read our full disclosure here
.
Hot and humid weather has arrived, and there is no denying it nor escaping it. If the summer heat makes you want to skip your makeup routine, I'm here to offer solutions that allow you to still wear your fave products.
I can't promise any magical red shoes that'll transport you to a perfect weather destination, but I can give you some tips for decluttering your base makeup and making it feel lightweight for summer.
1. Put Down the Foundation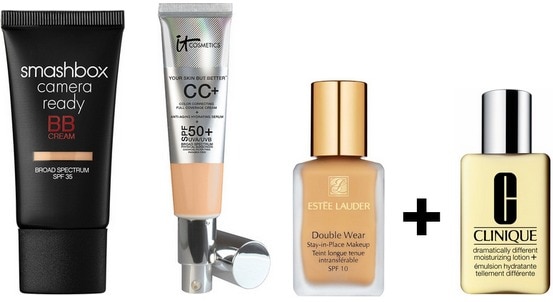 Product Info: Smashbox, It Cosmetics, Estée Lauder, Clinique
The truth is, you probably don't need that full coverage foundation and it may be the reason you've skipped doing your makeup. Don't get me wrong, I haven't worn makeup regularly in a couple of weeks and it feels great. But whenever I do feel like getting a little bit dolled up, that thought quickly vanishes due to my past experiences with using foundation when it was hot and humid.
Yes, you could a mattifying foundation, but I find that it looks too caked on for my liking and not "skin-like."
If you don't need a ton of coverage, then something like a tinted moisturizer will do the job. It'll even out your skin tone and cover tiny spots of redness and imperfections.
If you desire slightly more coverage, but not a heavy mask-like feeling, then go for a BB cream or even a CC Cream. Coverage-wise, a BB/CC cream is the middle-ground between tinted moisturizer and foundation.
If you're willing to DIY, you can create your own tinted moisturizer or BB/CC cream by mixing your favorite daytime moisturizer with a little bit of foundation for the coverage you want with the feel you desire.
2. Correct not Conceal

Product Info: Pixi, Bobbi Brown
A color corrector is kind of a game changer. If you are unfamiliar with what that is, it's makeup based on color theory that corrects any imperfections you might have.
A very common example is if you have a redness on your face, whether it is due to your skin being naturally red or from acne, then you use a green concealer/corrector.
Why?
Green helps to cancel out red. Therefore, if you apply a little bit of green concealer on your acne marks, as well as a tiny bit of your TM/BB cream, the redness should disappear.
The same can be applied to under eyes. If you suffer from dark circles, then use a peach-toned corrector. Bobbi Brown makes some amazing correctors for a variety of skin shades. After you apply the corrector, dab a little bit of the TM/BB over your corrected area to blend it into your face.
3. Blush from Within

Product Info: NYX, e.l.f., MUFE
Regardless of what time of the year it is, the last thing anyone wants is to look caked up from an all-over powder. After all, everyone wants to look sun-kissed during the summer, not ghost-like!
Cream blushes tend to look more natural and are easier to blend. So, you can put down that blush brush because you'll be using your fingers.
With the blush of your choice, take your ring finger and glide your finger over the blush to pick up some product. Apply to your cheeks with three dots. Using your index and middle finger, pat the product onto your cheeks, but try not to smear it on. Instead, use patting motions to blend.
4. Sprtiz It On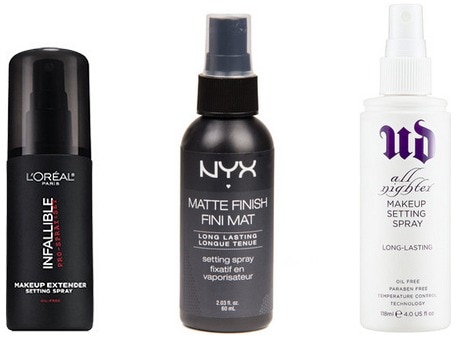 Product Info: L'Oreal, NYX, Urban Decay
The last step to getting a lightweight feel is to skip the powder (I can hear the gasps coming from my oily girls) and opt for a setting spray.
If you're unfamiliar with the magic of a setting spray, then let me teach you all about it. A setting spray is a liquid that mists out onto your face and helps keep your makeup on all day long. Think of it as a hairspray for your face, but safer (really, please do not use hairspray in place of a makeup setting spray).
The reason I opted for this item is because it helps to keep you shine-free and sets your makeup without the feel of powder lingering onto your skin.
What do you think?
I hope this post will help with your summer makeup woes… at least in terms of face makeup.
Let me know what else you'd like to see in terms of fixing your summer makeup problems. Leave your suggestions down below! Also, let me know if you'll be using any of these tips.