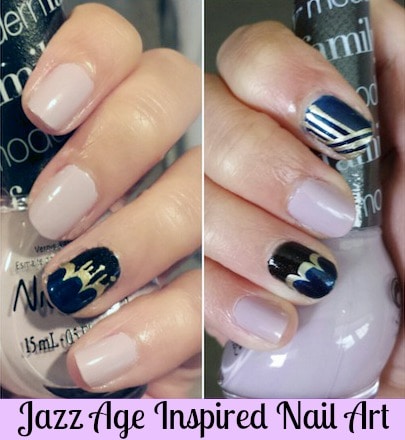 I've always been really inspired by the lavish Jazz Age and Art Deco eras, especially when it comes to their architecture and typography – I love the geometric shapes and the ornate nature of the time's style.
This season, I've noticed these styles making a major comeback due to the release of The Great Gatsby movie, along with the film's collaboration with Tiffany & Co. I've been seeing the ads for both everywhere, so I decided to channel the jazz age into some fun nail art.
After doing some research, I thought it'd be nice to incorporate a previous tutorial to add a little detail to reflect a different style. The color scheme I chose is also reflective of the time – dark colors contrasted with gold. I chose to do two designs to keep in theme with the opulent feel of the era – one is more ornate, while the other one mimics simplicity of the lines found in the architecture of the time.
Read on to check out this Jazz Age-inspired nail art tutorial:
Jazz Age Nails – What You'll Need: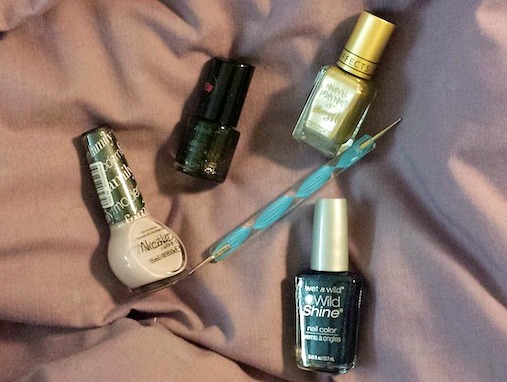 Step 1: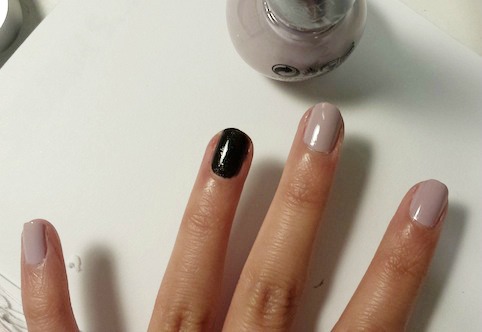 Paint on your desired color(s) and let dry. I chose black for my ring finger and a more muted color for the rest of my fingers.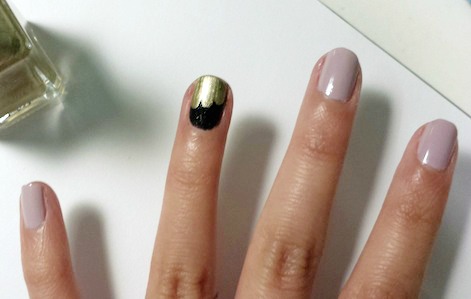 Beginning with the ring finger, use the gold polish to make a scalloped edge – you can refer to my previous tutorial for more detail on how to create that.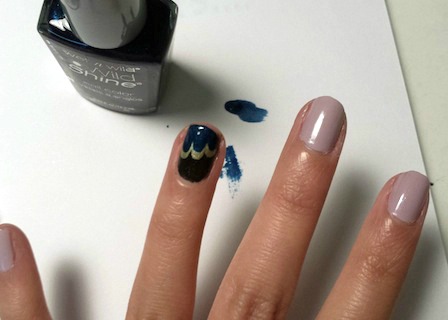 After the polish dries, go in with a darker color – in my case a midnight blue – and do another scalloped edge.
Step 2: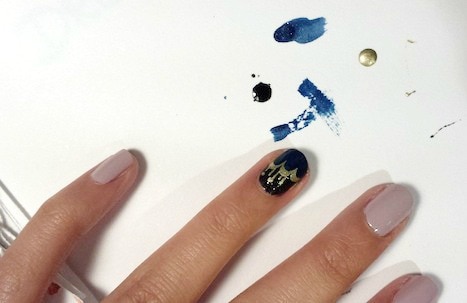 With a thin-tipped tool (e.g. toothpick, thin dotting tool, mechanical pencil tip), take a bit of gold polish and begin making thin lines in varying lengths down your nail. How many you choose to do is completely up to you, but I decided to stop halfway and added some dots at the end of two of the lines for some variety.
Step 3:
Now, for my right hand, I decided to do two different designs, using the scalloped edge on my ring finger and lines for my index finger. You can choose to modify these as you please since most of us aren't ambidextrous (me included!).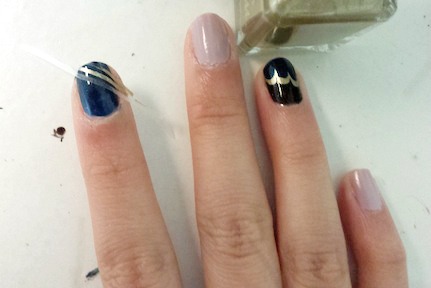 For the index finger, we'll be using the same concept as my Quilted Nails tutorial. Cut out pieces of tape as thin as you can before you begin. Place them in a diagonal fashion on the tip of your nail, making sure the gaps are about the same width as your tape. Smooth the tape down to make sure there aren't any gaps around the edges.
Step 4: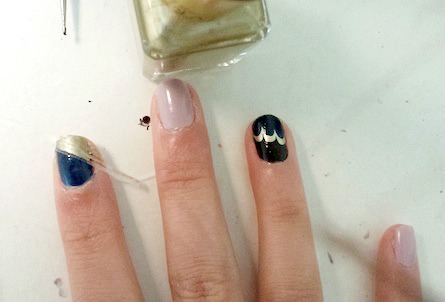 Once this is done, paint on the gold color and immediately take off the tape. Wait for this to dry before proceeding.
Step 5: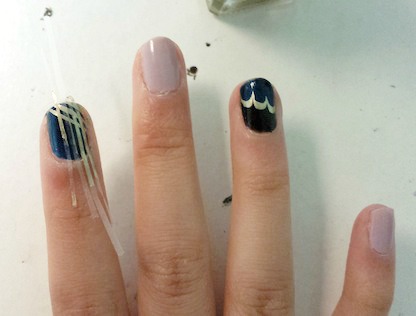 To make the vertical lines, use the same technique with the tape as before, laying them vertically beginning from one side of your nail. Make sure not to paint the entire way through – be careful and paint until the edge of the diagonal line.
Once this is done, remove the tape and there you have it! If you want to paint on a top coat to get the most out of the design, make sure it's completely dry so you don't run the risk of ruining the design.
What do you think of this Jazz Age inspired design? Any other color schemes you'd try?
If you have any questions, comments or suggestions, please feel free to leave them down below! I'd love to hear any suggestions for future tutorials!