This post may contain affiliate links, which means we may receive a commission if you purchase through our links. Please
read our full disclosure here
.
Always a hot trend no matter the season, silver eyeshadow can be tricky to pull off. The flirty color says that you are trendy, fun, and not afraid to stand out and sparkle. However, you want to look dazzling… not like a disco ball!
With this in mind, here's how to wear this shade for your classes during the day, and then make a subtle change to party all night!
How to Wear Silver Eyeshadow for Day and Night
For daytime sparkle, simply apply the silver eyeshadow using your index finger to your eyelids and blend up to the brow so that the pigment is evenly spread across the eye. This will make you look awake and ready for anything!
For nighttime glamour, use the silver eyeshadow as a highlighter. After applying a black shadow lightly all over the eye, use your pinky finger to apply silver eyeshadow just below the brow. Remember to blend, blend, blend! This will give you a smoky look that seems as if it was done by a professional!
Silver Eyeshadows to Try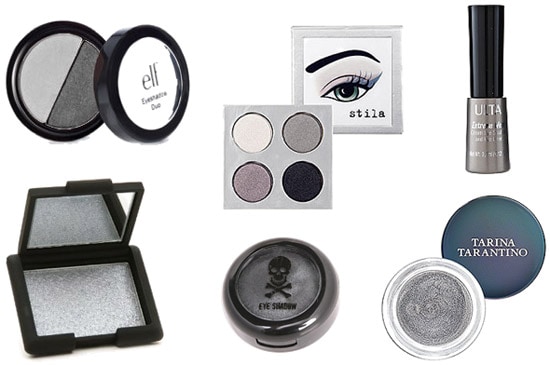 Product Info (left-right): e.l.f. Eyeshadow Duo, Stila Smoky Eye Palette, ULTA Cream Eyeshadow, NARS Eyeshadow in Night Life, Charcoal Baked Eyeshadow, Tarina Tarantino Cream Shadow
What do you think?
Let me know – would you try either of these looks? What eyeshadow shades are you most excited about for fall? Leave a comment!