This post may contain affiliate links, which means we may receive a commission if you purchase through our links. Please
read our full disclosure here
.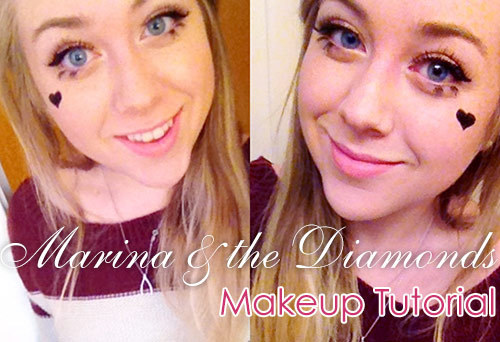 Marina and the Diamonds is definitely my favorite singer right now – I listen to her music every day! She always wears her heart on her cheek, but never on her sleeve, so I thought this would be a cute look to re-create on CF.
The products needed can all be found at the drugstore – keep in mind that you DO NOT need to purchase ANY of these products! You can use whatever you have at home – you don't even need to buy false eyelashes (you can just pile on that mascara, girl!).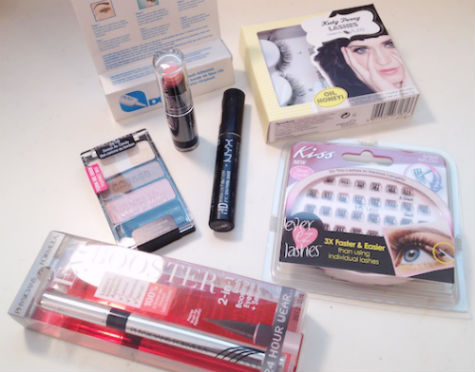 Creating this look is seriously the easiest thing ever. The only thing that you may or may not have trouble with is the false eyelash application – you can choose to avoid this step or make attempts to apply them; I definitely struggled a bit! It does take practice. (For tips, see our video tutorial on how to apply false eyelashes.)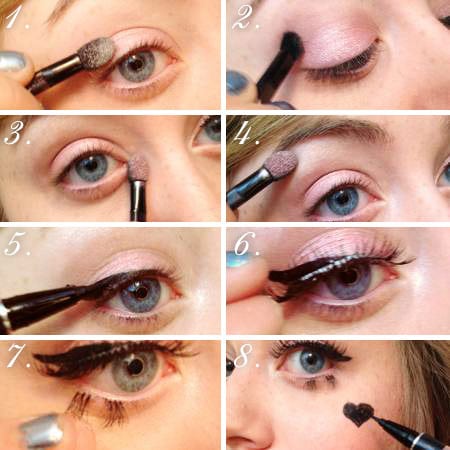 Step 1: After applying an eyeshadow primer, I took a light, shimmery pink color (from the Wet n Wild Sweet As Candy (381 B) palette) and applied it all over my lids using a sponge-tip applicator.
Step 2: I took a light, shimmery, semi-matte brown color and by using circular motions, I applied it to my crease using an angled brush that was provided in the Wet n Wild palette.
Step 3: I took the light, shimmery, almost-white color from the same palette and applied this to my inner corners and brow bone!
Step 4: Using a liquid eyeliner pen, I created dramatic winged eyeliner. I didn't go all the way along my upper lash line, though – I started at the center of my lids and drew out from there, completely avoiding the inner half of my eye.
Step 5: This is the fun part: false lashes! I found these awesome lashes by Eyelure in Oh Honey at my local drugstore and was completely sold when I saw that Katy Perry was on the box! These lashes are soooo fun and so Marina! I used eyelash glue from Duo to apply these!
Step 6: Using mini individual lashes, I applied two onto the edges of my lower lash lines, giving a doll-like effect to my eyes. This is something Marina ALWAYS does, however, she uses way more lashes than I did.
Step 7: Using the same liquid pen that I used earlier, I drew a heart on the left side of my cheek. This is Marina's signature look!
Step 8: Apply a light pink matte lipstick for the finishing touch. I used Wet N Wild in Think Pink (901 B).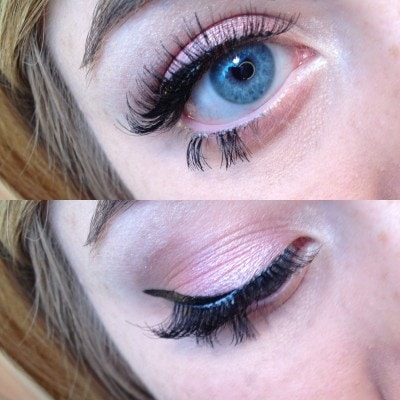 And that's it! This look is so fun! I'm seeing Marina in concert in May and I'm definitely going to be wearing this look, but it would also be cute for a night out to a party or club.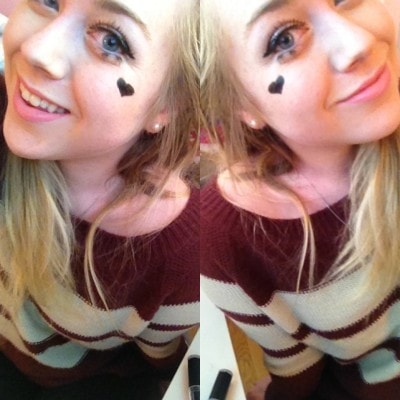 Your thoughts?
What do you guys think? Did you like the tutorial? Do you just LOVE Marina and the Diamonds? Or have you never heard of her? Let me know in the comments!