Every year, Pantone announces its Color of the Year, the one color that defines not only the fashion industry, but the country as a whole. And it's not as simple as closing your eyes and picking a slip out of a bowl! They look at emerging trends, the feel and emotions of the industry, and what type of color people need to get excited for the future. Sounds like a big job, right?
For 2011's color of the year, Pantone chose "Honeysuckle," a beautiful pink, for its "encouraging and uplifting" spirit. For 2012, they chose Tangerine Tango, a reddish orange, that has the "energy boost we need to recharge and move forward." So in celebration of this vivacious color, this post will include everything tangerine! I hope this helps you in deciding to take the plunge and embrace this fun color.
Tangerine Eyes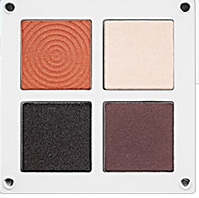 Sephora Color of the Year Eyeshadow Quad
Pantone loves Tangerine Tango for the eyes, as they note it is a "complementary opposite that flatters blue or green eyes" and when "paired with brown eyes, it brings out an amber cast." So here are some shadows to help you take the plunge!
Tangerine Nails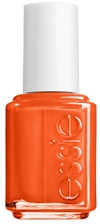 Essie's "Meet Me At Sunset" Polish
The neon nail trend is all the rage right now, so why not hop on the bandwagon with a little bit of orange? It's a perfect summer hue and something a little different than the typical pink or blue.
Tangerine Cheeks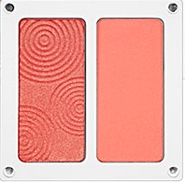 Sephora's Color of the Year Blush Duo
And don't forget about your cheeks! This shade can be absolutely lovely and can give a warm glow to your face. But be careful with the highly pigmented blushes! You don't want to look too orange, after all.
Tangerine Lips

Clinique's Chubby Stick Moisturizing Lip Color Balm
And last but not least, tangerine is a gorgeous lip color. Bright lip colors are very pretty for summer and tangerine has been popping up everywhere! If bright is not your cup of tea, try a tangerine lip balm like the one from Clinique, pictured up above. Just add a hint of color to make everything pop!
Want more?
If you want to see more beauty products incorporating Tangerine Tango, check out Sephora's Color of the Year section! If you want to learn more about the Pantone process of choosing the Color of the Year, then check out Slate's piece about their experience in Pantone HQ.
And if you want to read more about Pantone's Color of the Year, go to their site where they give you more great ideas on how to incorporate Tangerine Tango into your life!
What do you think?
Do you like Pantone's chosen color for 2012? Would you wear tangerine out in public? Have you tried tangerine makeup yet? Let me know in comments!