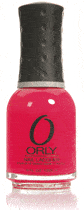 Summer is a great time to play with fashion, because practically anything goes. In fact, the rule for summer fashion this year is the brighter the better, and the same holds true for nails.
My favorite color for my nails and toes this summer is definitely hot pink.
I just picked up Orly Nail Lacquer in Passion Fruit (left) and I'm completely in love. The color is so eye-catching that I've been receiving compliments left and right on my pedicure.
There's something so summery and fresh about daiquiri-colored nails, and there are so many shades to choose from!