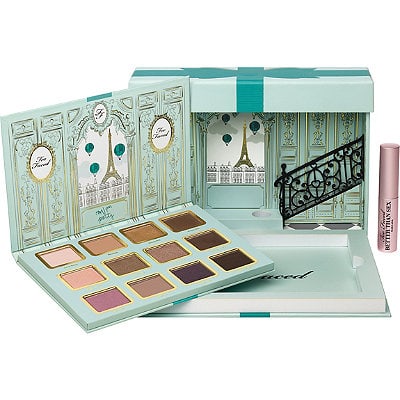 Every holiday season, makeup brands release beautiful new palettes and limited edition kits, and it's safe to say that they're at the top of my list every year! The packaging is normally customized with winter themes, and there's usually a few special shades that only come with the limited editions.
Basically, these are lovely gifts for yourself or friends and family that you'd like to spend a little more on, and a great way to sample the best of high-end beauty for less. Below, I've listed the four sets I'm coveting most this holiday: 
Kat Von D Mi Vida Loca Lip Set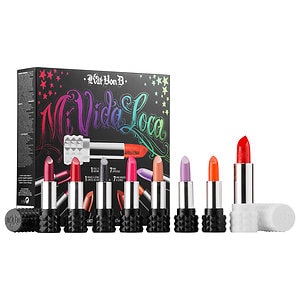 Kat Von D Mi Vida Loca Lip Set – $42.00
At first look, these shades by Kat Von D might be a little bit wild. However, after swatching them in the store and trying some on (I bought this for my sister!), I actually ended up liking them. That is, except for the black shade. I simply cannot pull that off. However, if you can, props to you because it's bold and definitely different! 
The full-size red shade is a bright, cherry red that looks beautiful on many different skin tones, and is more of a neutral red than a blue- or orange-red. Therefore, it will look good on most people. If you're looking for a great gift for someone who is always trying new lipsticks, this is perfect! And the packaging is adorable.
Too Faced La Petite Maison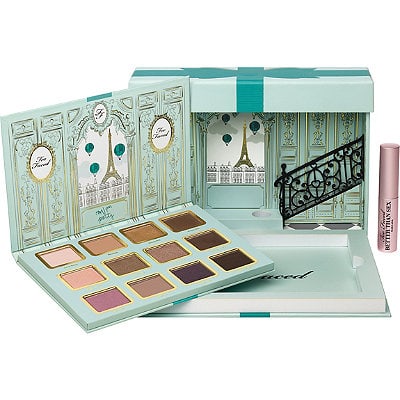 Too Faced La Petite Maison – $39.00
Is this not adorable? The packaging is the cutest thing ever, and makes a perfect gift for anyone who loves makeup or all things Parisian-inspired. Too Faced always makes the prettiest holiday special edition kits, and this is no exception. The shades are beautiful, and there is a large range of light and dark colors for all occasions.
The shadows themselves are nicely pigmented and smooth, just like you'd except from any Too Faced palette. Sometimes the quality can go down in special editions, but this one is definitely up to par! The bonus Better Than Sex mascara is awesome too, because it's an excellent product you'll want to try. Get this for your makeup-loving sister or best friend!
BareMinerals The Royal Wardrobe Eye and Cheek Palette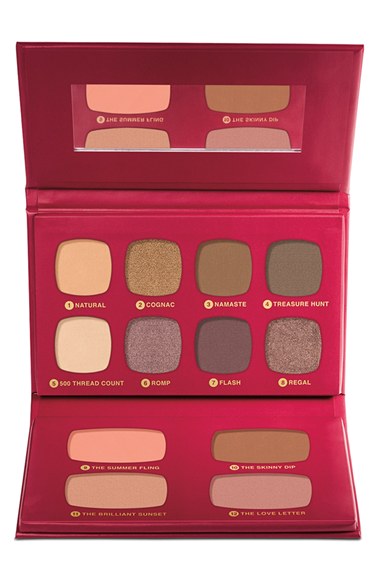 BareMinerals The Royal Wardrobe Eye and Cheek Palette – $39.00
This palette is pretty much perfect, and I love it! BareMinerals is one of the few brands that doesn't irritate my rosacea-affected skin, and their blushes and eyeshadows are some of my favorites. This palette has so many ideal everyday shades, and the blushes and bronzer are neutral and pretty.
This is a great palette for traveling or if you're looking for a good all-in-one. Cognac is my favorite shade! It's a great all-over lid color and blends beautifully. Get this for the traveler or natural-looking makeup fan on your list!
Benefit Cosmetics Party Poppers 12 Days of Gorgeous Set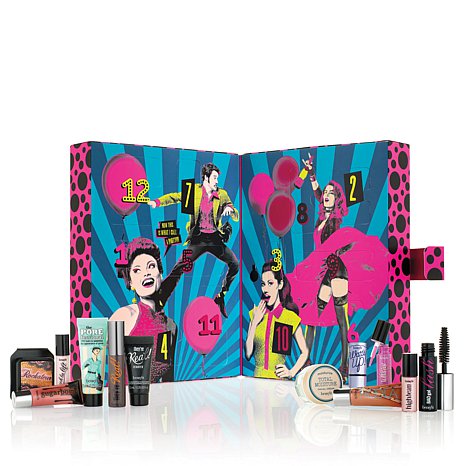 Benefit Cosmetics Party Poppers 12 Days of Gorgeous Set – $45.00
So this is probably the best thing ever. 12 days of beautiful makeup? (Who wouldn't just open all the days at once? I'd have a hard time resisting…) This gift set from Benefit has 12 deluxe samples of some of their most amazing products, including my personal favorites They're Real mascara and High Beam highlighter.
I also love the Rockateur blush, so this set truly hits all the high points of Benefit's range. Get this for the person that is obsessed with makeup or Benefit, and watch their face light up!
What do you think?
What do you think of these holiday gift sets? Do you have your eye on any of them? Let me know in the comments!