This post may contain affiliate links, which means we may receive a commission if you purchase through our links. Please
read our full disclosure here
.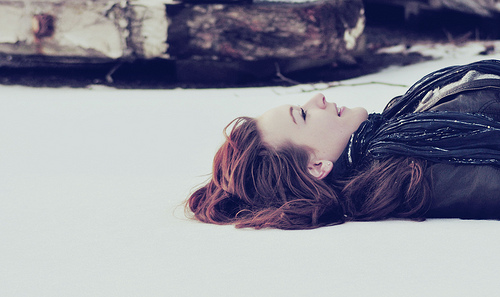 This time of year – with its freezing temperatures and wayward weather – seems to be when we all need beauty products the most! When getting out of your warm snuggly bed and preparing to brave the elements, a little push by way of a much-needed beauty boost can make all the difference. And nothing's better after a long day in the cold than to enjoy a night of pampering.
As you may have noticed, I take beauty very seriously. Therefore, each of these beauty products has been selected with care to combat one of the most obnoxious side effects of winter: dry skin. I know that while you're focused on finals and trying to get in and out of the cold as quickly as possible, perfectly smooth hands might not be your top priority. However, achieving smooth skin in winter is doable without going too much outside of your regular routine – I promise!
1. Exfoliate!
Believe it or not, your skin naturally wants to glow. Underneath your dry winter skin, there is beautiful skin – you just need to get to it! In order to access this hidden layer, one must exfoliate. Exfoliaton has been done for centuries – the Ancient Egyptians actually pioneered the process – and it's one of the best ways to whip your winter skin into shape.
Below are some of the best exfoliating body products on the market to use, whether in the shower or on your hands before a quick wash.

Left to right: Margarita Citrus Body Scrub / Stress Relief Sugar Scrub / Gingerbread Man Scrub
2. Lather Up!
If you've used your exfoliator in the shower, then why not rinse it off in style? The best shower gels for winter are ones that trap the moisture in your skin and keep it there all throughout the day. To achieve this, you should look for shower gels that have moisturizing ingredients like glycerin, aloe, shea butter, and vitamin E.
Here are three excellent winter shower gels to help your skin say smooth and lovely.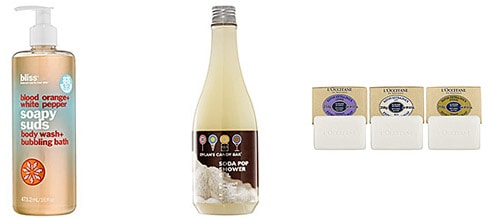 Left to right: Bliss Orange + White Pepper Body Wash /Soda Pop Shower Gel / L'Occitane Shea Butter Soap
3. Moisturize!
Once you're out of the shower, don't end your pampering process there! Now it's time to follow up with a fabulous lotion – applying lotion after a shower really locks the moisture in best. A great trick to use is to put lotion on the towel you will use to dry off, and then simply pat yourself dry with that towel. For a truly luxurious experience, body butters, such as those made by Bath and Body Works, are ideal.

Left to right: Secret Wonderland / Midnight Pomegranate / Coconut Lime Verbena
What do you think?
After following these three steps, you should be well on your way to having the softest skin around. Now I wanna know your thoughts. So let me know – what are your secrets for soft winter skin? Which products are your favorites? Leave a comment!