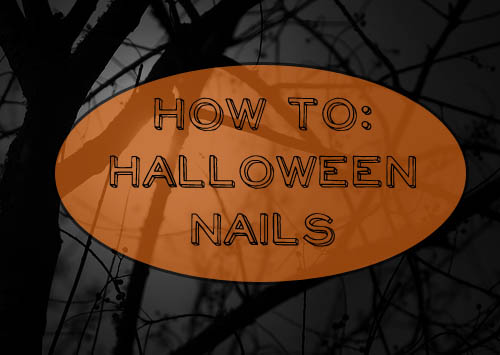 Hello, hello my ghouly lovelies! It's (almost) Halloween, which means it's time for a cute and spooky nail art look to sport alongside your costume this year. This one is super quick and simple, so you can spend more time chowing down on candy instead of worrying about your nails. Let's get started:
Trick or Treat
Alright, are you ready for the fastest nail look ever? Seriously, we could time ourselves and it'd be five minutes or less, that's how crazy quick this will be.
We're going to be using a good old black nail polish as our base. I've been loving the new Sally Hansen Matte Effect polishes that have recently hit drugstores. They dry super fast, and have a perfect matte finish, which helps establish a great background for nail art looks. I used Sally Hansen's 940 Chain Mail polish as my base coat so the Halloween characters will stand out.
The Great Pumpkin
What's one of the most iconic images for Halloween? A pumpkin of course! Using a rich orange, paint a half circle across the middle of your thumb nail. Once this dries, use a small dotting tool to draw on the triangular eyes and nose, with a small smile running across the very tip.
To glam up our cut-out friend, I decided to use Sally Hansen's Golden-I for a chic look. I also dotted on a small amount of green on the top of our pumpkin to finish him up!

Click image to enlarge.
Bloody Good
Time to add a pinch of scary! I'm taking another polish from the Matte Effect line, this time in 920 Wax Poetic, to create a bloody look. I merely used the brush to make the dripping effect, and varied the amount of polish to make smaller or larger drips. For a cohesive look, connect the drips together by painting the tip of your nail.

Click image to enlarge.
A Ghostly Visitor
And now a dash of cute! Using a pigmented white polish, draw an oval almost towards the very top of your nail. Once this dries, add three tiny dots for the eyes and nose, and two even smaller dots for the inner part of the eyes. Voilà – a little ghost to travel with you on your Halloween adventures.

Click image to enlarge.
Lastly, I used a dotting tool to create a silver dotted pattern on my middle finger and pinky to finish off the look with some starry skies. And there you have it! A super simple and super fun nail art look that's just in time for Halloween.
The Finished Look: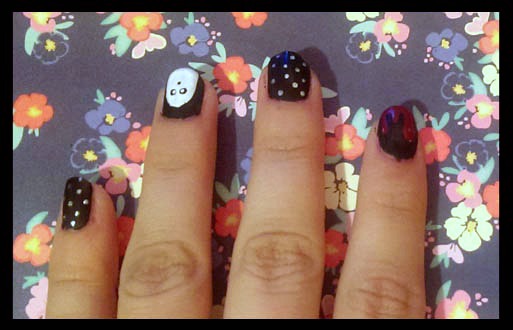 What'd Ya Think?
What are you going as for Halloween? Would you wear this look with your costume? What plans do you have for Halloween? Tell us all about it in the comments below!