This post may contain affiliate links, which means we may receive a commission if you purchase through our links. Please
read our full disclosure here
.
They walk among us. They crave our flesh. They come around once a year… October 31st to be exact. In order to escape their terror, you must become one of them…
Okay, I'm done being creepy now! As opposed to my last Halloween makeup tutorial, which was cute and pretty, today I wanted to create an actual scary tutorial for the fright freaks out there. I originally thought of going all out, using latex and the whole nine, but I thought that might be kind of hard to replicate. So I created an easier zombie look with products that are easy to come by.
If you're looking for inexpensive Halloween makeup, head to your local drugstore! I got 10 cream makeup colors, a vampire kit, and blood spray for only $9. So before you head to those expensive Halloween stores, try your local CVS, Walgreens, or RiteAid.
Now I know this look isn't for everyone, but it's perfect for those of you that prefer to scare all your bumblebee, nurse, and cop-dressed friends. Enjoy!
The Look: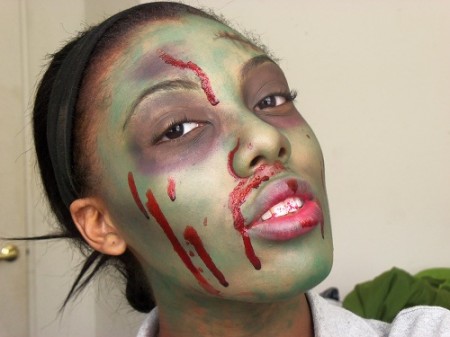 How to Get the Look:
Products You Will Need:
Thoughts?
Would you rock this zombie look? Do you prefer scary costumes or seductive ones? What are you going to be for Halloween? Let me know your feedback!