This post may contain affiliate links, which means we may receive a commission if you purchase through our links. Please
read our full disclosure here
.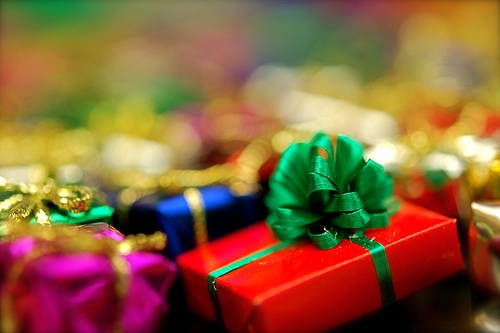 The holiday season is upon us, and we all know it can be hard finding the right gifts for all the people in your life! And when shopping for girlfriends, beauty products are often a popular choice. Here are a few suggestions for what to pick up for a beauty-obsessed friend (or maybe even yourself!) this holiday.
1. Fragrance
Picking out a perfume is a pretty personal experience (especially since what smells great on one person won't necessarily smell the same on someone else), so unless a specific scent has already been picked out, gifting a fragrance probably isn't the best idea.
However, a set of perfume samples makes a great gift for someone who's looking for a new signature scent! Try Sephora's fragrance sampler (which includes a voucher for a full-size bottle of your favorite!) or try browsing The Perfumed Court where you can choose sets based on fragrance category or note, if you know what it is your friend prefers. For someone really into perfume, Perfumes: The Guideis the perfect gift!
2. Makeup Palettes
Makeup palettes are great because they're versatile enough to work for everyone, no matter their features or preferences.
Urban Decay's Naked Palette is super popular and hard to get a hold of, and for a good reason: you'll never need any more neutral shadows, and the colors look great on everybody! It's also a great value: 12 full-sized shadows, Urban Decay's awesome eyeshadow primer and a brush. NARS' All About Cheeks is also a great palette full of shades that'll flatter a range of skin tones – it comes with their famous Orgasm blush, as well as bronzers and highlighters.
3. Nail Polish
Nail polish is usually a safe gift for just about everyone – after all, who doesn't love colorful nails?
Try a set featuring different colored polishes, like Sephora's Glimmer Wonderland set or Essie's Winter 2011, or a high-quality shade or two from Chanel or Deborah Lippman. A gift certificate for a manicure also makes a great present – and it's even more fun if you go with your friend!
4. Bath
Like nail polish, bath products are always good go-to gifts if you're not quite sure what to pick out.
Try L'Occitane's Savons de Provence for some really amazing (and great smelling) soaps, or Philosophy's Fun in the Frosty Air set for some winter-inspired scents that can be used as shower gel, shampoo or bubble bath. Lush's bath bombs also make a cool present – there's a huge variety of scents to choose from, and there's no better way to take a relaxing and de-stressing soak. Laura Mercier's Creme Brulee Duo smells absolutely amazing and makes for a super luxe gift.
5. Tools
Brushes and tools are an important part of makeup application, but good ones can be super expensive – so it's nice to buy a friend some nice makeup tools; it's something she might not get herself.
MAC has a huge variety of great quality brushes to choose from, or try Sephora's Holiday Travel Set for a portable collection of all the most important brushes. Organization can also be a huge hassle for anyone with a ton of beauty products – a beauty organizer or a cosmetic pouch can be the perfect solution!
What do you think?
Are any of these ideas things you'd consider gifting? What are your go-to gift ideas when you're not quite sure what to pick out? Are there any beauty items on your wishlist or to-give list? Let us know!