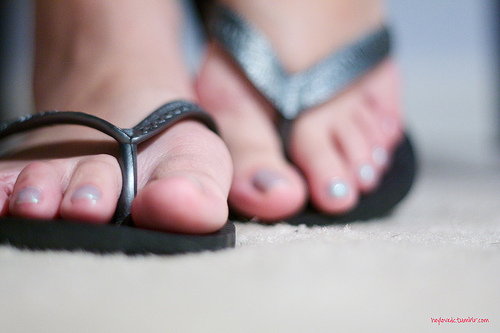 You may not know it, but nail polish designers release collections just like your favorite fashion designers. Every season, there are usually new collections, and while nail polish gurus are currently looking forward to the fall collections, before new shades take over shelves, you've got to get your hands on the best shades from summer!
Special "Collections" colors are hot, trendy, and limited edition. (Meaning once they're gone, they're gone for good!) To get in on the action, check out these three standout nail polish collections of summer 2010 and stock up on your favorite colors!
1. OPI "Summer Flutter" Collection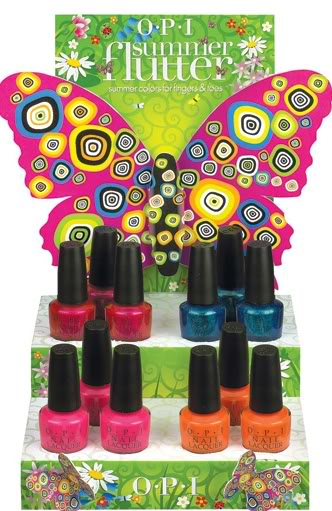 OPI's "Summer Flutter" Collection – Available at fine salons
OPI hit a home run with their "Summer Flutter" collection: These four colors not only scream summer, but also translate well into fall.
"Catch me in your net", the super-sparkly blue, was the standout of this collection and definitely the most unique shade. To see more, check out polish blogger Scrangie's amazing swatches of the collection!
2. China Glaze "Poolside" Collection
China Glaze "Poolside" collection – Available at Salons and Amazon.com
Holy Neon! These bright colors scream "Look at me!" Each of these six high-impact neons is totally unique and will add a serious pop of color to your look.
The must-have shade from this collection? Flip-Flop fantasy (the shocking pink). To see the shade in more detail, check out China Glazes' own photo from their twitter!
Remember, because these colors are all neons, they are going to dry with a matte finish. If you want the shine, you gotta add a glossy top coat, like this one.
3. Essie "Summer Collection"
Essie's "Summer Collection" – Available at salons and Essieshop.com
These six colors may not have the sparkle or brightness of the first two collections, but they are definitely the most unique of the bunch.Demure Vixen is the perfect way to rock a neutral without having to feel boring, while Pretty Edgy is a unique, bright green that you won't easily find at your usual nail counter.
While these polishes are amazing, another great thing about Essie is that you can order the shades directly off their website, here.
Things to Keep in Mind:
While I'm a huge fan of all these collections, when shopping for limited-edition nail polish colors, there are some pointers to keep in mind:
1. Don't get too caught up in the hype. While you do have to remember these colors are limited edition, if you know you are never going to wear something super glittery, or a bright neon on a regular basis, save your money for something you really love!
2. Collections reflect current trends. Some collections will have "staple" colors, but for the most part the colors will be the hottest trends happening during the season. Keep in mind that what's hot this fall might be out by spring!
3. There is always going to be another collection. Sellers on sites like eBay will often stockpile and sell limited-edition polishes for as much as ten times what they originally sold for: it's ridiculous! So refuse to play their game. Don't get caught up in the hype over a color you missed. Trust me, there will be a new "it" color as soon as a new collection is released, and if you act fast, you WON'T have to pay an arm and a leg for it!
Your thoughts?
So tell me what you think! Are you heading out to buy any of these nail shades last-minute, or are you holding out for fall? Any colors you're regretting not buying (or buying) from past collections? Let me know in the comment section below!