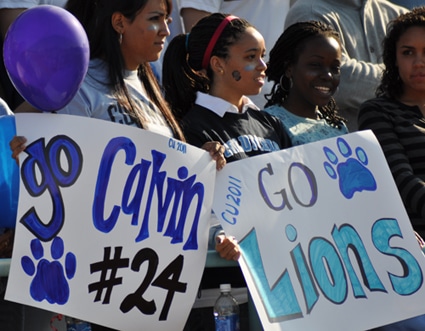 It's football season! For many college students, this is the best part of coming back to school (it sure is for me)!
If you've never been to a game or have had trouble maintaining your super cute look at the stadium, here is your guide to game day beauty essentials to make it a fun (and fashionable) experience for you!
Pre-game Beauty Tips:
Pick makeup that will stay with you all day. For me, that means a moisturizer with SPF and lip and cheek stains. Stains are key, since powders and creams don't tend to stand up well to sweat/wind/rain. For your face, I like to use Juice Beauty Tinted Mineral Moisturizers since they come with SPF and can even out your skintone. For lips, try Benefit's Benetint, and for cheeks, blend on one of the Tarte natural cheek stains!
For eyes, curl your eyelashes and go with a few layers of your favorite waterproof mascara—a minimal routine, but guaranteed to stay with you for the whole day. Choose a mascara that doesn't get flaky, otherwise you'll have raccoon eyes by the 3rd quarter. My favorites are Bare Escentuals Buxom Lash (note: not waterproof) and Maybelline Full 'N Soft Waterproof Mascara.
Hair help: Since you're preparing for anything, I prefer to keep hair at least half up. That way, you don't have to worry about knots in your hair from wind, or looking like a wet puppy if it rains. Try a half up ponytail, a French braid, or pigtails—this is one of the last times in your life when you can get away with some of these fun schoolgirl hairstyles!
Have some school spirit! Temporary tattoos, glitter, face paint, and faux "eye black" (that reflective paint that players put underneath their eyes) are totally appropriate for this! I never go to a game without wearing either my Too Faced Starry Eyed Liner or a ribbon in my hair—I'm superstitious and those are my good luck accessories!
Gametime Gear:
Team colors! You will definitely look like a football newbie if you show up to a game in the wrong colors. You can still be fashionable and have school spirit at the same time. For a guide to what clothing to bring, check out Megan's take on seasonally-appropriate football attire.
Supplies: Come prepared! Bring an oversized tote bag or purse–one large enough to stash your chapstick, hairties, and sunglasses, but also your hoodie and your poncho. Do as much as you can to ensure that you'll be comfortable at the game, no matter the forecast.
If your stadium allows, take an empty water bottle to fill up at the game to save money and stay hydrated! Stadium food is ridiculously overpriced, so I'm always looking for ways to keep from spending too much.
Are you a football fan? Does your school have a football team? What are your gameday essentials? Share your thoughts!