This post may contain affiliate links, which means we may receive a commission if you purchase through our links. Please
read our full disclosure here
.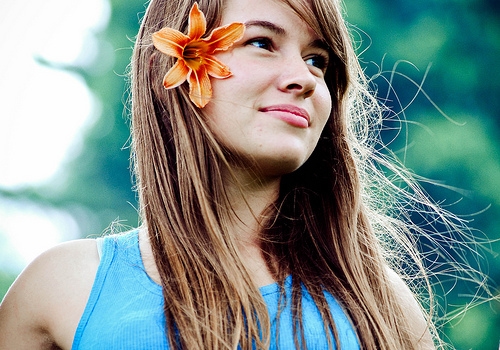 Spring has finally arrived, bringing with it warmer temperatures, sunshine (at least in some states!), fun new trends to try, and a chance to forget the doldrums of winter and welcome a more blissful state of mind.
One of the best ways to embrace a new season is to try a new fragrance – wearing a new spring scent can be a fun way to put a little sunshine in your step, even if the weather isn't exactly there yet. Below are our top 6 suggestions for perfectly spring-like fragrances to try.
Spring Fragrances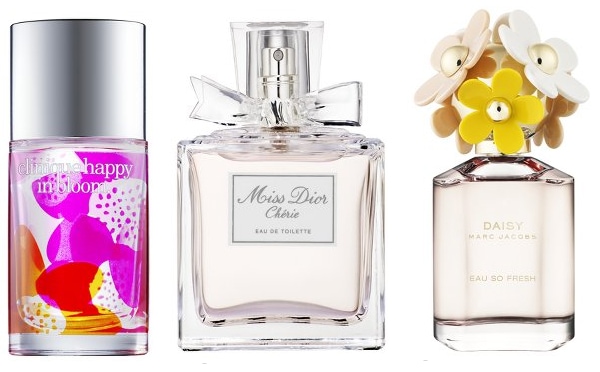 From left to right: Clinique Happy in Bloom, Miss Dior Cherie, Daisy Eau So Fresh by Marc Jacobs
While these fragrances may not be new releases, they each bring a wonderful splash of spring with their unique scents.
Clinique's "Happy in Bloom" (which has notes of freesia, amber, musk, green leaves, yellow plum and lily-of-the-valley) and Marc Jacobs' "Daisy Eau So Fresh" (with notes of natural raspberry, grapefruit, violet, wild rose, and apple blossom) are both floral based, bringing an instant spring lift with their softer, sweeter scents.
"Miss Dior Cherie," one of Sephora's most popular fragrances, is also perfect for the season. With notes like green tangerine, pink jasmine, caramelized popcorn, and strawberry sorbet, the scent is fresh, youthful, and sweet.
On a Budget?
Of course, we can't all afford to buy an expensive new bottle of perfume every season. Fortunately, you don't have to spend a lot to score a great new scent! Not only do many perfumes, particularly designer fragrances, come in smaller, less expensive travel sizes, but many times you can find spring scents for less at stores like Bath and Body Works and The Body Shop.
Here are three less expensive fragrances that still scream spring.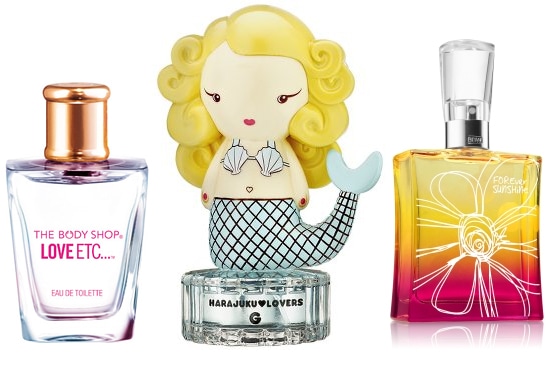 From left to right: Love Etc by The Body Shop, "G of the Sea" by Harajuku Lovers, Forever Sunshine by Bath and Body Works.
"Love Etc" from The Body Shop has a rich, sexy (yet fresh) scent that combines sandalwood, pear, and jasmine. It's one of my personal favorites for spring! "G of the Sea" by Harajuku Lovers not only comes in an adorable bottle, but leaves a pretty floral scent with crisp apple, amber wood, waterlily, and pink peony notes.
"Forever Sunshine" by Bath and Body Works threw me off at first glance — I was expecting an overly strong or flowery scent to match the cheesy-looking bottle. But its balanced scent surprised me with notes of pink peony, tangerine, and a hint of sandalwood – I had to buy it for myself. It just goes to show you can't judge a perfume by the bottle!
What do you think?
What's your favorite spring fragrance? Do you change fragrances for the different seasons? Let us know in a comment!