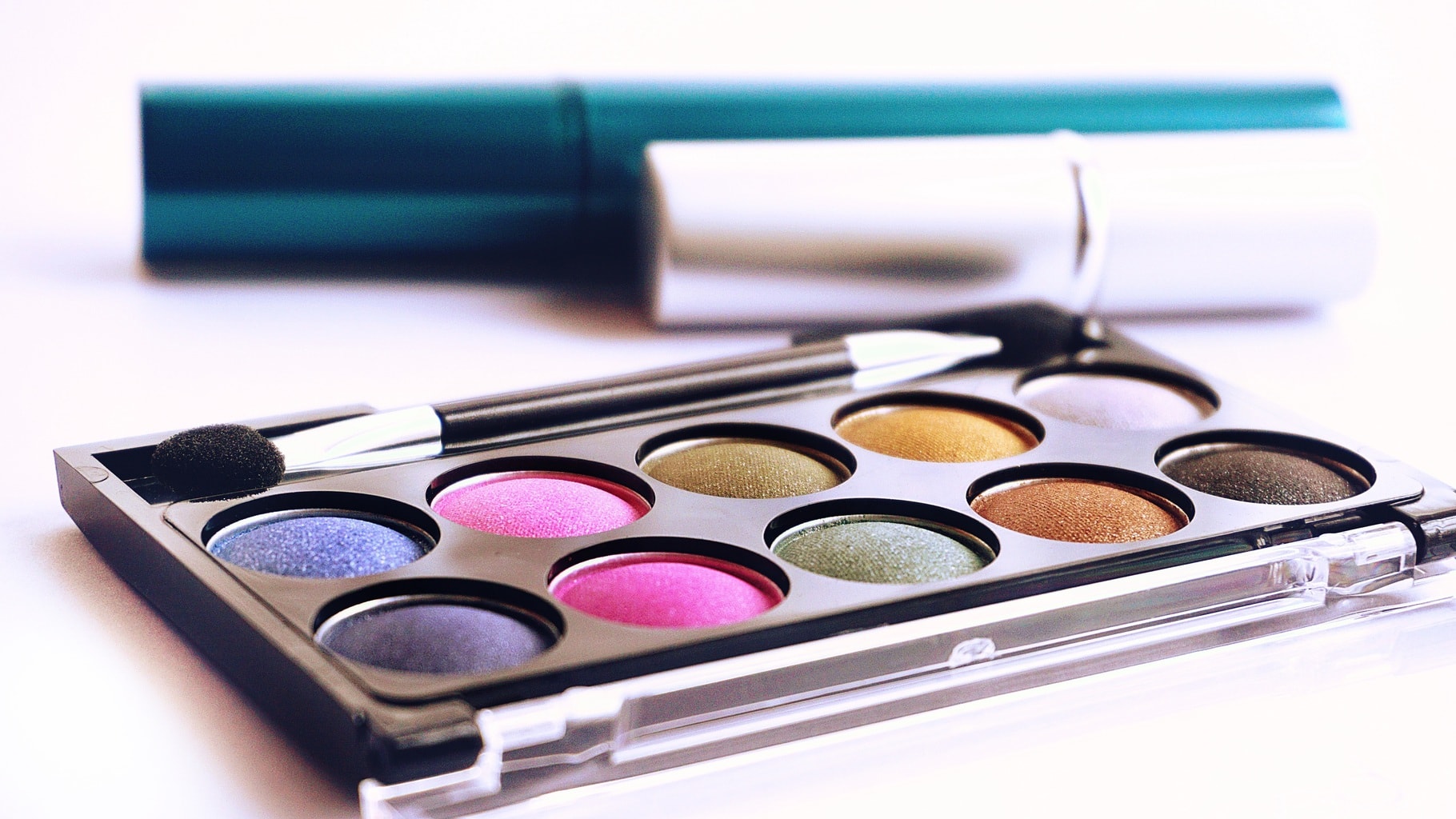 Here at CF, we're all about finding a good bargain. However, we all deserve to treat ourselves every once in a while! And, what better way to do so than with a special, splurge-worthy beauty product from Sephora?!
Below, I've rounded up five splurges from Sephora that I find myself reaching for time and time again; keep scrolling to find out what they are, and to read about why I think they're 100% worth dropping your hard-earned cash on!
1. MakeUp Eraser The Original MakeUp Eraser® Makeup Remover Cloth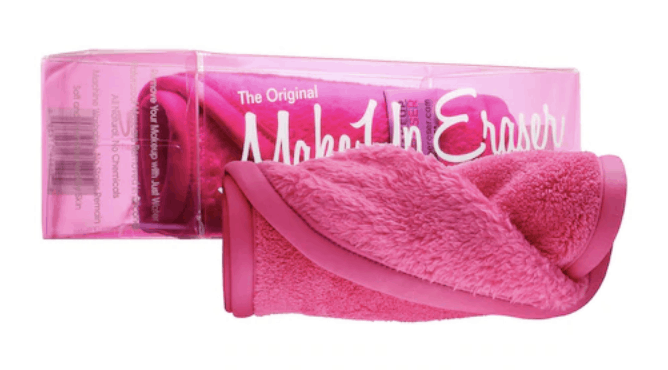 If you've never tried the MakeUp Eraser® before, you might be thinking, Does she really expect me to spend $20.00 on a glorified washcloth?! And, I have to say, you'd be right to be skeptical; after all, this product definitely seems gimmicky and overpriced at first glance!
However, this thing actually works, and it works really, really well. All you have to do is wet a small part of it with warm water and start gently rubbing it on your face, and watch as even the most difficult-to-remove makeup comes right off!
It apparently lasts a thousand washes in the machine, and, since you only need to wet a small section of the cloth each time, (as opposed to the entire thing, as you would with a regular washcloth), you'll probably only need to wash it once every week (or less often), making this product something you're sure to have for a super-long time!
So, as far as I'm concerned, the Makeup Eraser® actually ends up saving you money — and helping the environment — in the long run, since you don't need to worry about buying makeup remover or disposable wipes.
Bonus: One of the sides of the cloth is actually meant for exfoliating your face (in addition to removing makeup), so you may even be able to do away with any physical exfoliating products that you might use. Talk about a win-win!
2. Nars Ignited Eyeshadow Palette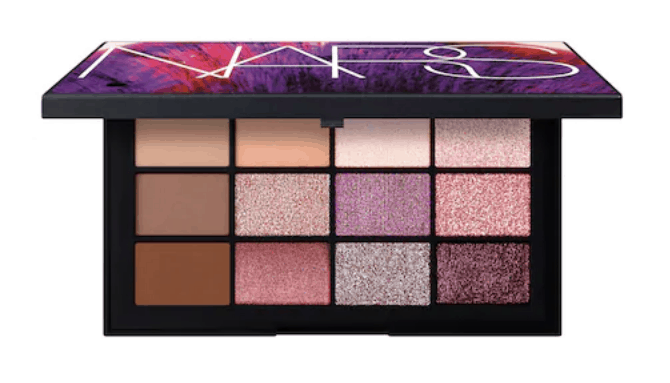 Nars' gorgeous, limited-edition Ignited Eyeshadow Palette is a more recent purchase of mine, but I'm already totally in love with it! It features a range of shimmery and matte eyeshadows in shades of beige, brown, pink, and purple that are perfect for creating looks for both day and evening.
Although this palette receives mixed reviews on the Sephora website, I personally think that the color selection is amazing overall, the shimmery shades offer just the right amount of eye-catching shine, and that each shadow offers just the right amount of pigment.
This is also a great palette to buy if you like warmer shades, but, like me, you don't look good in super-bright shades of red, pink, or orange, since the shades in the palette can be used to create softer looks in addition to bolder ones.
Lastly, I've found that this palette is pretty simple to use: While some of the colors might seem intimidating in the pans, you don't need a million different brushes to apply them nicely, and they're also easy to layer with themselves and with each other — making it easy to create the perfect eye look.
3. IGK Expensive Amla Oil Hi-Shine Topcoat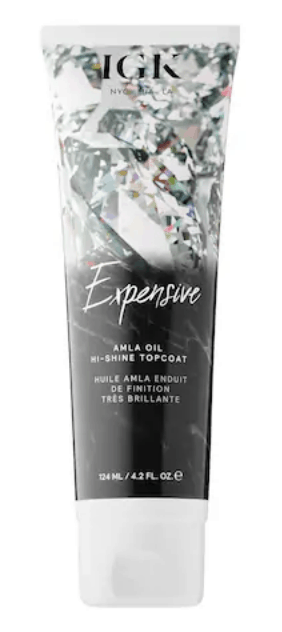 The Expensive Amla Oil Hi-Shine Topcoat by IGK literally has the word "expensive" in the title, so you know that it's a haircare product that delivers!
I first bought this protective gloss when I was looking for a heavy-duty in-shower treatment that would leave my ultra-thick and unruly curly hair feeling moisturized, soft, and ready to be straightened with a flat iron later on.
I have to say, this stuff not only meets my requirements; it also does the job better than any treatment or conditioner that I've tried — and believe me when I say I've tried them all, from drugstore to super-high-end!
In addition to feeling nourished and healthy, after using this treatment, my hair feels slightly weighed down — something that my naturally-poofy hair really needs. Also, compared to other heavy-duty hair products I've tried, this one feels really light and non-greasy (although you may need to use a clarifying shampoo from time to time, just so you don't get any build-up in your hair, due to the aforementioned weighing-down factor), and I actually notice a difference on the days I use it versus the days I don't.
So, if you have medium-to-thick, wavy, curly, or natural hair that just won't do what you want it to, I'd highly recommend picking up a tube and watching as the product totally transforms your hair. You won't regret it!
4. Pat McGrath Labs LuxeTrance™ Lipstick in "Tropicalia"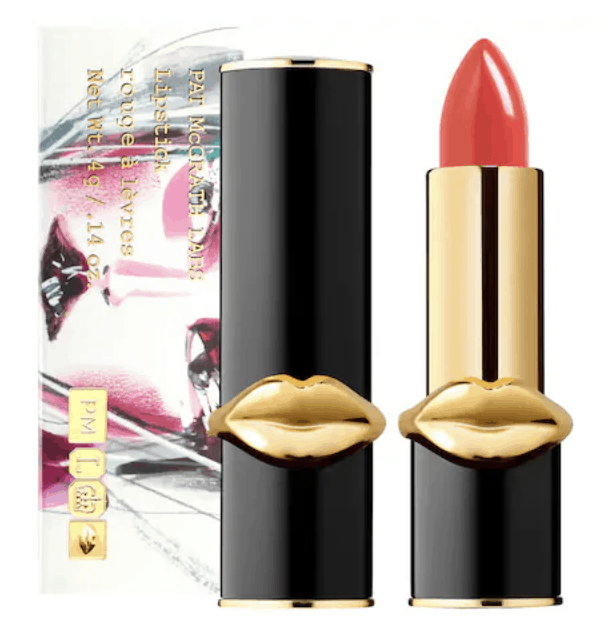 Pat McGrath Labs basically ruined lipstick for me, and I mean that in the best way possible! All of her shades are super-pigmented, vibrant, and so easy to apply, regardless of your makeup skill level!
And, while picking out a favorite shade is definitely hard to do, I had to go with the LuxeTrance™ Lipstick in "Tropicalia," a neutral coral shade that is bright (but not too bright), flattering, and wearable year-round (although I especially like it in warmer weather).
Like all of the LuxeTrance™ lipsticks, Tropicalia has a satin finish. It feels like almost nothing on my lips, goes on beautifully in just one swipe, and lasts for a long time before fading. It has no taste, and works well with my favorite lip pencil, Urban Decay's Ultimate Ozone Multipurpose Primer Pencil.
The sleek black and gold packaging of the lipstick itself is so luxurious, and makes me feel so glamorous every time I use it! I also love how it comes in a little cardboard box that resembles those old lipstick cases from back in the day — such a cool idea!
So, if you're looking to treat yourself to something truly special, I'd 100% recommend this lipstick — just don't be mad at me if you can never look at another lipstick the same way after trying it!
5. Dr. Jart+ Water Drop Hydrating Moisturizer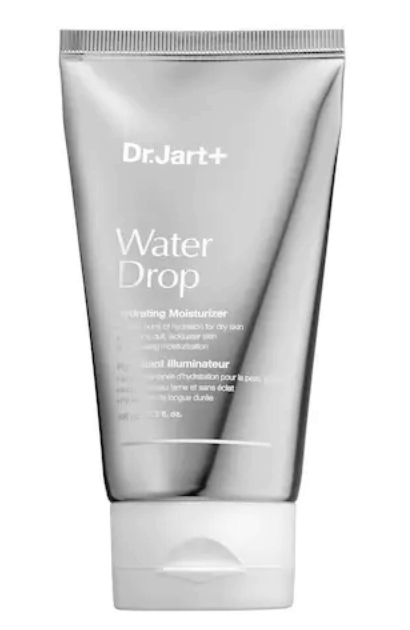 I am currently using a topical acne treatment that was prescribed to me by my doctor, and while it has worked wonders on blemishes, it has also made my typically oily skin drier and much more sensitive than it used to be, to the point where most regular moisturizers can sometimes sting very badly.
That's why I was overjoyed when I discovered Dr. Jart+ Water Drop Hydrating Moisturizer. I originally received this product as a point-perk or as part of an offer from Sephora a while ago (I don't remember which), and I liked it so much that I just had to purchase the full size!
The thing that's unique about this moisturizer is that, when you squeeze it out of the tube, it comes out looking and feeling like a lightweight lotion; but, as soon as you start rubbing it into your skin, it transforms into a watery texture that literally feels like almost nothing, despite being quite hydrating!
It has a citrusy scent that is noticeable at first, but it quickly goes away, so don't worry if, like me, you're not so crazy about scented products.
Most importantly, this moisturizer is one of the few that doesn't irritate or sting my skin when it is feeling dry and sensitive; it also layers well with heavier moisturizers during times when I need an extra dose of hydration.
What do you think?
Have you tried any of these products? If so, do you think they're worth the splurge? What are your favorite splurge-worthy beauty products?
Let me know in the comments!