This post may contain affiliate links, which means we may receive a commission if you purchase through our links. Please
read our full disclosure here
.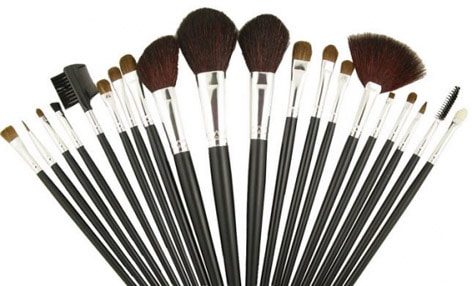 Although most of our Fashion Challenges focus on outfits, sometimes we like to switch it up a bit and explore other subjects — like makeup! I don't know about you all, but I tend to do the same things over and over with my makeup; every day it's mascara, eyeliner, and chapstick, and if I'm feeling fancy I'll throw on a little blush. Where's the fun in that?
Doing something unique with your makeup is an easy way to change the feel of your overall look — it can make a basic ensemble look quirky, or a casual outfit feel fancy! Before we're all bogged down with term papers and studying for finals, why not have a little fun with your face and bask in looks of admiration you're certain to receive?
Ready to take on the challenge? Read on for ideas on fun ways to play with makeup!
Fun Makeup Ideas
Shiny Pink Lips
Celebrities such as Katy Perry, Nicki Minaj, and Rihanna have been rocking bright pink lips lately, and I think they're a perfect way to welcome in warm weather! Keep the rest of your makeup simple to keep the focus on your pout. For a guide on how to perfect this look, click here!
Emerald Eye Shadow
Deep green eyeshadow looks amazing on olive and darker complected skin, and can be a less harsh color to build the perfect smokey eye with. Turquoise hues look great with brown eyes, and emerald looks amazing on redheads. Really fair girls should try mint green tones. For more tips, check out this BellaSugar post!
Winged Eye Liner
Although perfecting this looks takes a lot of practice, the perfect winged eye (a la Lauren Conrad) is a trade worth learning. The final result looks sophisticated, classic, and is perfect for fancy occasions or just a night out with your girlfriends. For the most retro-chic look, pair with peachy cheeks and pale lips, or whip out your favorite red lipstick and channel Old Hollywood glamour. For tips on how to draw the perfect winged eye, click here for a video tutorial, or click here to see Lauren Conrad do her own winged liner!
Dewy Skin
This can be tricky to pull off, but if you can master dewy skin, it will look absolutely amazing! An easy way to "cheat" at this look is to brush shimmery highlighting powder under your brow bones and on top of your cheeks. For a step by step how-to, check out Glamour's article, here.
Plum Blush
It might seem weird at first, but plum-toned blush can look absolutely amazing with any casual outfit. Try mauve colors if you just want to test the waters, lavender for fair skin, plum on medium toned skin, and magenta for darker skin tones. Although Rihanna looks amazing with bright colored lipstick as well, this look translates better in real life with simple makeup everywhere else.
Blue Eyeliner
If you're like me and call it a day after swiping on some eyeliner and mascara, colored eyeliner can (and should) be your new best friend. It gives you a less harsh look than kohl liner, and can make the color of your eyes stand out in a hassle-free way. Like most other ideas in this post, pastel hues look best on paler skin and olive and dark skin can pull off jewel tones well. For more tips, check out this link!
Nude Lips
Nude lips are tricky to pull off as well, especially if your natural lips have lots of color. (Lucky you!) It's worth the try though, because this style looks especially chic with a smokey eye or deep pink cheeks! Find out how to create the perfect nude lip here.
No Makeup
All CF readers are beautiful (I know it!!) so don't be afraid to leave the house without makeup when the mood strikes you. Don't worry – Chapstick and a little brow gel don't count as makeup! 🙂 For more information or inspiration on this subject, check out our post, Would You Wear… No Makeup for a Day?.
Rocked the Challenge? Send Us Your Photos!
Did you do something daring and fun with your makeup this week? Take a few snapshots and sent them to fashionchallenge AT collegefashion.net along with your name, school, some tips and tricks you might have for rocking your look, and the URL of your blog if you have one. We'll feature photos here to inspire other CF readers!
What Do You Think?
Do you stick to a "makeup uniform," or do you like to change it up every day? Do you wear makeup every day, or just for special occasions? What is the one product you can't live without? What are some unusual or daring things you like to try with your makeup? Leave a comment and tell us your thoughts!