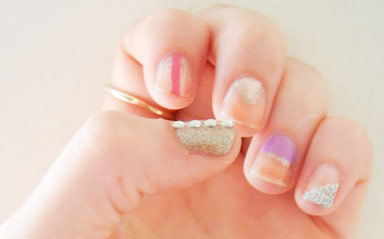 An emerging trend in nail art is the half-bare mani, or using your bare nail as a canvas for a colored design.
There are numerous benefits to this type of manicure: it's super fast and easy (you can do it in 10 minutes or less!), it dries more quickly than regular nail art because it uses less polish, and it's fresh and different. The look is a little unusual, but if done right, it can look very chic. And it's the perfect light and breezy summer mani to boot!
What You Need
Top coat and base coat
Polish – colors of your choice. I used a hot pink, a pastel pink, a bright purple, and decided to add metallic details to each nail for some extra pizazz. I also used some glitter, but we'll get to that in a few minutes.
Scotch tape
How to Do A Half-Bare Manicure
Prep your nails. If they're going to be partially exposed, they need to look nice — file and buff them if necessary, and make sure they are clean. (There's nothing worse than dirt peeking out from under your pretty manicure!) If your nails are yellow or stained from polish, it might be best to skip this mani and go for one with full coverage. (Or use our tips for getting rid of yellow nail stains first!)
Put on a base coat and let it dry.
Tape off whatever parts of your nails you want to keep bare. Make sure you really seal it down so that polish doesn't get underneath (but if it does, you can always take it off with a Q-tip and nail polish remover later). You can make so many fun designs; see the section below for details!
Paint over the exposed sections and remove the tapewhile the polish is still wet. Let it dry.
Slap on a top coat and you're done!
Fun Ideas
I thought solid color on a half-bare nail lacked pizazz, so I decided to use some glitter, rhinestones, and silver polish in my mani. Below are some guidelines for making these designs, but what you do with it is up to you!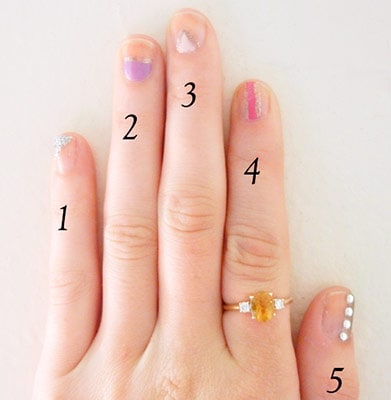 Half glitter: Place a piece of tape diagonally across your nail and paint base coat on the exposed side. While the base coat is still wet, dip your nail in a pot of glitter and remove the tape. For more on glitter, see this loose glitter nail art tutorial.
Top half painted: Take your tape and put it horizontally across your nail about halfway down the nail bed. Paint the exposed part of your nail a color of your choice, then move the tape down a tiny bit so another small strip of nail is exposed. Dab a tiny bit of silver (or whatever other color you feel like) on that strip, being careful not to cover the color; the best way to do it is in small strokes down toward the tape.
Chevron: Cross two pieces of tape diagonally over each other to create a small, bare V. Paint that V the color of your choice, then once it's dry, remove the V, and, trying to keep the shape you made in one piece, move the tape down. Paint the newly exposed portion silver or another color.
Racing stripe: Take two strips of tape and place them vertically on either side of your nail, so that a vertical stripe is left in the middle. Paint it whatever color you want, then move each side out a bit and paint the unpolished stripes another color.
Jeweled edge: Tape off half your nail — horizontally or vertically, whichever you prefer — and paint the exposed half. Remove the tape and put rhinestones on the edge of the polish. For detailed instructions on applying rhinestones, check out our rhinestone nail art tutorial.
Tips and Tricks
It's best to make sure the colored sections are totally dry before applying top coat – top coat can make semi-wet colors run, and this look requires precision. But if a few streaks do appear, it's easy to fix! Take a Q-tip or a small makeup brush dipped in polish remover and clean up the edges, then redo the top coat when everything's dry.
This mani works really well with bright, punchy colors, jewel tones, and pastels; I think it's best to skip the darker colors on this one, but that's just my personal opinion. Go ahead and experiment!
Sound Off!
Is the half-bare mani cool and different, or does it just look unfinished? Would you ever try it? Which look is your favorite? We want to hear what you have to say in the comment section below!