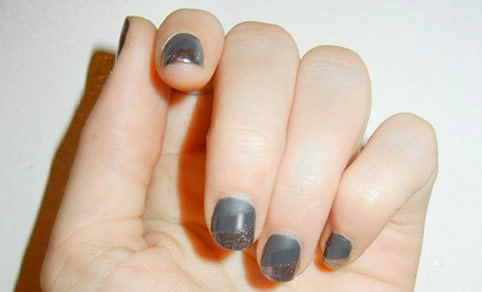 When you get bored of every color in your nail polish rotation, one way to shake things up is to play with different nail polish finishes. I've been suffering from a bit of nail boredom lately myself, so for my last DIY nail art post, I wanted to show you guys a fun look that combines three polish finishes — classic creme, matte, and metallic — in one nail look.
What You Need:
Base coat
Colored polish — I find it's best to use deeper colors for this particular manicure.
Metallic/sparkly polish — probably not something with huge glitter chunks, but anything metallic/chrome/holographic/with fine glitter should work just fine!
Matte top coat
Scotch tape and a pair of scissors
One warning before we start: I'm not sure if this is the case with all matte top coats, but mine (which is Sephora by OPI) takes a particularly long time to dry. It leaves the polish underneath tacky for a long time and makes it very easy to mess up, so only try this look if you have a few hours to kill.
What to Do:
Base coat first, as always! Slap it on and let it dry for a few minutes.
Paint your entire nail with the color of your choice. Let that dry thoroughly.
Take a small piece of tape and cut it into thin strips — lengthwise, it should be cut into fourths at least. Place a strip diagonally across your nail from one corner, near the tip, to the opposite corner, near the nail bed.
Paint the portion of your nail that's below the tape a metallic color and the portion above with matte top coat.
For once, I am going to tell you NOT to finish with a regular top coat, because it will ruin the effect of the matte top coat! If you're (understandably) paranoid about chips, you can take a regular top coat and just run it along the edge of your nail. This will prevent lifting at the tip where chips so often begin, but it won't gloss over the matte finish.
Let your nails dry for a good half hour at least before trying to use your hands. I've screwed up matte manicures many times, because they seem to dry more slowly.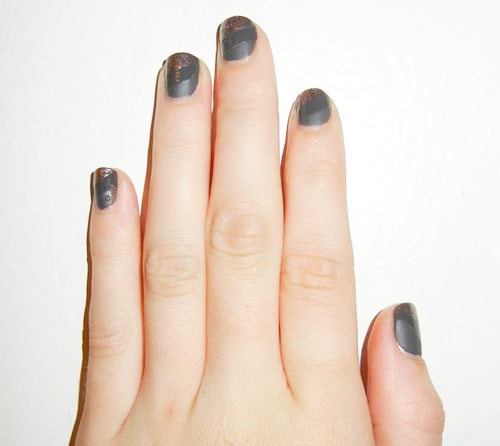 Final Thoughts
I chose Essie's "Power Clutch" for my base color, with silver as my metallic, because I was feeling like I wanted more of a chic, dark look, but this could just as easily be done with an array of other colors. Like I mentioned before, deeper colors are probably more suited for this type of manicure – if you use a pastel color, for example, the difference between the matte and creme finishes won't be very apparent. That being said, experiment and find your own favorite color combo!
What Do You Think?
Do you ever play around with different finishes? If you never have, would you try it? Do you like this look? What color combinations would you try? Discuss in the comment section below!