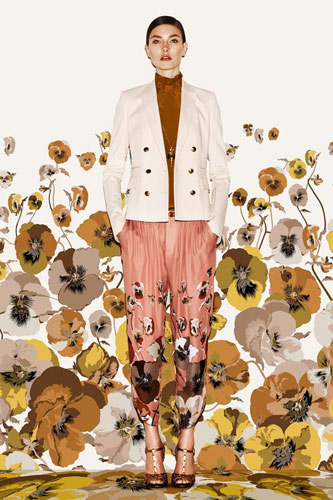 Gucci Pre-Fall 2012 – Photo: ELLE.com
Gucci is without a doubt one of the most iconic brands in fashion history. From the double G stamp to the signature horsebit, Gucci pieces are immediately recognizable.
But there's a more artistic and subtle side to the brand's aesthetic, and it makes an appearance in each of Gucci's runway shows – like their recent Pre-Fall 2012 collection. Those fabulous floral printed pants, seen above, are a fantastic source of inspiration… for your nails, as well as your wardrobe. Here's a tutorial for recreating this awesome print from Gucci's Pre-Fall 2012 RTW collection on your nails!
What You Need:
Base coat
Nail polish – A dusty pink works best for the base color, (I used a Sally Hansen Hard as Nails color that has since been discontinued, but Chanel's "Rose Caché" is similar), various nude and khaki shades work for the flowers (I used three Sephora by OPI shades, "Dear Diary," "Metro Chic" and "Nonfat Soy Half Caff"), and black and white are best for the details. (I used Milani Nail Art Lacquers in "Black Sketch" and "White Canvas.")
Top coat
What To Do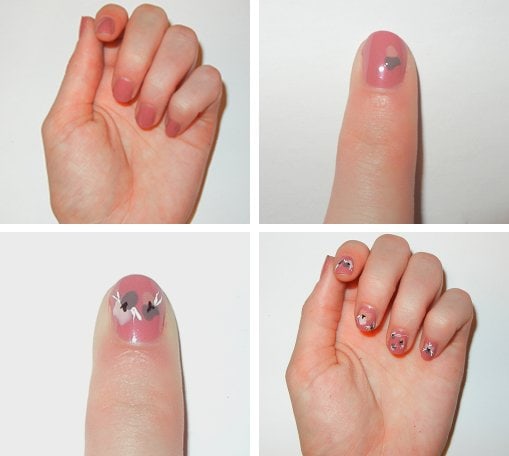 After applying a base coat, paint your entire nail dusty pink. Let dry for a few minutes.
Once the all-over color is dry to the touch, you can start making flowers. To do this, take one of your neutral polishes and make two small dabs of polish, right next to each other. This should make a short of circular/oval shape. Then, take a second neutral polish and make one more dab underneath and between the other two. One trick to make sure you get the desired effect is to wipe the brush on the mouth of the bottle before applying the polish to your nail – a little goes a long way! If you have too much polish on the brush, you'll end up with a slow-drying glob and it won't be the shape you want. Make several flowers on each finger – two to three per nail looks best.
Once you've made the flowers, take your black polish and make a few tiny dots in the center of each flower. I used a black nail art polish with a thin brush, but it's just as easy to do with a makeshift tool such as a toothpick or something similar. In one of my recent columns, a commenter tipped me off to this genius idea from The Beauty Department for achieving this effect: Here's how to make your own dotting tool with just a pencil and a straight pin!
This last step is optional, but I found that it made the pattern really pop. Once you've made the center detail on all your flowers, take a bit of white polish and make some stems around the flowers. Like the last step, you either need a thin brush or a small tool for this, but the end result is worth the effort.
You're done! Don't forget the top coat and enjoy your handful of Gucci print. 🙂
End Results and Final Thoughts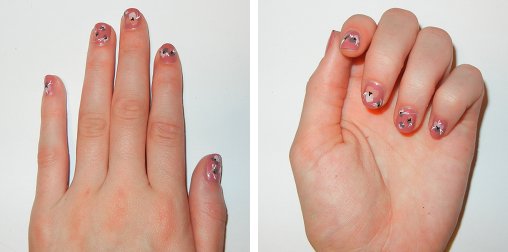 After doing two nails that looked very similar, I decided to switch things up a bit and found that it looked best if I varied the size of the flowers slightly – the flower sizes on the pants get larger from top to bottom, so to be true to the print, I didn't want it to look too uniform. I also tried to use all three neutral flower colors on each nail, but I don't think the effect would be radically different if only 2 colors were used.
As I went on, I realized that it's important to let the flowers dry completely before adding the black detail, or it will come out looking blended together and messy. Overall, I ended up really liking this print – it turned out looking sort of subtle and vintage-y. I hope you like it, too!
What Do You Think?
Are you a fan of Gucci? Would you ever try this pattern on your nails? Discuss in the comment section below!