This post may contain affiliate links, which means we may receive a commission if you purchase through our links. Please
read our full disclosure here
.
Whether you're dreaming of the beach or are taking a trip to a tropical place this summer, you can shake up your hairstyle and makeup with some tropics-inspired looks and colors.
Below are some beauty tips and looks for the beach or a tropical setting.
Experiment with Color
You're on vacation, so feel free to have a little fun with your look! Turquoise eyeliner, vibrant nail polish, or pink lipstick can serve as great little focal points. But keep in mind that less is more — you don't need to go overboard with colors, just provide a colorful accent that allows you to shine.
Fight the Humidity
Humidity can be a real downer (literally) for certain hairstyles and makeup. So if you're dealing with unruly weather, try supplementing your normal hair routine with a styling product that helps to tame flyaways and frizz (try Bumble and Bumble's "Defrizz To Go"). Silicone is an ingredient that helps to fight frizziness, so look for hair products (shampoos, conditioners, etc) that have a silicone base.
Concerning makeup, humidity combined with the heat will melt your makeup, which isn't a good look on anyone. A few solutions? Wear less makeup or choose to keep it light and waterproof. You can also try using a primer before you apply your makeup for a longer-lasting look.
3 Tropical-Inspired Looks to Try
At the Beach
One word: sunscreen. If you plan on doing outdoor activities in the sun, like going to the beach, protecting your skin should be your number one objective! If you haven't seen our post on melanoma, check it out now and make sure to protect yourself.
When at the beach, less makeup is better. Swipe on a little waterproof mascara and some lip balm with SPF and you should be ready to go! Beware that ultra shiny lip glosses can actually help in giving you a sunburn on your lips.
Daytime Casual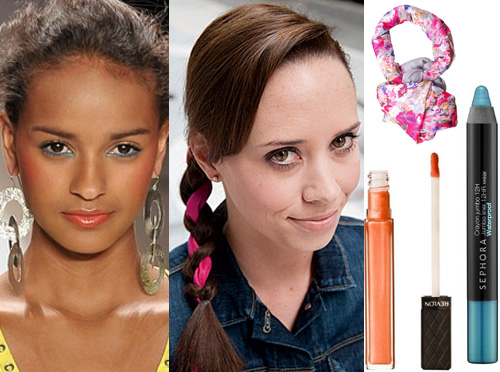 Sources: 1, 2, Headscarf, Revlon Lipgloss, Sephora 12 Hour Waterproof Jumbo Liner.
To reflect some of the colors of the tropics, use a tropical turquoise eyeliner on your bottom lash line. Try out a waterproof eyeliner to prevent unwanted melting or smudging – I really like Sephora's 12 Hour Wear Waterproof Jumbo Liner in Turquoise. For your lips, you can go a different route color-wise and use a coral lipgloss or sheer lipstick for a tropical feel.
For a boho-beachy vibe, use a small headscarf and braid it into your hair as seen above. Attaching the scarf at the top of the section of hair you plan to braid, use the scarf as your third section while braiding.
Evening & Going Out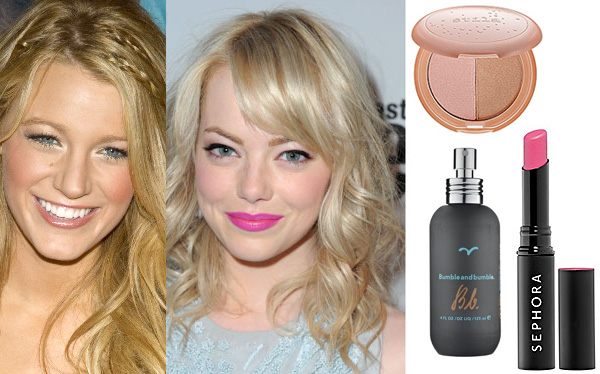 Sources: 1, 2 Products: Stila All Over Shimmer Duo, Bumble and Bumble Surf Spray, Sephora Long Wearing Matte Lipstick.
Instead of going for the traditional smokey eye for a night out, keep your look fresh and sweet with pink lips, glowing skin, and beachy waves.
You can use a blush/bronzer combination (like Stila's All Over Shimmer Duo) for a summery glow. Sweep the color upwards on your cheeks and use a little bronzer on your forehead. The trick is that you don't need to apply it all over your face — a little on your cheeks and forehead will give you the right amount of color and highlight your cheekbones. As for your lips, try out a bright pink lipstick for an added punch of color.
Soft waves are the perfect hair look you can rock straight off the beach. If you haven't spent a day on the sand, Bumble and Bumble's Surf Spray will give you the beachy waves while adding volume that will stay put. While your hair is damp, spritz some of the Surf Spray into your locks and work at it a little with your fingers, curling and crunching your hair. For the best results, you should keep your hands out of your hair after it has dried!
Mix & Match
The great thing about the looks above is that you can mix and match — try one of the evening looks during the day or a daytime look at night! Remember to shake things up and have fun with your hair and makeup. A tropical destination is casual and playful, so why shouldn't your hair and makeup be, too?
What Do You Think?
Would try any of these tips or looks while on vacation? Would you like to see more "Destination Beauty" articles? What are your favorite tips and tricks to fight against humidity? Let us know in a comment!