This post may contain affiliate links, which means we may receive a commission if you purchase through our links. Please
read our full disclosure here
.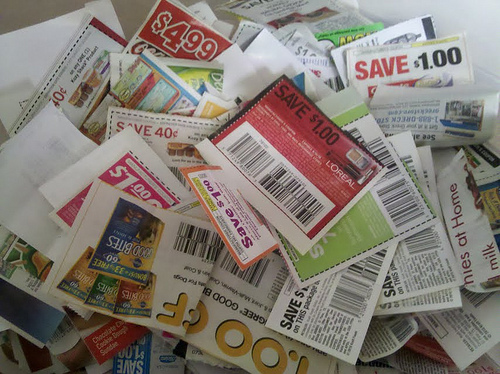 Like most, I need to save money, but I also love shopping. Honestly, clothes and makeup are like my kryptonite – I'm going to buy them no matter how much money I have in the bank. Now, I do still have hopes of winning the lottery and being able to easily afford everything I want, but until then… everyday I'm couponin' (insert dance break here).
What Is Couponing?
Couponing has always been around, but has become more popular than ever since the recent turn in the economy and the appearance of TV shows like "Extreme Couponing". Basically, it's a way that retailers allow consumers to save money. If you really take the time to look and clip, you will save a ton of money: The deals are out there, you just have to take advantage.
What Can I Use the Coupons For?
Anything, really. Food, clothes, electronics… oh, and makeup. Did I say makeup? Yes, yes I did.
Readers often ask me to do drugstore based tutorials and to be quite honest I don't have a ton of drugstore makeup. Why? Because I don't feel like it's worth the price. Don't get me wrong: I love Wet N Wild's ultra pigmented blushes and shadows and Maybelline's Falsies mascara, but I personally feel many drugstore products are overpriced for what you're getting. Couponing allows me to get the products I want without paying full price, and the drugstore products for very cheap.
That said, there's nothing better than free (or almost free) makeup, so in the video below, I'll show you how to score drugstore makeup at a very deeply discounted price.
Coupon Haul – A Prime Example of Couponing Glory:
Want to Learn More?
I explained a lot about finding and using coupons in the video, but if you want more info, here are two of my favorite coupon sites:
Thoughts?
Do you coupon? How do you feel about the crazy couponers? What are your favorite tips for using coupons? Any questions? Leave a comment below and let's talk!