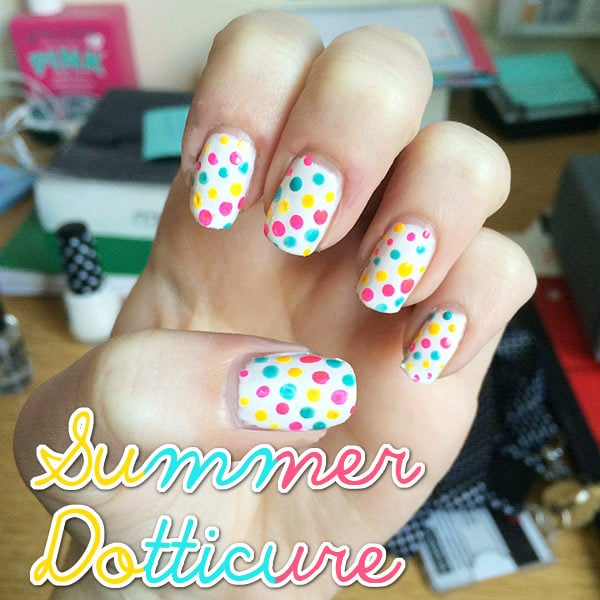 If you're looking for a fun and colorful nail art look to get you ready for summer, we've got you covered. Today, we'll show you how to create the easiest "dotticure" ever.
This design looks like candy and summer mixed together— who wouldn't want that on their nails? Here's how to create this super-easy nail art look:
You Will Need:
How-to:

First things first, paint your nails white. After they dry completely, use your dotting tool and your first color (I chose pink) to create a row of diagonal dots across your nail.
Clean off your dotting tool, then add a second diagonal row of dots underneath the first. Make sure your dots are close together, but not so close that they overlap. Follow with the next color in a diagonal row and continue in the same color order until your nail is filled with diagonal dots.
Always clean off the toothpick/dotting tool between colors! I simply wiped the dotting tool off onto a paper towel. This will prevent colors from mixing together and looking muddy.
This dotticure would also look awesome with a black background or different colored dots. The beauty of this nail art look is its versatility– it can work with any colors you choose.
The finished nail art look!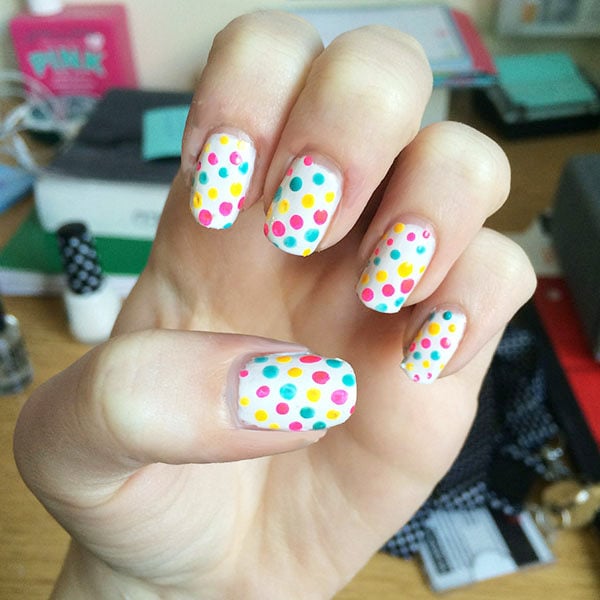 What do you think?
Would you rock this look? Do you like dotticures? What other colors would you use for this design? Let us know in the comments below!