This post may contain affiliate links, which means we may receive a commission if you purchase through our links. Please
read our full disclosure here
.
She stole our hearts with "Chasing Pavements". And now it's nearly impossible to turn on the radio without hearing one of her recent hits, either "Rolling in the Deep", or "Someone Like You". Not only does Adele's voice have us all enraptured, but her style is enviable, too.
Adele's luscious locks are often worn in face-framing, voluminous waves. While she does mix things up, there is one hairstyle that she has rocked on multiple occasions at concerts and award shows as well as her breathtaking MTV VMA 2011 performance: her signature low side-ponytail.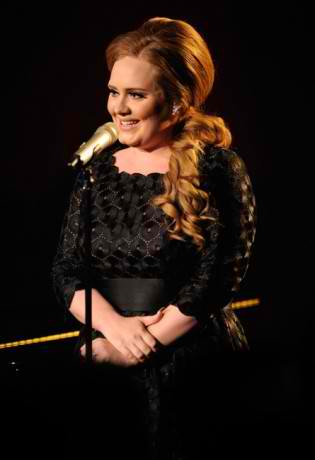 Continue reading for a breakdown of Adele's glamorous side-pony hairstyle in just 5 simple steps.
Step 1: Blow Dry + Volumize
First, work a volumizing mousse through damp hair. (Try Garnier Fructis Style Volume Inject Mousse, $4.29.) Then use a large round brush to blow dry your hair. A large round brush will create more volume than the average flat, paddle brush.
My hair is naturally frizzy, so when creating this look for myself, I quickly ran my hair straightener through my locks after blow drying to keep them more sleek; however, feel free to skip that step if you have naturally straight hair.
Step 2: Tease Crown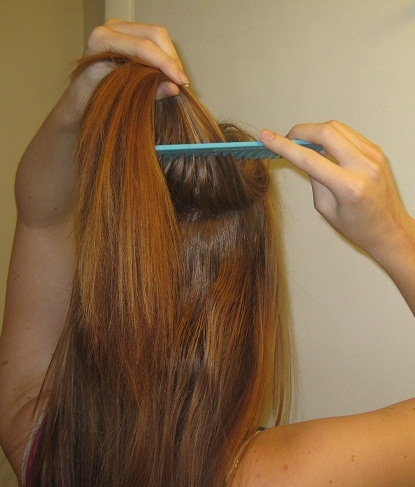 Using a small comb, tease or "back comb" the back section or "crown" area of your hair. Adele usually has quite a lot of volume in her hair, but feel free to interpret this step and create an amount of volume and height you feel comfortable with.
Use a touch of hairspray during this step to create lasting volume. (Try Garnier Fructis Style Anti-Humidity Hairspray, $4.29.) Or, if you need extra height, create a mini "pouf" with the hair on your crown, and use two bobby pins to secure it.
Step 3: Pull Hair Into a Low Ponytail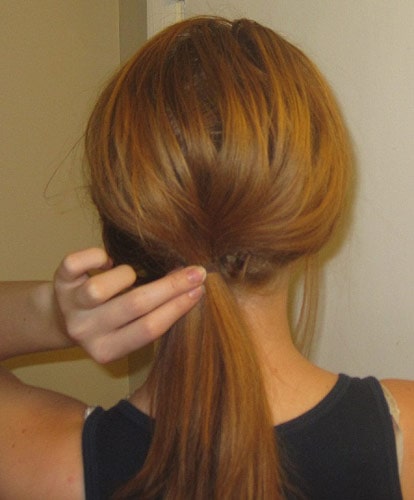 To mimic Adele, create a side part in your bangs, but keep the rest of your hair combed straight back. Pull your hair into a ponytail at the base of your head and secure with an elastic. Using a small section of hair from your ponytail, twirl it around the ponytail to hide the elastic and secure at the underside of the pony with a bobby pin.
For best results, do not keep your hair sleek on your head – instead, allow it to be loose and voluminous-looking to match Adele's.
Step 4: Curl Ends of Ponytail
Using a large, 1 to 1 1/2 inch barrel curling iron (try Hot Tools Professional Spring Curling Iron, $23.95 – $34.95), curl the ends of your ponytail. Often, Adele has her ponytail slightly off-centered and the ends pulled over one or the other shoulder, so choose whichever side works best for you. Curl the ends of your hair randomly, in both directions, for the most natural look. Adele often rocks her side ponytail with both curly and nearly straight hair, so no worries if you prefer a more straight look.
Step 5: Add Finishing Touches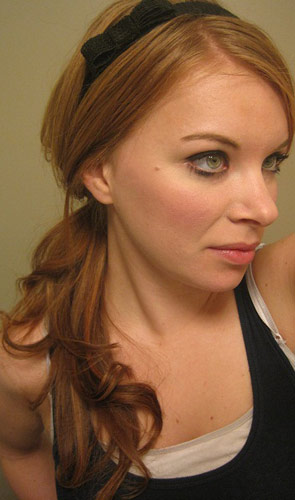 Add a final touch of hairspray to keep your look long-lasting. Adele sometimes wears ribbon-like headbands so feel free to add your own headband for that extra touch and to make the look your own.
Your Thoughts?
What do you think of this hair tutorial? Are you a big fan of Adele's gorgeous hair, too? Are there any other looks of hers you like to emulate? As well, are there any other celebrity hairstyles you would like to see recreated here? Leave a comment to let me know!