This post may contain affiliate links, which means we may receive a commission if you purchase through our links. Please
read our full disclosure here
.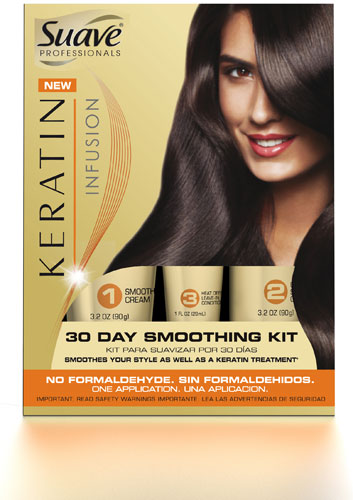 Here at CF, we're always on the lookout for products that make getting ready in the mornings faster and easier. This is especially important for those of us with frizzy, curly, unruly hair that requires straightening – who has time to blow dry and flat iron before an 8AM class?
That's why we were psyched when Suave® introduced us to their new Keratin Infusion™ 30 Day Smoothing Kit, which promises to straighten and smooth your hair as well as a keratin treatment. The best part? Unlike expensive salon treatments, it's totally budget-friendly.
Read on to learn more about the kit and find out whether it's right for you.
About the 30 Day Smoothing Kit
Here's a basic rundown of the product, according to Suave:
The Suave Professionals Keratin Infusion 30 Day Smoothing Kit is part of the NEW Suave Professionals Keratin Infusion line. Discover the transformational power of this brand new salon-inspired range of products formulated to transform hair into sleek, smooth perfection. Formulated with unique Keralock™ Technology, these breakthrough products smooth hair and make it easier to style. Suave Professionals Keratin Infusion is proven to work as well as top salon brands.
According to Suave, the Keratin Infusion™ 30 Day Smoothing Kit is designed to eliminate frizz for people with curly to wavy hair and leaves hair smoother, more manageable and easier to style for up to 30 days. Bye bye, flat iron!
Overall, this kit sounds perfect if you want smoother hair but don't want to shell out hundreds at the salon: The kit is proven to smooth your style as well as a salon keratin treatment, AND, unlike many popular salon treatments, it's 100% formaldehyde-free.
Learn More!
The kit is not suitable for all hair types, so it's important to make sure it will work for yours before you try. Visit the Suave® website to take a quiz to find out if the 30 Day Smoothing Kit is right for you, and if it's not, there are other products in the new system you can try! Don't forget to check out the Suave Beauty Facebook page for more info and to join the Keratin Collective, where you can share your smooth transformation story and enter for a chance to win a trip for two to St. Bart's.
Your thoughts?
Now that you've heard about the 30 Day Smoothing Kit, we want to know what you think! Have you tried this product? If so, what did you think? Are you considering giving it a shot? Leave a comment!
Disclosure: This post was sponsored by Suave. The opinions, as always, are our own. For more info, please see our Disclosure page.