This post may contain affiliate links, which means we may receive a commission if you purchase through our links. Please
read our full disclosure here
.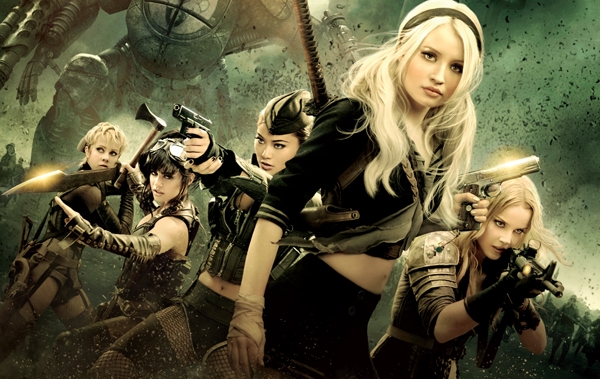 I went to see Zach Snyder's film "Sucker Punch" over the weekend and the high-intensity action sequences weren't the only thing that popped off the screen — the characters' hair and makeup packed some serious cinematic punch, which inspired this post.
Below, I'll show you how to recreate the hair and makeup looks seen in Sucker Punch, with style breakdowns for each of the main characters.
About The Film
Rotten Tomatoes explains the plot and premise behind "Sucker Punch":
"An epic action fantasy that takes us into the vivid imagination of a young girl whose dream world provides the ultimate escape from her darker reality. Babydoll (Emily Browning) is joined by Sweetpea (Abbie Cornish), Rocket (Jena Malone), Blondie (Vanessa Hudgens), and Amber (Jamie Chung) on her quest for escape from captivity."
Now that you know what the film is about, let's talk beauty. The hair and makeup in Sucker Punch was not only dramatic, but, even better, was tailored to each character. Below, I've provided a beauty breakdown for the main character Babydoll, as well as the other main girls in the film.
Babydoll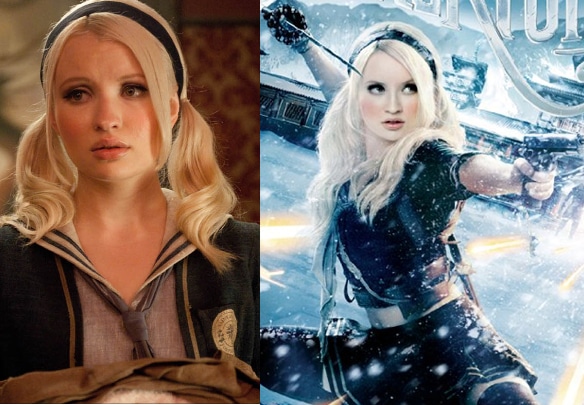 The main makeup artist for Sucker Punch, Rosalina Da Silva, said in an interview with The Beauty of Life that Babydoll's makeup was "inspired by Brigitte Bardot with a splash of Anime characters."
"With faux eyelashes, nude lips, and '60s eyeliner, Babydoll conveyed innocence simultaneously with fearlessness," said Da Silva.
For a similar look that's real life-wearable, shoot for a similar version of Babydoll's look with the following steps:
Apply a sheer, shimmery beige or silver eyeshadow to your eyelid and sweep a little bit of a darker beige or grey in the creases of your eyelids. The darker color should be kept light – its purpose is simply to add depth to the eye. Apply a small amount of a sheer white or silver right above and around your tear ducts. This will brighten the eyes.
Line your upper eyelids with a black liquid eyeliner.
After curling and coating your eyelashes with mascara, apply one set of faux eyelashes. Blend them in by trimming them (before you apply them) to fit your eye better. Curl them and apply another light coat of mascara.
Sweep a light blush upwards on the apples of your cheeks for a little warmth.
Apply a nude lipstick or lip gloss for a finishing touch.
Rocket, Amber, Sweetpea & Blondie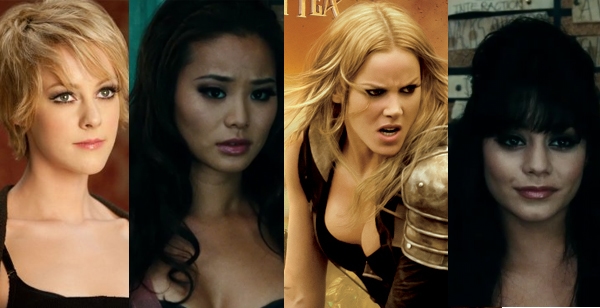 In contrast to Babydoll, the rest of the Sucker Punch girls sport darker makeup, filled with glitter, lots of eyeliner, and dark lipstick and blush.
The trick to translating these looks outside of the film, where dramatic makeup enhances the characters, is to simplify the makeup while keeping the idea the same:
Apply a shimmery gray shadow to your eyelids for a base. Using a darker gray shadow (or even black if you're feeling adventurous), apply more color in the creases of your eyes and right along the end of your upper lash line. This should create an illusion of big lashes even before you've applied mascara.
Line your upper eyelid with a black eyeliner, right along the lash line. Line your lower lash line lightly, extending the line from the outer corner of your eye to about the center of the lash line. Blend this line with your finger for a smudgy look.
Curl your eyelashes and apply a coat of mascara before adding one set of faux eyelashes. Curl your eyelashes again and apply another coat of light mascara.
Sweep blush up your cheekbones for definition.
Apply a berry-colored lipstick or lip gloss.
BONUS: If you'd like to add some glitter to the mix, use Urban Decay's Heavy Metal Glitter Liner to draw a line of glitter along your upper lash line after you've finished your eyelashes. But beware: While glitter can be a fun way to spice up your eye makeup, it can take a really long time to get off!
Hair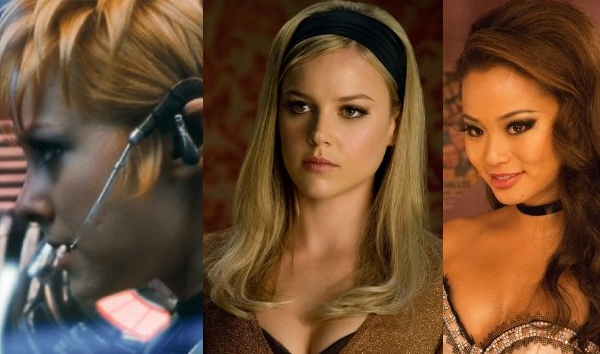 Sucker Punch featured varying hairstyles, but the main trends were big volume, curls, headbands, and one short, spikey do.
Sweetpea (center) and Babydoll (above) sported elastic headbands in the film. To get Sweetpea's '60s headband look, follow these easy steps:
Backcomb your hair at the crown and spray it with hairspray for staying power. This will give you the lift at the top of the 'do.
Take a curling iron and curl your ends inward.
Put on the elastic headband, and you're done!
If you have shorter hair, you can easily replicate Rocket's spikey 'do (above left) by taking a little hair product and either creating a piecey-look by twisting pieces of hair between your fingers with the product, or spiking it upwards for a subtle lift.
To get Amber's soft curls and big volume, start by teasing and backcombing your hair at the crown, then spray it with hairspray. Next, take a curling iron and curl the rest of your hair. You can even use bobby pins to sweep your bangs to the side.
Your Thoughts?
Did you see Sucker Punch? What did you think of it? Did you like the dramatic hair and makeup? Would you sport any of these hairstyles or makeup looks? Which was your favorite look? Let us know in a comment!
*All photos from imdb.com and suckerpunchmovie.warnerbros.com.