This post may contain affiliate links, which means we may receive a commission if you purchase through our links. Please
read our full disclosure here
.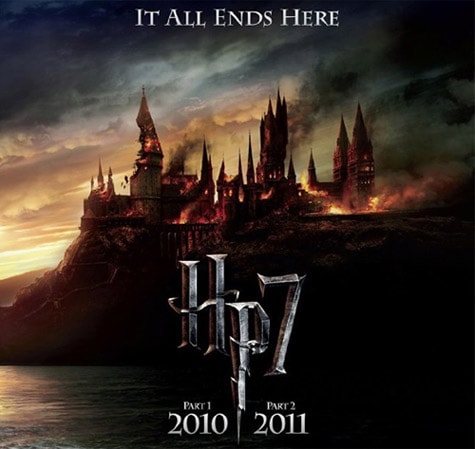 The final chapter of J.K. Rowling's wizarding world is coming to a close, cinematically, in just a few weeks with the premiere of Harry Potter and the Deathly Hallows Part 2.
In the past, CF has done posts on Harry Potter-inspired fashion (see our posts on Hermione Granger's style, fashion inspired by The Deathly Hallows Part 1, and fashion inspired by the Hogwarts houses: Hufflepuff, Slytherin, Ravenclaw, and Gryffindor), so I thought it would be fun to do a post on inspired beauty since the final movie is premiering soon!
Whether you're dressing up for a premiere party or just want to add a little literary or cinematic influence to your beauty look, below I've broken down some beauty looks inspired by characters and elements seen in Harry Potter and the Deathly Hallows!
Beauty Inspired by the Hogwarts Houses
Gryffindor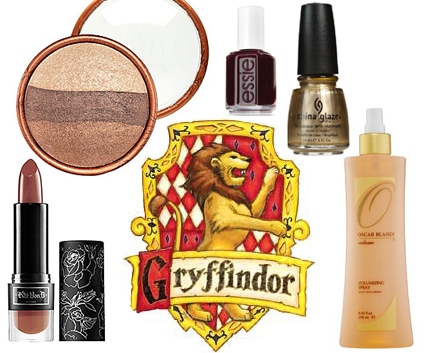 Stila Eye Trio, China Glaze Nail Polish "Passion", Essie Nail Polish "Masquerade Belle", Kat Von D Lipstick "Cathedral", Oscar Blandi Volumizing Spray.
Drawing inspiration from Gryffindor's house colors, gold and scarlet, a chic, wine-red nail with a bronze and gold eye palette are perfect for a Gryffindor. Metallic nail polishes are also really hot right now, so you could go for a shiny gold polish instead of classic red. To add a little polish to the look, try a dusty rose lipstick or lipgloss.
For the hair, I drew inspiration from a lion's mane! Use a volumizing spray (like Oscar Blandi's product, mentioned above) to get some lift at your roots. After your hair has some lift, curl it with a curling iron and finish off the look with a headband.
Ravenclaw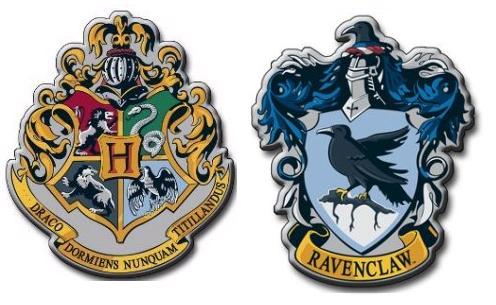 Smokey Eye Palette, Butter Nail Polish "Big Smoke" , China Glaze Nail Polish "Poetic", Garnier Nutrient Spray Nourish and Shine.
Blue and bronze are Ravenclaw's house colors, providing elegant inspiration for nail colors. Try out a metallic bronze (the China Glaze shade pictured above has a gorgeous polish!) or a deep blue. Reflect the raven's plumage with a smokey eye and dramatic eyeliner. A darker eye will keep the look chic!
Whether your hair is curled or straight, use a smoothing serum on your locks for added shine and a sleek 'do, just like a raven's feathers.
Slytherin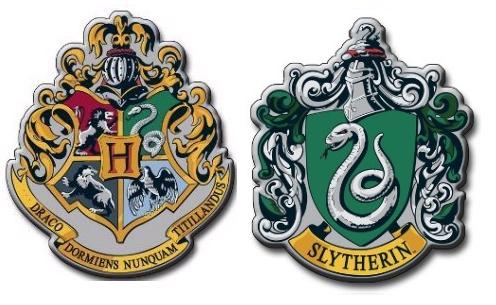 NARS Eyeshadow "Night Porter", NYX Lipgloss "Natural", NYX Lipstick "Rhea", China Glaze Nail Polish "Devotion", Butter Nail Polish "British Racing Green".
The key to capturing Slytherin's dark glamour? Emerald eyes and a nude lip. NARS' "Night Porter" is a beautiful emerald with a hint of sheen to it, which would go perfectly along your lash line, sweeping up into a dramatic cat eye. For tips, check out our previous article on how to rock green eye makeup. A nude lipstick or lipgloss balances the high drama of an emerald eye.
For nails, Butter London has a beautiful green nail polish ("British Racing Green") that skips "halloween-y" and takes the prize for a chic green nail color. Alternatively, China Glaze's "Devotion" provides a steely color. Try out a half-moon manicure with the silver on top of the green!
Hufflepuff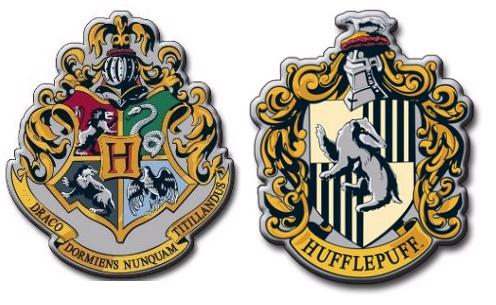 China Glaze Nail Polish "Liquid Leather", Too Faced Liquid Eyeliner, NYX Eyeshadows "High Light" and "Rock".
To channel the Hufflepuff house, create a sweet cat eye with a black liquid eyeliner. For added drama, use a black or grey eyeshadow on the outer corners of your eyes and "line" your inner eye (around your tear ducts) with a gold (or a yellow, if you're feeling bold!) for some added shine.
Black nail polish can be super chic when it isn't chipped! Make sure to put a top coat on over the black for shine and to protect from chipping.
Beauty Looks Inspired by Harry Potter Heroes and Villains
Hermione Granger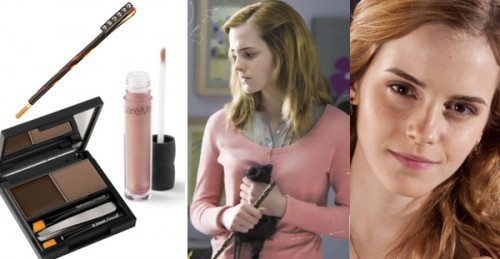 Benefit Eyebrow Palette, Rhinestone Bobby Pins, BareMinerals Lipgloss "Wild Honey". Photos: MuggleNet.
Practical and polished, Hermione never fails to execute the barely-there makeup. Defined eyebrows and a sweet sweep of pink lipgloss to capture the essence that is this young, talented (and stylish!) witch.
Using bobby pins to secure your bangs off to the side and out of your face is an easy fix. You can do variations of this basic style with braided or twisted up bangs. Try using rhinestone bobby pins for a little sparkle! If you usually straighten your hair with a flat iron, opt to curl the ends for a sweet, polished look!
Luna Lovegood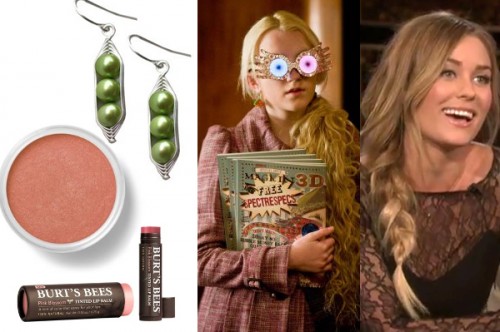 Burt's Bees Tinted Lip Balm, BareMinerals Blush "Vintage Peach", Pea Pod Earrings. Photos: 1, 2.
Luna Lovegood's long hair makes for a perfect chunky braid! Lauren Conrad's braid (above right) is a great example of a style with volume. Use a volumizing mousse or spray throughout your hair to get the desired volume, then create a slightly messy braid either to the side or down your back.
For Luna-inspired makeup, keep it fresh and simple! The simplicity of a soft, rosy blush and a nice tinted lip balm perfectly balance with Luna's unique and, at times, zany, personality.
For a finishing touch, put on a pair of playful earrings. Whether they're of the vegetable variety (like Luna's radish earrings) or not, they're sure to be a conversation starter.
Bellatrix Lestrange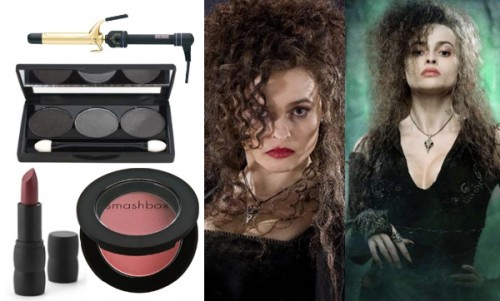 BareMinerals Lipstick "Ripe Fig", Smashbox Blush "Passion", NYX Trio Eyeshadow "Ceramic", Curling Iron. Photos: Fanpop.
Bellatrix inspires a wicked, rock 'n roll look when it comes to hair and makeup. Try a dramatic smokey eye, concentrating heavily on creating winged eyeliner and defining your eyebrows. Dark burgundy lips are also gorgeous, but best tried separately from the heavy, dark eyes (though if you're feeling bold, or that's the look you're going for, by all means rock both!)
Use a blush or bronzer to define your cheekbones. First, suck in your cheeks so you can see where your cheekbones are prominent. Then apply the blush or bronzer with a brush to the "hollows" of your cheeks.
Big hair is another part of the Bellatrix-inspired look. Use a curling iron to curl your hair and set it with a hairspray. After teasing your crown for added lift, take a section of hair from the top of your head and pin it up (like a bump it) – think less Jersey Shore and more rockabilly pomp. Spray your hair with a holding spray to finish the look.
What Do You Think?
Are you excited for the final Harry Potter film? Which look is your favorite? Are you dressing up for a premiere/theme party? Would you like to see more film-inspired beauty posts? Let us know in a comment!