This post may contain affiliate links, which means we may receive a commission if you purchase through our links. Please
read our full disclosure here
.
When I need a new beauty item, I always consult my favorite blogs. Aside from CF, I frequent quite a few beauty blogs (and follow many MUAs on Instagram), so I have a perpetual product wishlist going.
With the holidays coming up (and finals week almost over!), I'm treating myself to a few items from my list. These would be great gifts for beauty-obsessed friends, or just post-finals treats for yourself. Check them out:
1. Zahra Beauty x Trendmood Glam Tray
Product: Zahra Beauty x Trendmood Glam Tray, $25, available Dec. 18 on shop.zahrabeautystore.com
This 3-piece tray is the result of a collab between Trendmood1 on Instagram and Zahra Beauty, a one-stop-shop for your daily makeup organization needs. I have admired Zahra Beauty for its compact trays, and I follow Trendmood1 on Instagram. She posts sneak peeks of makeup releases, and she is a makeup junkie herself.
Trendmood1 created the Glam Tray as an everyday makeup organizer for your vanity (or, ahem, your dorm room desk). You can store brushes, liners, compacts, palettes, foundations and more in this awesome $25 organizer. It has a place for everything and it's so well-priced. It's a no-brainer for my fellow beauty and organizing addicts.
2. Too Faced Chocolate Bon Bons Eyeshadow Palette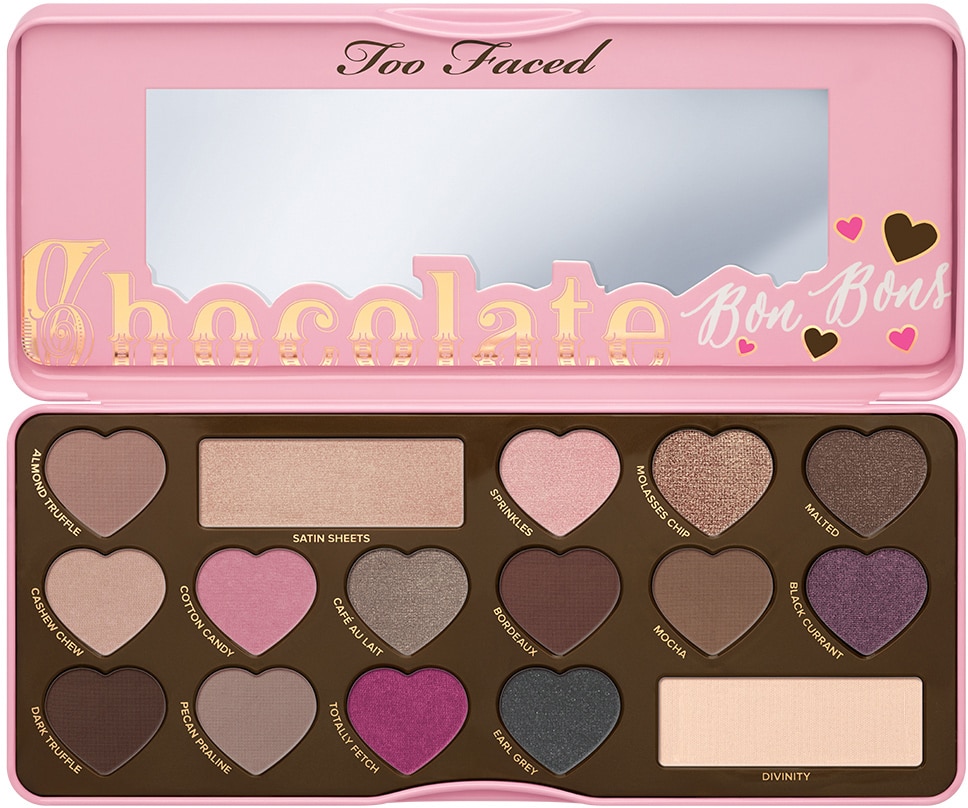 Product: Too Faced Chocolate Bon Bons Palette, $49
This palette is available on Too Faced's website and it smells like chocolate, just like their popular Chocolate Bar and Semi-Sweet Chocolate Bar palettes. All three of these palettes smell exactly like dessert and give great color payoff and a variety of shades – what more could you ask for?
Nouveau Cheap is one of my favorite blogs, and she gave the Chocolate Bon Bons palette a great review, calling it "adorable" and praising its mix of warm, cool, and neutral shades.
I am super excited about this palette. I want to buy it for myself! The heart-shaped pans are so adorable, and I love the colors. I am already imagining all of the cute looks I'll create with this one once I get home for break.
3. L'Oreal Infallible Pro-Matte Gloss
Products: L'Oreal Pro-Matte Gloss, $9.99 for two
I haven't found these L'Oreal matte liquid lipsticks at my local drugstores yet, but I'm expecting them to pop up soon in a limited-edition display.
One of my favorite beauty blogs is Budget Beauty Blog, and they feature drugstore items that are on par with high-end beauty products. They gave these a rave review, and I've been coveting them ever since.
What makes these glosses so special? They are just like liquid lipsticks in that they pack color on and dry to a matte finish, but they aren't transfer-proof because they aren't super drying. They don't dry all the way down, that is to say.
Personally, I like the lack-of-drying feature. Some matte liquids can dry your lips like the sahara desert and flake off. (Yeah, it's as attractive as it sounds.) These are supposed to stay perfectly smooth and creamy for hours – yes, please!
How are you going to #TreatYoSelf?
Do you have anything on a post-finals wishlist? What is on your current must-have list? I would love to know!
Please let me know in the comments section if you plan to try any of these products; I'd love to hear how they work for you.