This post may contain affiliate links, which means we may receive a commission if you purchase through our links. Please
read our full disclosure here
.
A few weeks ago, I did a festive fall/Thanksgiving makeup tutorial, and this week I'm back with another festive tutorial to celebrate winter!
The holiday season is the perfect time to rock deep colored lips and frosty lids. For this makeup tutorial, I wanted it to look winter-appropriate, so I started with a pale lid with a smokey crease and added the dark burgundy lips to set it off. (I understand that not everyone loves the look of bold lips so feel free to add a nude or pink lip to fit your own personality.)
Read on to learn how to get the look!
The Look: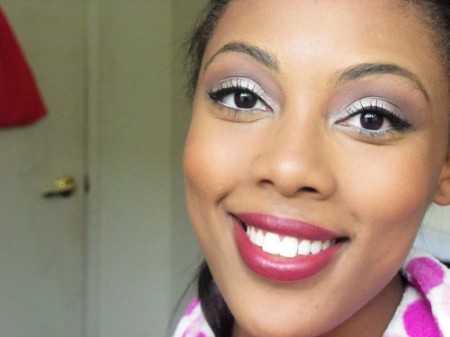 How to Get The Look:
Products Used:
Tips on Wintertime Makeup:
Look for pale colors that suit your skin tone – the same white doesn't work for everyone, so make sure to experiment and work with your skin's natural undertones for best results. (Cooler toned skin can do frosty pure whites, warmer skin should go for warmer beiges.)
Line your waterline with white to make your eyes look instantly brighter on those gloomy days.
If you apply those pale lid colors, make sure you apply mascara or your lashes will get lost.
Be sure to keep moisturizing throughout the cool winter so your makeup will apply evenly. Also, when spring emerges, you will have nice soft skin.
Thoughts?
What's your favorite wintertime makeup look? What is your favorite holiday? Any questions? Let me know what you think!